Bir el Abd, Sinai, 9 August 1916, 1st LH Bde, AIF, War Diary Account
Topic: AIF - 1B - 1 LHB
Bir el Abd
Sinai, 9 August 1916
1st LH Bde, AIF, War Diary Account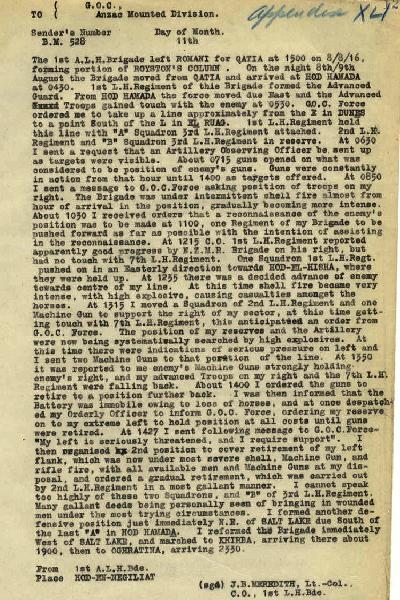 War Diary account of the 1st LH Bde, AIF.
The transcription:
TO: Anzac Mounted Division.
Sender's Number B.M. 528
Day of Month 11th

The 1st A.L.H. Brigade Left ROMANI for QATIA at 1500 on 8/8/16, forming portion of ROYSTON'S COLUMN. On the night 8th/9th August the Brigade moved from QATIA and arrived at HOD HAMADA at 0430. 1st L.H. Regiment of this Brigade formed the Advanced Guard. Prom HOD HAMADA the force moved due East and the Advanced Troops gained touch with the enemy at 0530. G.O.C. Force ordered me to take up a line approximately from the E in DUNES to a point South of the L in El RUAG. 1st L.H. Regiment held this line with "A" Squadron 3rd L.H. Regiment attached. 2nd L.H. Regiment and "B" Squadron 3rd L.H. Regiment in reserve. At 0530 I sent a request that an Artillery Observing Officer to be sent up as targets were visible. About 0715 guns opened on what was considered to be position of enemy's guns. Guns were constantly in action from that hour until 1400 as targets offered. At 0850 I sent a message to G.O.C. Force asking position of troops on my right. The Brigade was under intermittent shall fire almost from hour of arrival in the position, gradually becoming more intense. About 1030 I received orders that a reconnaissance of the enemy's position was to be made at 1100, one Regiment of my Brigade to be pushed forward as far as possible with the intention of assisting in the reconnaissance. At 1215 C.O. 1st L.H. Regiment reported apparently good progress by N.Z.M.R. Brigade on his right, but had no touch with 7th L.H. Regiment. One Squadron 1st L.H. Regt. pushed on in an Easterly direction towards HOD-EL-HISHA, where they were held up. At 1235 there was a decided advance of enemy towards centre of my line. At this time shell fire became very intense, with high explosive, causing casualties amongst the horses. At 1315 I moved a Squadron of 2nd L.H. Regiment and one Machine Gun to support the right of my sector, at this time getting touch with 7th L.H. Regiment, this anticipated an order from G.O.C. Force. The position of my reserves and the Artillery were now being systematically searched by high explosives. At this time there were indications of serious pressure on left and I sent two Machine Guns to that portion of the line. At 1350 it wee reported to me enemy's Machine Guns strongly holding enemy's right, and my advanced Troops on my right and the 7th L.H: Regiment were falling back. About 1400 I ordered the guns to retire to a position further back. I was then informed that the Battery was Immobile owing to loss of horses, and at case despatch ad my Orderly Officer to inform G.O.C. Force, ordering my resorts, on to my extreme left to hold position at all costs until guns were retired. At 1427 I sent following message to G.O.C. Force - "My left is seriously threatened, and I require support". I then organised 2nd position to cover retirement of my left flank, which was now under most estate shell, Machine Gun, and rifle fire, with all available men and Machine Guns at my disposal, and ordered a gradual retirement, which was carried out by 2nd L.H. Regiment in a most gallant manner. I cannot speak too highly of these two squadrons, and "B" of 3rd L.H. Regiment. Many gallant deeds being personally seen of bringing in wounded men under the most trying circumstances. I formed another defensive position just immediately north east of SALT LAKE due South of the last "A" in HOD HAMADA. I reformed the Brigade Immediately West of SALT LAKE, and marched to KHIRBA, arriving there about 1900, then to OGHRATINA, arriving 2330.

From 1st A.L.R.Bde.
Place HOD-EN-NEGILIAT
(sgd) J.B. MEREDITH, Lt.-Col., C. O., 1st L.H.Bde.


Roll of Honour
Benjamin David ALEXANDER

Errol Roland BOUGHTON

Gordon Silas FIDLER

Walter William Robert JONES

Ronald Alexander Leslie MacDONALD

Alfred MELVILLE

George Rawdon Ffrench NOBBS

William Joseph PARKES
Herbert Alexander WARD

Further Reading:
1st Australian Light Horse Brigade
Battle of Romani, Sinai, August 4 to 5, 1916
Bir el Abd, Sinai, 9 August 1916
Battles where Australians fought, 1899-1920
---
Citation:
Bir el Abd, Sinai, 9 August 1916, 1st LH Bde, AIF, War Diary Account
Posted by Project Leader at 12:01 AM EADT
Updated: Friday, 18 December 2009 4:57 PM EAST