Bir el Abd, Sinai, 9 August 1916, New Zealand Mounted Rifles Brigade, War Diary Account
Topic: AIF - NZMRB
Bir el Abd
Sinai, 9 August 1916
NZMR Bde, War Diary Account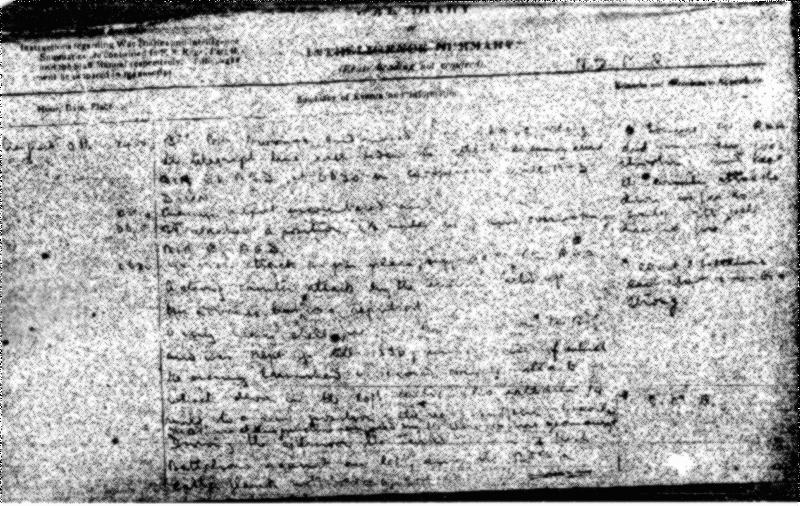 War Diary account of the NZMR Bde.
The transcription:
9 August

0400

Brigade left bivouac and moved eastwards along the telegraph line with orders to attack enemy about Bir el Abd at 0630 in co-operation with the Anzac Mounted Division.

0510

Enemy outpost encountered and driven in.

0615

We reached a position 1½ miles west and overlooking Bir el Abd.

0630

General attack as per plan supported by the Somerset Battery, Royal Horse Artillery. The Somerset Battery, Royal Horse Artillery, did some very good shooting and kept the enemy attacks down as far as it could with well directed fire.

A strong counter attack by the enemy - about two battalions each of about 500 - 600 strong - held up our advance but it was repulsed.

A very heavy shell fire was then opened up on the Brigade and was kept up till 1330, under cover of which the enemy launched a second counter attack which drove in the left centre, who withdrew ¼ miles to a new position, the Canterbury Mounted Rifles suffering heavily. The Brigade was at this juncture reinforced by the Warwickshire Yeomanry. During the afternoon the Turks sent in 3 fresh battalions against our left, and the Brigades on either flank not having good touch.

The New Zealand Mounted Rifles Brigade suffered heavily but was further reinforced by one Squadron Gloucester Yeomanry and the Leicester Battery, Royal Horse Artillery.

1800

Another attack began to develop and the Brigade withdrew gradually as it became dusk to Hod el Debabis where the Brigade watered and fed.

2030

Further orders were received for the Anzac Mounted Division for the Brigade to withdraw to Oghratina to bivouac.

2130

Brigade left Hod el Debabis for Oghratina.

2315

Arrived at Oghratina and went into bivouac.

Note: During the first attack in the morning the enemy showed every indication of retiring but later on finding that we were weak the attack established that his flanks were not threatened he brought up reinforcements.

Brigade Casualties.



Killed in Action: 4 Officers; 26 Other Ranks.

Wounded: 11 Officers; 66 Other Ranks.

Roll of Honour
Further Reading:
New Zealand Mounted Rifles Brigade
New Zealand Mounted Rifles Brigade, Roll of Honour
Battle of Romani, Sinai, August 4 to 5, 1916
Bir el Abd, Sinai, 9 August 1916
Battles where Australians fought, 1899-1920
---
Citation:
Bir el Abd, Sinai, 9 August 1916, New Zealand Mounted Rifles Brigade, War Diary Account
Posted by Project Leader at 12:01 AM EADT
Updated: Friday, 18 December 2009 4:59 PM EAST