el Qatiya, Sinai, 23 April 1916, Gullett Account
Topic: BatzS - El Qatiya
el Qatiya
Sinai, 23 April 1916
Outline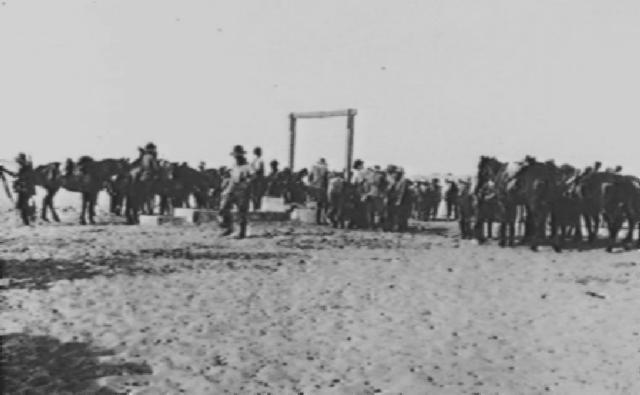 6th Australian Light Horse Regiment watering their horses at an old Roman well in the Sinai Desert.

The Affair at el Qatiya was a small and very successful action undertaken by the Ottoman forces against the British forces scattered around el Qatiya and Bir el Dueidar on 23 April 1916. The raid created panic in the British command and highlighted the need for a greater commitment to strengthening the defences of Romani, eventually leading to a battle at that place.

The following is extracted from the book written by Lindsay Baly called Horseman, Pass By, Chapter 3, Mounted in Sinai.
On 22 April 1916, the 5th Mounted Brigade were routed by just what they were there to prevent: a Turkish surprise attack. The survivors fell back to the canal and the next day the 2nd Light Horse Brigade were ordered to Kantara, Duedir and Romani by forced march, to retrieve the position. A long doggerel poem of my father's, much prized by his fellows and his family, says:

We knew no destination or what might come about.


But guessed there's something doin' by the way we hustled out.


We headed for Kantara and pushed on all that day


Till 9 PM, while halting, tucked some bully beef away.


We rode across the Suez,


By the pontoon bridge that night,


And kept on making eastwards until dark gave way to light.


And late that night, still riding, we learned what was our mission:


Wounded men on Red Cross cars explained the whole position.


Small, straggling groups of horsemen were also making back.


The Turks had caught 'em napping and they'd taken to the track.


We questioned, as we passed them, 'What's up? Abdul scooped the pot?'


Their answer, coming wearily, 'Aye, chum. We've 'ad it 'of


This was it. Forget France and England, this was the big one.


This was what they were for.

The Yeomanry camps told their stories. There were dead men and horses, the occasional one still dying. Stragglers and wanderers, horses stampeding in at the scent of water. Small heaps of cartridge cases beside individuals who had burrowed in the sand and fought to the death. Others were bayoneted through their blankets. Too much of a good thing in beer and wine for officers' messes. Men tortured by Bedouins, garrotted with the thin baling wire used for horse fodder. The Bedouins had hung around the camps cadging food, pretending to be friendly, spying for the Turks; then they killed and stripped the soldiers, crying 'Finish British! Turks Kantara! Turks Port Said! Turks Cairo!' ANZAC policy, made then and never relaxed, was to treat them as hostile. The 6th and 7th Regiments buried 80 Yeomanry at Katia, then eight days later another 300 corpses were found. The only outpost that had held out was at Duedir, twelve miles from the canal, the most insignificant, and the only one manned by infantry: 100 Royal Scots Fusiliers.

Further Reading:
el Qatiya, Sinai, 23 April 1916
Battles where Australians fought, 1899-1920
---
Citation:
el Qatiya, Sinai, 23 April 1916, Outline
Posted by Project Leader at 12:01 AM EADT
Updated: Sunday, 13 September 2009 10:32 PM EADT