Bir el Abd, Sinai, 9 August 1916, 10th LHR, AIF, War Diary Account
Topic: AIF - 3B - 10 LHR
Bir el Abd
Sinai, 9 August 1916
10th LHR, AIF, War Diary Account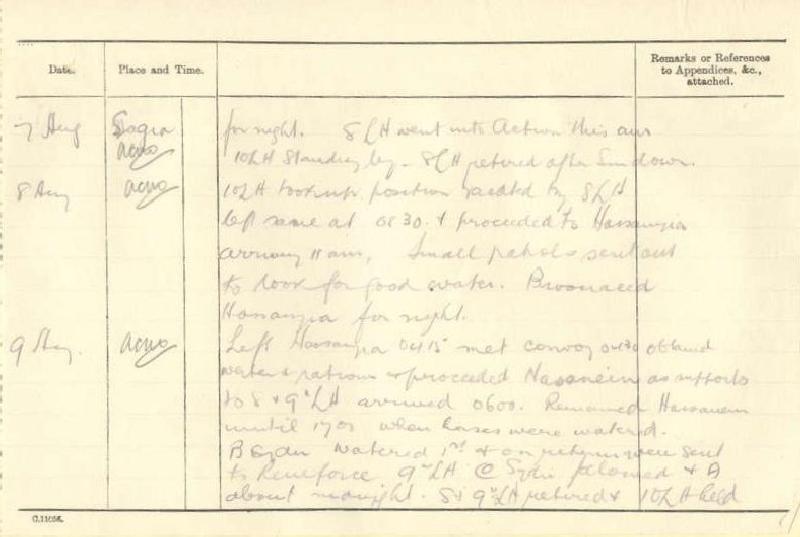 War Diary account of the 10th LHR, AIF.
The transcription:
8 August

10th Light Horse Regiment took up position vacated by 8th Light Horse Regiment. Left same at 0830 and proceeded to Hassaniya arriving 11 am. Small patrols sent out to look for good water. Bivouacked Hassaniya for night.


9 August

Left Hassaniya 0415, met convoy 0430. Obtained water and rations and proceeded Hassanein as supports to 8th and 9th Light Horse Regiments. Arrived 0600. Remained Hassanein until 1700 when horses were watered. "B" Squadron watered first and on return were sent to reinforce 9th Light Horse Regiment. "C" Squadron followed and "A".

10 August

About midnight 8th and 9th Light Horse Regiments retired and 10th Light Horse Regiment held all day with New Zealand Mounted Rifles Brigade and 2nd Light Horse Brigade on the left. 9th Light Horse Regiment relieved 10 Light Horse Regiment at sundown when we returned to Hassaniya, horses watered and fed.

Roll of Honour


Further Reading:
10th Australian Light Horse Regiment, AIF
10th Australian Light Horse Regiment, Roll of Honour
Battle of Romani, Sinai, August 4 to 5, 1916
Bir el Abd, Sinai, 9 August 1916
Battles where Australians fought, 1899-1920
---
Citation:
Bir el Abd, Sinai, 9 August 1916, 10th LHR, AIF, War Diary Account
Posted by Project Leader at 12:01 AM EADT
Updated: Friday, 18 December 2009 5:02 PM EAST