Bir el Mazar, Sinai, 17 September 1916, 3rd LHMGS, AIF, War Diary Account
Topic: AIF - 3B - 3 LHMGS
Bir el Mazar
Sinai, 17 September 1916
3rd LHMGS, AIF, War Diary Account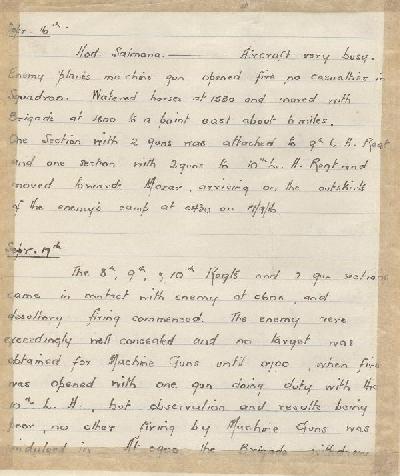 War Diary account of the 3rd LHMGS, AIF.
The transcription:
16 September 1916

Hod Salmana - Aircraft very busy. Enemy planes machine gun opened fire, no casualties in Squadron. Watered horses at 1530 and moved with Brigade at 1800 to a point east about 6 miles. One Section with 2 Guns was attached to the 9th Light Horse Regiment and one Section with 2 Guns to 10th Light Horse Regiment and moved towards Mazar, arriving on the outskirts of the enemy's camp at 0430 on 17 September 1916.

17 September 1916

The 8th, 9th and 10th Light Horse Regiments and 2 Gun Sections came in contact with enemy at 0600, and desultory firing commenced. The enemy were exceedingly well concealed and no target was obtained for Machine Guns until 0700, when fire was opened with one gun doing duty with the 10th Light Horse Regiment, but observation and results being poor, no other firing by Machine Guns was indulged in. At 0900 the Brigade withdrew.

Second Lieutenant Slattery Killed in Action. No other casualties although the enemy opened up with very heavy fire upon withdrawal of our troops.

Acting Corporal Scott CG No 3269 Australian Medical Corps attached to Machine Gun Squadron returned under very heavy fire to render aid to Second Lieutenant Slattery F, but on reaching this officer, he had succumbed.

Owing to the forced march, the horses were now beginning to feel the want of water and rest. At 1100 the Brigade moved back in the direction of Salmana.

The Machine Gun Squadron reached Salmana at 1700, watered and bivouacked. Man horses had dropped to the rear from fatigue and lack of water during this march.

Roll of Honour
Lest We Forget
Additional Reading:
3rd Australian Light Horse Machine Gun Squadron, AIF
3rd Australian Light Horse Machine Gun Squadron, Roll of Honour
Bir el Mazar, Sinai, 17 September 1916
Battles where Australians fought, 1899-1919
---
Citation:
Bir el Mazar, Sinai, 17 September 1916, 3rd LHMGS, AIF, War Diary Account
Posted by Project Leader at 12:01 AM EADT
Updated: Tuesday, 24 November 2009 6:12 AM EAST