12th LHR, AIF, Roll of Honour, Albert "Tibby" Cotter
Topic: AIF - 4B - 12 LHR
12th LHR, AIF

12th Australian Light Horse Regiment
Roll of Honour
Albert "Tibby" Cotter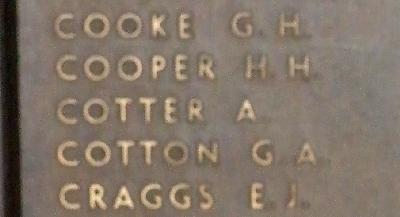 Albert "Tibby" Cotter's name on the Roll of Honour, Australian War Memorial
Albert "Tibby" Cotter
Service number: 924
Rank: Trooper [Tpr]
Unit: 12th Australian Light Horse
Service: Army
Conflict: 1914-1918
Date of death: 31 October 1917
Cause of death: Killed in action
Cemetery or memorial details: PALESTINE 1 Beersheba War Cemetery
War Grave Register notes: COTTER, Tpr. Albert, 924. 12th Australian Light Horse. Killed in action 31st Oct., 1917. Age 33. Son of John Henry and Margaret Hay Cotter, of 266. Glebe Point R., Sydney, New South Wales. D. 50.
Source: AWM145 Roll of Honour cards, 1914-1918 War, Army.
Albert "Tibby" Cotter aka "The Sydney Express" wearing the Baggy Green.
A brief military biography of Albert "Tibby" Cotter from The AIF Project:
Regimental number
924
Date of birth
3 December 1884
Place of birth
Sydney, New South Wales
School
Sydney Grammar School, New South Wales
Other training
Clerical
Religion
Church of England
Occupation
Lawyer
Address
'Monteith', Glebe Road, Glebe, New South Wales
Marital status
Single
Age at embarkation
31
Height
5' 8.25"
Weight
166 lbs
Next of kin
Father, John Henry Cotter, 'Monteith', Glebe Road, Glebe, New South Wales
Previous military service
Nil
Enlistment date
15 April 1915
Date of enlistment from Nominal Roll
15 April 1915
Place of enlistment
Liverpool, New South Wales
Rank on enlistment
Private
Unit name
12th Light Horse Regiment, 3rd Reinforcement
AWM Embarkation Roll number
10/17/2
Embarkation details
Unit embarked from Sydney, New South Wales, on board HMAT A54 Runic on 9 August 1915
Rank from Nominal Roll
Lance Corporal
Unit from Nominal Roll
12th Light Horse Regiment
Other details from Roll of Honour Circular
International cricketer from 1904 to 1912
Fate
Killed in Action 31 October 1917
Place of death or wounding
Beersheba, Palestine
Age at death
33
Age at death from cemetery records
33
Place of burial
Beersheba War Cemetery (Row D, Grave No. 50), Palestine
Panel number, Roll of Honour,
Australian War Memorial
8
Miscellaneous information from
cemetery records
Parents: John and Margaret COTTER, 266 Glebe Point Road, Sydney, New South Wales
Family/military connections
Brother: 5678 Private John COTTER,4th Battalion, 18th Reinforcement; killed in action, France, 4 October 1917.
Other details

War service: Egypt, Gallipoli, Palestine

Transferred to 1st Light Horse Regiment, Gallipoli, 13 November 1915; found guilty, 10 December 1915, of being drunk whilst on active servce, Gallipoli, 9 December 1915: awarded 5 days' Field Punishment No 2; to Divisional Headquarters for punishment, 10 December 1915; returned to unit, 15 December 1915; after evacuating Gallipoli he disembarked at Alexandria, Egypt, 27 December 1915.

Found guilty, 21 February 1916, of being absent without leave from 7 am, 30 January, until night of 31 January 1916: awarded 14 days Confined to Barracks; fined £1.

Transferred to 12th Light Horse Regiment, Heliopolis, 22 March 1916.

To be Lance Corporal, 20 May 1917.

Reverted to Trooper at own request, 17 July 1917.

Marched out to Rest Camp, Port Said, 19 August 1917; rejoined unit, 29 August 1917.

Killed in action, Beersheba, Palestine, 31 October 1917 (gun shot wound).

Medals: 1914-15 Star, British War Medal, Victory Medal
Sources
NAA: B2455, COTTER Albert
Lest we forget
Further Reading:
Cotter and the Gezireh Sports Club
Cotter and the Gezireh Sports Club, Part 2
12th Australian Light Horse Regiment, AIF
12th Australian Light Horse Regiment, Roll of Honour
The Battle of Beersheba, Palestine, 31 October 1917
Australian and New Zealand Roll of Honour
---
Citation: 12th LHR, AIF, Roll of Honour, Albert "Tibby" Cotter
Posted by Project Leader at 12:01 AM EADT
Updated: Wednesday, 7 October 2009 1:03 PM EADT