3rd LHR, AIF, Roll of Honour, Walter Litchfield
Topic: AIF - 1B - 3 LHR
3rd LHR, AIF

3rd Australian Light Horse Regiment
Roll of Honour
Walter Litchfield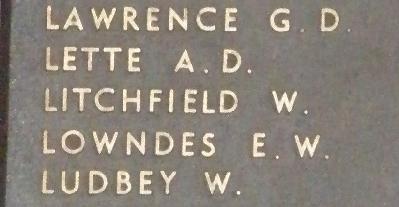 Walter Litchfield's name on the Roll of Honour, Australian War Memorial
Walter Litchfield
Service number: 2879
Rank: Trooper [Tpr]
Unit: 3rd Australian Light Horse
Service: Army
Conflict: 1914-1918
Date of death: 31 October 1917
Cause of death: Killed in action
Cemetery or memorial details: PALESTINE 1 Beersheba War Cemetery
War Grave Register notes: LITCHFIELD, Tpr. Walter, 2879. 3rd Australian Light Horse. Killed in action 31st Oct., 1917. Age 37. Son of William Fowler Litchfield and Hannah Litchfield. Native of Norwood, South Australia. C. 54.
Source: AWM145 Roll of Honour cards, 1914-1918 War, Army.
A brief military biography of Walter Litchfield from The AIF Project:
Regimental number
2879
Place of birth
Norwood, South Australia
School
Norwood State School, South Australia
Religion
Church of England
Occupation
Labourer
Address
Sheringa, South Australia
Marital status
Single
Age at embarkation
35
Next of kin
Sister, Edith Selina Litchfield, Crystal Street, Broken Hill, New South Wales
Enlistment date
1 February 1916
Rank on enlistment
Private
Unit name
3rd Light Horse Regiment, 20th Reinforcement
AWM Embarkation Roll number
10/8/4
Embarkation details
Unit embarked from Adelaide, South Australia, on board RMS Malwa on 27 July 1916
Rank from Nominal Roll
Private
Unit from Nominal Roll
3rd Light Horse Regiment
Fate
Killed in Action 31 October 1917
Place of death or wounding
Palestine
Age at death
37.1
Age at death from cemetery records
37
Place of burial
Beersheba War Cemetery (Row C, Grave No. 54), Palestine
Panel number, Roll of Honour,
Australian War Memorial
4
Miscellaneous information from
cemetery records
Parents: William and Hannah LITCHFIELD. Native of Norwood, South Australia
Family/military connections
Brother, uncle and many cousins served in the AIF.
Lest we forget
Further Reading:
3rd Australian Light Horse Regiment, Roll of Honour
The Battle of Beersheba, Palestine, 31 October 1917
Australian and New Zealand Roll of Honour
---
Citation: 3rd LHR, AIF, Roll of Honour, Walter Litchfield
Posted by Project Leader at 12:01 AM EADT
Updated: Tuesday, 6 October 2009 3:33 PM EADT