Bir el Mazar, Sinai, 17 September 1916, 2nd LHFA, AIF, War Diary Account
Topic: AIF - 2B - 2 LHFA
Bir el Mazar
Sinai, 17 September 1916
2nd LHFA, AIF, War Diary Account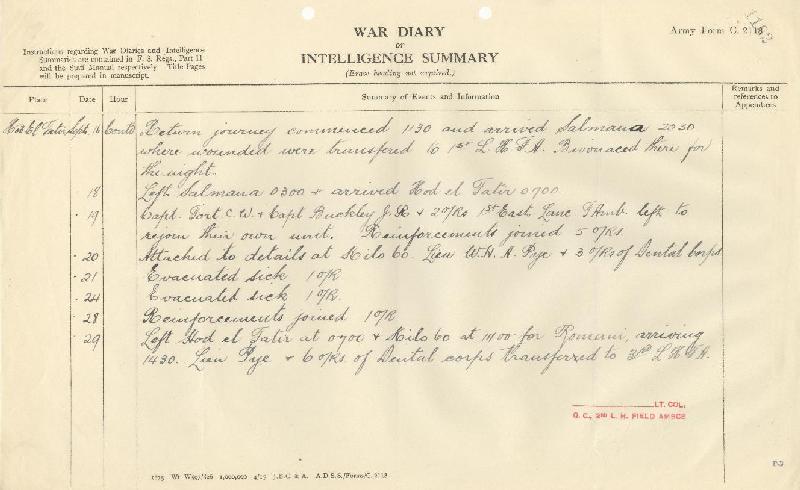 War Diary account of the 2nd LHFA, AIF.
The transcription:
16 September 1916

Mobile Column accompanied Brigade on operation to El Mazar. Left Hod el Fatir 0100 and remained the day at Ge'eila. Left at 1630 and proceeded to El Mazar arriving at daybreak on September 17th.

17 September 1916

Established dressing station on Caravan Route. 4 miles west of Mazar, bearers and sandcarts proceeding forward. Received six wounded. Return journey commenced 1130 and arrived Salmana 2030 where wounded were transferred to 1st Light Horse Field Ambulance. Bivouacked for the night.

18 September 1916

Left Salmana 0300 and arrived Hod el Fatir 0700.


Further Reading:
2nd Australian Light Horse Field Ambulance, AIF
2nd Australian Light Horse Field Ambulance, Roll of Honour
Bir el Mazar, Sinai, 17 September 1916
Battles where Australians fought, 1899-1920
---
Citation: Bir el Mazar, Sinai, 17 September 1916, 2nd LHFA, AIF, War Diary Account
Posted by Project Leader at 12:01 AM EADT
Updated: Tuesday, 24 November 2009 6:16 AM EAST