Battle of Romani, Sinai, August 4 to 5, 126th Infantry Brigade War Diary Account
Topic: AIF - DMC - British
Battle of Romani
Sinai, August 4 to 5, 1916
126th Infantry Brigade War Diary Account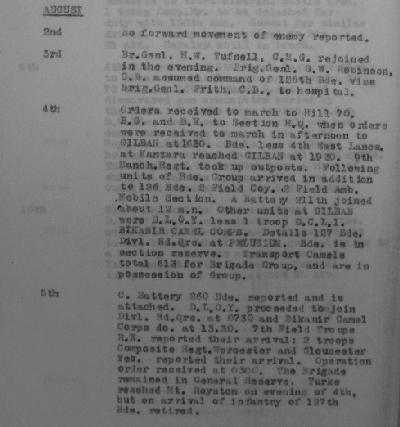 War Diary account of the 126th Infantry Brigade.
The transcription:
126th Infantry Brigade, 42nd Infantry Division.

4 August

Orders received to march to Hill 70. Brigadier General and Brigade Major to Section Headquarters when orders were received to march in afternoon to Gilban at 1630. Brigade less 1/4th East Lancashire Fusiliers at Kantara reached GILBAN at 1930. 9th Manchester Regiment took up outposts. Following units of Brigade Group arrived in addition to 126th Infantry Brigade. 2nd Field Company Royal Engineers, 2nd Field Ambulance Mobile Section. "A" Battery, 211th Brigade, Royal Field Artillery joined about 1200. Other units at Gilban were Duke of Lancaster's Yeomanry less one Troop, Duke of Cornwall's Light Infantry, Bikanir Camel Corps. Details 127th Infantry Brigade and Divisional Headquarters at Pelusium. 126th Infantry Brigade is in Section Reserve. Transport Camels total 613 for Brigade Group, and are in possession of Group.


5 August

"C" Battery, 260th Brigade, royal Field Artillery, reported and is attached. Duke of Lancaster's Yeomanry proceeded to join Divisional Headquarters at 0730 and Bikanir Camel Corps the same at 1330. 7th Field Troops, Royal Engineers, reported their arrival: two Troops Composite Regiment Worcester and Gloucester Yeomanry, reported their arrival. Operation Order received at 0300. The Brigade remained in General Reserve. Turks reached Mount Royston on evening of 4th, but on arrival of infantry of 127th Infantry Brigade retired.


6 August

Divisional Headquarters moved to Abu Gannit, thence to Qatia. Orders received to move but subsequently cancelled. All camels sent to Pelusium.

Roll of Honour
Battle of Romani, Sinai, August 4 to 5, 1916, Roll of Honour, British Forces

Lest We Forget
Further Reading:
Battle of Romani, Sinai, August 4 to 5, 1916, Roll of Honour, British Forces
Battle of Romani, Sinai, August 4 to 5, 1916
Bir el Abd, Sinai, 9 August 1916
Battles where Australians fought, 1899-1920
---
Citation:
Battle of Romani, Sinai, August 4 to 5, 126th Infantry Brigade War Diary Account
Posted by Project Leader at 12:01 AM EADT
Updated: Monday, 26 October 2009 8:56 AM EADT