The Battle of Magdhaba, Sinai, December 23, 1916, 52nd (Lowland) Division, War Diary Account
Topic: AIF - DMC - British
The Battle of Magdhaba
Sinai, 23 December 1916
52nd (Lowland) Division, War Diary Account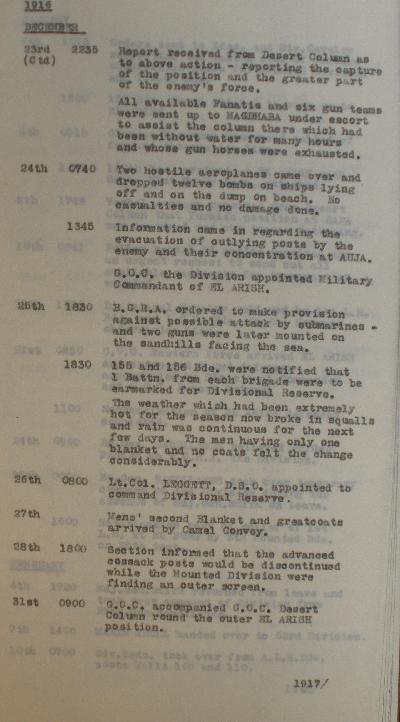 War Diary account of the 52nd (Lowland) Division.

The transcription:
22 December 1916

156th Brigade resumed their march to El Arish from Bittia arriving there at 1040.

1000 - Division move off at 1000 and reached Bittia at 1500. Divisional Headquarters closed at 1100 and re-opened same hour near Bittia.


23 December 1916

1000 - Division moved at 1000 by the sea route to Masaid and El Arish. The first five miles were excellent going but the last three was through very heavy sand.

1530 - Division marched into bivouac at 1530. 156 Brigade was found in position covering the Town.

1830 - Memorandum issued dividing the defences of the Town into two sections. 155 Brigade to be responsible for the Right Section, 156th Brigade for the Left Section. From 0900 onwards heavy firing was heard from the direction of Magdhaba where the A & NZ Mounted Division and Imperial Camel Corps were reported to be engaged.

2235 - Report received from Desert Column as to above action - reporting the capture of the position and the greater part of the enemy' force.

All available Fantis and six gun teams were sent up to Magdhaba under escort to assist the column there which had been without water for many hours an whose gun horses were exhausted.


24 December 1916

0740 - Two hostile aeroplanes cam over and dropped twelve bombs on ships lying off and on the dump on beach. No casualties and no damae done.

1345 - Information came in regarding the evacuation of the outlying posts by the enemy and their concentration at Auja.


Further Reading:
Battles where Australians fought, 1899-1920
---
Citation:
The Battle of Magdhaba, Sinai, December 23, 1916, 52nd (Lowland) Division, War Diary Account
Posted by Project Leader at 12:01 AM EAST
Updated: Sunday, 22 November 2009 1:19 PM EAST