1st New South Wales Mounted Rifles, Outline
Topic: BW - NSW - 1NSWMR
1st NSWMR
1st New South Wales Mounted Rifles
Outline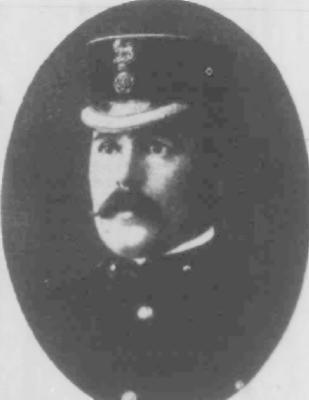 Lieutenant Colonel Knight, Commanding Officer, 1st NSW Mounted Rifles
[Picture: Town and Country Journal, 20 January 1900, p. 27.]

In 1911, Lieutenant-Colonel P. L. Murray, produced a marvellous Boer War reference detailing all the contingents sent from Australia to South Africa, giving a brief history of the formation and finally, listing all the soldiers who saw service in South Africa with that unit. The book was called, Official Records of the Australian Military Contingents to the War in South Africa. It is now the standard reference and starting place for any person interested in pursuing information about Australian involvement in the Boer War.
Murray, P. L., Official Records of the Australian Military Contingents to the War in South Africa, p. 57.
First New South Wales Mounted Rifles.

This was the first Contingent despatched from New South Wales which did not consist entirely of drafts from local regiments or of men recruited from different local infantry regiments. One squadron from the Mounted Rifle Regiment had already been sent, together with a company of infantry which as mounted in South Africa. It was now resolved that three squadrons of Mounted Rifles should be raised; to be "B," "C," and "D" squadrons of the 1st Regiment, and that the squadron and company at the seat of war should be "A" and "E" squadrons respectively. Men who were good shots and good riders were required, and preference was given to those serving, or who had carved, in the local forces, provided they fulfilled the necessary qualifications. Reservists and men of civilian rifle clubs were also eligible on the same terms.

The establishment authorized was:-
Staff:
1 major,

1 adjutant and quartermaster,

3 sergeants,

2 drivers,

3 batmen;
Total, 10, with 11 horses.

Details of a company (or squadron):
1 captain,

4 subalterns,

1 colour-sergeant,

4 sergeants,

1 farrier-sergeant,

4 shoeing-smiths,

2 buglers,

6 corporals, 9

2 privates (including batmen),

5 drivers;
Total, 120, with 130 horses.

Dismounted:
1 saddler,

5 batmen riding spare horses,

2 cooks,

2 wagon-men;
Total, 10.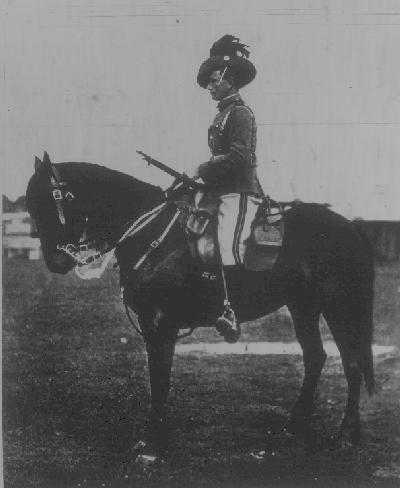 New South Wales Mounted Rifles trooper in full kit.

[Picture: Town and Country Journal, 20 January 1900, p. 21.]
Clothing, etc.

Articles of uniform supplied as authorized by G.O. 146 (27th December, 1899) were as follows-
Two F.S. jackets, khaki tweed, without facings;

2 pairs Bedford chord pants;

1 large FS, hat;

1 F.S, cap;

2 pairs puttees;

2 pairs Cossack boots;

1 great coat.


Arms and equipment.
MLE rifles and sword-bayonet,

cartridge-belt with supporting-braces.

Fully horsed and provided with saddles.

Regimental transport was also provided.

Officers ware granted £25 towards outfit.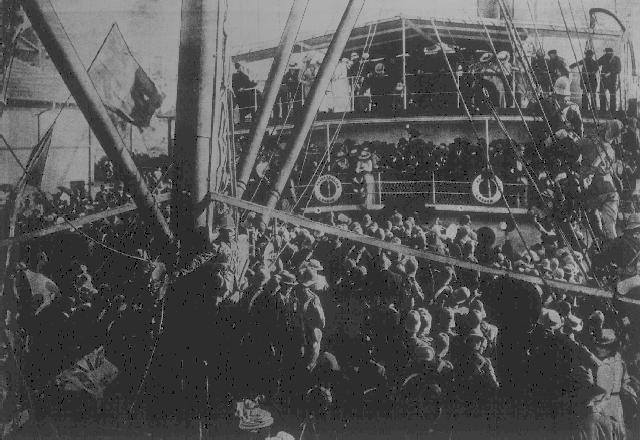 The Premier of New South Wales, WJ Lyne, addressing the 1st NSWMR as they were leaving for the ship Southern Cross.

[Picture: Town and Country Journal, 27 January 1900, p. 37.]
Embarkation and Return.

The three squadrons of the regiment, under the Command of Lieutenant Colonel Knight, embarked at Sydney on the transport Southern Cross on the 17th January, 1900, end arrived at Cape Town on 17th February, disembarking on the 19th. It comprised 20 officers, 385 sergeants and rank and file, with 404 horses and 17 carts. Of those, 3 Officers and 20 others ware killed or died, 3 officers and 4 others were transferred to 2nd and 3rd Mounted Rifles, 3 officers and 21 others were struck off the strength in South Africa, 1 officer and 4 others were commissioned in the Imperial Army; 11 officers and 336 others returned to Australia.

As thus reduced, the regiment again embarked at Cape Town on 30th March, 1901, and arrived at Sydney on 29th April, disembarking on the 1st May. The only port of call was Fremantle.
Further Reading:
1st New South Wales Mounted Rifles
1st New South Wales Mounted Rifles, Roll of Honour
Battles where Australians fought, 1899-1920
---
Citation:
1st New South Wales Mounted Rifles, Outline
Posted by Project Leader at 12:01 AM EAST
Updated: Monday, 10 May 2010 10:22 AM EADT