The Battle of Anzac Cove, Gallipoli, 25 April 1915, 3rd Infantry Battalion War Diary
Topic: BatzG - Anzac
The Battle of Anzac Cove
Gallipoli, 25 April 1915
3rd Infantry Battalion War Diary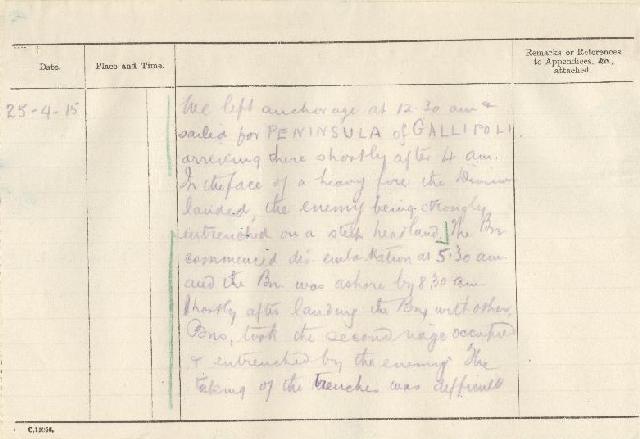 War Diary account of the 3rd Infantry Battalion , AIF.
The following is a transcription of the War Diary of the 3rd Infantry Battalion , AIF, of their role in the landings at Anzac on 25 April 1915.
24 April 1915

Sailing orders having been received and all arrangements for early departure. We left Lemnos at 6.15 am and sailed for nearly 5 hours coming to an anchorage at 10.55 am, where we remained until next morning.


25 April 1915

We left anchorage at 12.30 am and sailed for Peninsula of Gallipoli arriving there shortly after 4 am. In the face of a heavy fire the Division landed, the enemy being strongly entrenched on a steep headland. The Battalion commenced disembarkation at 5.30 am and the Battalion was ashore by 8.30 am. Shortly after landing the Battalion, with other Battalions, took the second ridge occupied and entrenched by the enemy. The taking of the trenches was difficult but eventually we succeeded. But at times, we were sorely pressed on the right flank. All night we occupied the trenches in the face of the foe. During the day, the Adjutant, Captain Burns, was killed, also Captain Leer. The wounded officers were Captain JW Bean, AAMC, wounded in execution of his duty (attending a wounded man under a very heavy fire). Lieutenants Carter and Cadell, both the latter receiving slight wounds. The Adjutant was at his post and Captain Leer was leading his men on when struck down. The wounded in other ranks amounted to 90, the missing was impossible to calculate and 20 men were killed.

Lieutenant OG Howell Price was appointed Acting Adjutant in lieu of Captain Burns deceased.

Altogether the day's battle was in favour of the Allies, (ie Division).



26 April 1915

The Battle again raged fiercely, the enemy making repeated attempts to regain the trenches, but the men hung on bravely - again showed their superiority of fire and discipline. Great trouble was caused by the enemy shelling our trenches but eventually the Navy succeeded in keeping their guns quiet. Towards evening the fight gained renewed vigour and a vigorous attack was made on the enemy and operations during the night were very much quieter. Lieutenant Evans (Machine Gun Section) in rescuing a wounded man from the firing line in the morning was shot dead. Mr Evans showed conspicuous bravery in saving this wounded man. Lieutenants MacFarlane, Cadell and Major ET Brown were wounded. The Division maintained its stand already made. During the day 30 men were wounded and 10 killed, one man died as a result of wounds (Sergeant Cavill) from wounded received the previous day. Reported to Brigade Headquarters deaths of Officers. The Turks appeared to be increasing in strength very rapidly. The feature of the battle was the great accuracy of the enemy's artillery.

Further Reading:
The Battle of Anzac Cove, Gallipoli, 25 April 1915
The Battle of Anzac Cove, Gallipoli, 25 April 1915, 3rd Infantry Battalion, Roll of Honour
The Battle of Anzac Cove, Gallipoli, 25 April 1915, 1st Infantry Brigade, Roll of Honour
The Battle of Anzac Cove, Gallipoli, 25 April 1915, AIF, Roll of Honour
Battles where Australians fought, 1899-1920
---
Citation:
The Battle of Anzac Cove, Gallipoli, 25 April 1915, 3rd Infantry Battalion War Diary
Posted by Project Leader at 12:01 AM EADT
Updated: Tuesday, 6 April 2010 11:14 PM EADT