The Battle of Anzac Cove, Gallipoli, 25 April 1915, 2nd Infantry Brigade Signals - No. 21
Topic: BatzG - Anzac
The Battle of Anzac Cove
Gallipoli, 25 April 1915
2nd Infantry Brigade Signals - No. 21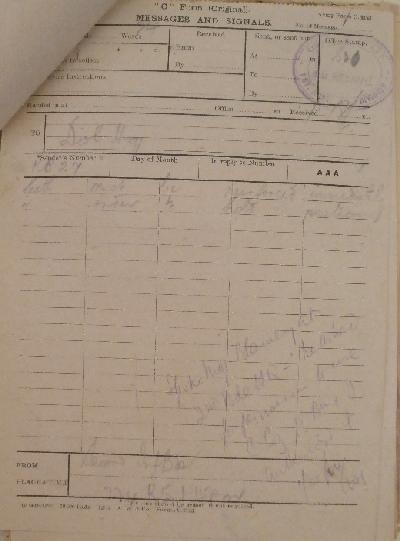 2nd Infantry Brigade, AIF, Signals - No. 21
The following is a transcription of the Signal No. 21 of the 2nd Infantry Brigade, AIF, which forms part of a series which illustrates the chaos and problems experienced in executing their role in the landings at Anzac on 25 April 1915.
Aust Div

KB 27 25/4/15 AAA

Begins:

Sixth must be reinforced immediately in order to hold position

Ends.

2 AIB

224 R5

1.15 pm

Note added

I spoke to Major Blamey at 2nd Bde HQ - he asked for permission to use C Coy 8th Bn & I authorised it.


Previous: 2nd Infantry Brigade Signals - No. 20
Next: 2nd Infantry Brigade Signals - No. 22
Further Reading:
The Battle of Anzac Cove, Gallipoli, 25 April 1915
The Battle of Anzac Cove, Gallipoli, 25 April 1915, 2nd Infantry Brigade, Roll of Honour
The Battle of Anzac Cove, Gallipoli, 25 April 1915, AIF, Roll of Honour
Battles where Australians fought, 1899-1920
---
Citation:
The Battle of Anzac Cove, Gallipoli, 25 April 1915, 2nd Infantry Brigade Signals - No. 21
Posted by Project Leader at 12:01 AM EAST
Updated: Thursday, 8 April 2010 6:58 PM EADT