6th Bn, AIF, Roll of Honour, Joseph Rupert Balfe
Topic: BatzG - Anzac
6th Bn, AIF
6th Infantry Battalion, AIF
Roll of Honour
Joseph Rupert Balfe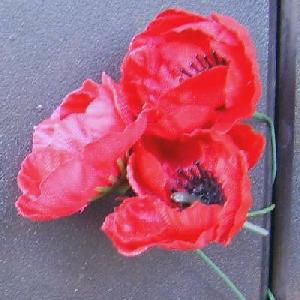 Poppies on the Roll of Honour, Australian War Memorial, Canberra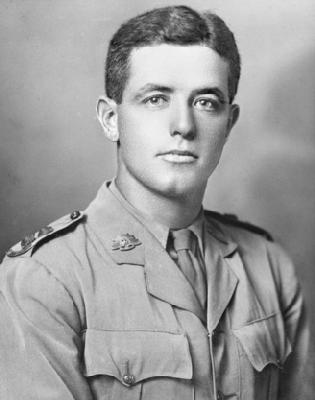 Joseph Rupert Balfe
Joseph Rupert Balfe
Date of birth
9 March 1890
Place of birth
Brunswick, Victoria
School
University High School, Melbourne, Victoria
Other training
Matriculated, 1906; Senior Public, 1907; University of Melbourne, Victoria (Medicine, 5th yr)
Occupation
Medical student
Address
6 Barkley Street, Brunswick, Victoria
Marital status
Single
Age at embarkation
24
Next of kin
Father, Mr Balfe, 6 Barkley Street, Brunswick, Victoria
Previous military service
Served 4 years in University Rifles (Citizen Military Forces), Melbourne, Victoria. Attended Kilmore Camp, 1911, as Private; 1912, as Lance Corporal; Heidelberg Camp, 1913, as Sergeant; Bundoora Camp, 1914, as 2nd Lieutenant.
Enlistment date
2 September 1914
Rank on enlistment
2nd Lieutenant
Unit name
6th Battalion, A Company
AWM Embarkation Roll number
23/23/1
Embarkation details
Unit embarked from Melbourne, Victoria, on board HMAT A20 Hororata on 19 October 1914
Rank from Nominal Roll
Lieutenant
Unit from Nominal Roll
6th Battalion
Promotions

Lieutenant
Unit: 6th Battalion
Promotion date: 3 February 1915

Other details from Roll of Honour Circular

Sergeant Collins reported: 'At Gaba Tepe 25/4/1915. Landing in the morning about 5.20 a.m., just reached beach and a bursting shell killed Balfe instantly. He was in command of B Coy. Came from Australia with informant on transport "Hororata" on 19th [October] 1914. Buried at Hillcrest - Shrapnel Gully - Gaba Tepe. Temporary cross erected. Dark complexion, about 25 years of age, thick set. From Victoria.' Base Records forwarded these details to Mr Balfe, 2 February 1921.

Fate
Killed in Action 25 April 1915
Place of death or wounding

Anzac Cove, Gallipoli, Turkey

Date of death
25 April 1915
Age at death from cemetery records
25
Place of burial
No known grave
Commemoration details
The Lone Pine Memorial (Panel 25), Gallipoli, Turkey

The Lone Pine Memorial, situated in the Lone Pine Cemetery at Anzac, is the main Australian Memorial on Gallipoli, and one of four memorials to men of the New Zealand Expeditionary Force. Designed by Sir John Burnet, the principal architect of the Gallipoli cemeteries, it is a thick tapering pylon 14.3 metres high on a square base 12.98 metres wide. It is constructed from limestone mined at Ilgardere in Turkey.

The Memorial commemorates the 3268 Australians and 456 New Zealanders who have no known grave and the 960 Australians and 252 New Zealanders who were buried at sea after evacuation through wounds or disease. The names of New Zealanders commemorated are inscribed on stone panels mounted on the south and north sides of the pylon, while those of the Australians are listed on a long wall of panels in front of the pylon and to either side. Names are arranged by unit and rank.

The Memorial stands over the centre of the Turkish trenches and tunnels which were the scene of heavy fighting during the August offensive. Most cemeteries on Gallipoli contain relatively few marked graves, and the majority of Australians killed on Gallipoli are commemorated here.

Panel number, Roll of Honour,
Australian War Memorial
45
Miscellaneous information from
cemetery records
Parents: Matthew and Sarah Balfe, 60 Sydney Road, Brunswick, Victoria, Australia
Other details

Born in Brunswick, Balfe attended Princes Hill State School before earning a scholarship to attend University High School. Rupert decided after High School that he would study medicine. He attended Melbourne University for his degree and accomplished it. During his years at the University he played for the VFL Football Club.

He played Australian rules football for VFA Club Brunswick whilst enjoying athletics at University High. He played in a Grand Final with Brunswick against Footscray, along with his two brothers, Harold and Stan. Balfe, a wingman, broke his arm during the match and that turned the game, with Footscray winning by 24 points. When at Melbourne University, he became a classy footballer with the VFL/AFL side University, but due to studies he was limited. He played on 1 game in season 1909-1910, making his debut in 1909, but in 1911 he came back, and allowed for 6 more games, before ending a football career for athletics.

He had always been a great athlete, especially in field athletics. He was a High School champion athletics, winning the 100,200 and 400 yards handicaps, long jump, high jump and 120 yards hurdles. In 1913 he was runner-up in the Victorian long jump.

Debut - 15 May 1909, University vs. St Kilda, at Junction Oval

Team - University (1909,1911)

7 Games, 2 Goals

War service: Egypt, Gallipoli

Medals: 1914-15 Star, British War Medal, Victory Medal


War Grave Register notes
BALFE, Lt. Joseph Rupert. 6th Bn. Killed in action 25th April, 1915. Age 25. Son of Matthew and Sarah Balfe, of 60, Sydney Rd., Brunswick, Victoria, Australia. 25.
Source

AWM145 Roll of Honour cards, 1914-1918 War, Army

All information sourced from the Australian War Memorial, ADFA Project, National Australian Archives and the Australian Light Horse Studies Centre.
Lest We Forget
Further Reading:
The Battle of Anzac Cove, Gallipoli, 25 April 1915
The Battle of Anzac Cove, Gallipoli, 25 April 1915, 6th Infantry Battalion, Roll of Honour
The Battle of Anzac Cove, Gallipoli, 25 April 1915, 2nd Infantry Brigade, Roll of Honour
The Battle of Anzac Cove, Gallipoli, 25 April 1915, AIF, Roll of Honour
Battles where Australians fought, 1899-1920
---
Citation:
6th Bn, AIF, Roll of Honour, Joseph Rupert Balfe
Posted by Project Leader at 12:01 AM EADT
Updated: Monday, 12 April 2010 10:25 AM EADT