The Battle of Anzac Cove, Gallipoli, 25 April 1915, 14th Infantry Battalion War Diary
Topic: BatzG - Anzac
The Battle of Anzac Cove
Gallipoli, 25 April 1915
14th Infantry Battalion War Diary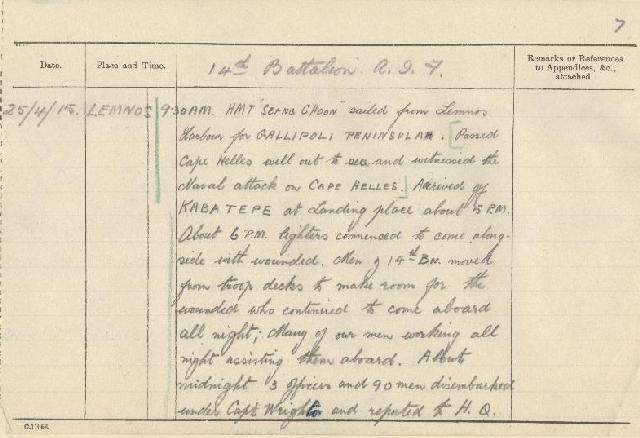 War Diary account of the 14th Infantry Battalion , AIF.
The following is a transcription of the War Diary of the 14th Infantry Battalion , AIF, of their role in the landings at Anzac on 25 April 1915.
24 April 1915

Lemnos

Physical training, full marching order parade, existing standing orders explained to companies. Second iron ration issued. Conference of Officers Commanding at Divisional Headquarters.


25 April 1915

Lemnos

9.30 am - HMT Seang Choon sailed from Lemnos Harbour for Gallipoli Peninsula. Passed Cape Helles well out to sea and witnessed the Naval attack on Cape Helles. Arrived off Kaba Tepe at landing place about 5 pm. About 6pm lighters commenced to come along side with wounded. Men of 14th Battalion moved from troop decks to make room for the wounded who continued to come aboard all night; many of our men working all night assisting them aboard. About midnight 3 Officers and 90 men disembarked under Captain Wright and reported to Headquarters New Zealand and Australian Division. These were given orders to entrench themselves and act as a reserve; and entrenched themselves about Square 224 G7.


26 April 1915

Gallipoli Peninsula

11.15 am - Two torpedo boat destroyers came alongside HMT Seang Choon, and the 14th Battalion, (less details to be left on board as "B" and "C" Echelons) embarked on them. These proceeded in shore, where the men were transferred into tows which landed men on the beach. This being done under shrapnel fire, 1 NCO killed and one man wounded whilst in the tows. By 1.30 pm 25 Officers and 810 Other Ranks were landed, making a total on shore of 28 Officers 900 Other Ranks. 167,000 rounds of Small Arms Ammunition, three days rations including emergency ration. All tools belonging to the Battalion were also brought ashore. Officer Commanding 14th Infantry Battalion reported to General Commanding New Zealand and Australian Division and instructions received that 14th Infantry Battalion to form part of General reserve under Colonel Monash, VD (Veterans Decoration), Commanding 4th Infantry Brigade.

Battalion bivouacked for night on beach in Square 224 about G4 and 7. Two men wounded on beach by shrapnel fire.


Further Reading:
The Battle of Anzac Cove, Gallipoli, 25 April 1915
The Battle of Anzac Cove, Gallipoli, 25 April 1915, 14th Infantry Battalion, Roll of Honour
The Battle of Anzac Cove, Gallipoli, 25 April 1915, 4th Infantry Brigade, Roll of Honour
The Battle of Anzac Cove, Gallipoli, 25 April 1915, AIF, Roll of Honour
Battles where Australians fought, 1899-1920
---
Citation:
The Battle of Anzac Cove, Gallipoli, 25 April 1915, 14th Infantry Battalion War Diary
Posted by Project Leader at 12:01 AM EAST
Updated: Monday, 12 April 2010 9:54 PM EADT