The Battle of Anzac Cove, Gallipoli, 25 April 1915, 16th Infantry Battalion War Diary
Topic: BatzG - Anzac
The Battle of Anzac Cove
Gallipoli, 25 April 1915
16th Infantry Battalion War Diary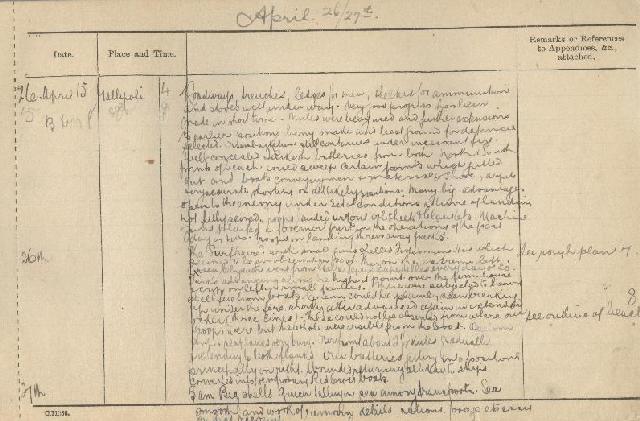 War Diary account of the 16th Infantry Battalion, AIF.
The following is a transcription of the War Diary of the 16th Infantry Battalion, AIF, of their role in the landings at Anzac on 25 April 1915.
24 April 1915

Operations issued.


25 April 1915

Sailed from Lemnos in splendid weather. Left here around as we steamed out at 1 pm about 3 hours later warships in line were sighted preparing and assisting the landing of troops which had disembarked earlier in the day Gaba Tepe was the centre of heavy fire as we approached.

Roadways, trenches, ledges for men, shelves for ammunition and stores well under way. Very good progress has been made in short time. Mules were being used and further extensions to earlier positions being made and best ground for defence selected. Disembarkation still continues under incessant fire. Well concealed Turkish batteries from both north and south points of beach would sweep certain points which pulled out and boats conveying men and makes use of shore despite very accurate shooting or all likely positions. Many big advantages open to the enemy under set of conditions at line of landing not fully seized. Troops landed without sheets and blankets. Machine guns played a foremost part in the operation of the past day or two. Troops on landing threw away packs.


26 April 1915

The Sunfloure? with small guns shelled Fisherman's Hut which seemed to be an observation post. This on the extreme left. Queen Elizabeth went from Gaba Tepe to Cape Helles every day or so. Turks advancing along the highest point over the farm house and crept on left in small parties. There were subjected to heavy shell fire from boats. Enemy could be plainly seen breaking up under the fire. Shortly after advanced again in extended order (three lines). These could not be observed from where our troops were but the whole were visible from the boat. Balloon ships and aeroplanes very busy. Reformed about 2½ miles gradually entrenching to both flanks. Our batteries getting into position principally on right. Wounded returning all day to ships converted into temporary Red Cross boats.




Further Reading:
The Battle of Anzac Cove, Gallipoli, 25 April 1915
The Battle of Anzac Cove, Gallipoli, 25 April 1915, 16th Infantry Battalion, Roll of Honour
The Battle of Anzac Cove, Gallipoli, 25 April 1915, 4th Infantry Brigade, Roll of Honour
The Battle of Anzac Cove, Gallipoli, 25 April 1915, AIF, Roll of Honour
Battles where Australians fought, 1899-1920
---
Citation:
The Battle of Anzac Cove, Gallipoli, 25 April 1915, 16th Infantry Battalion War Diary
Posted by Project Leader at 12:01 AM EAST
Updated: Monday, 12 April 2010 9:52 PM EADT