The Battle of Anzac Cove, Gallipoli, 25 April 1915, Wellington Infantry Battalion War Diary
Topic: BatzG - Anzac
The Battle of Anzac Cove
Gallipoli, 25 April 1915
Wellington Infantry Battalion War Diary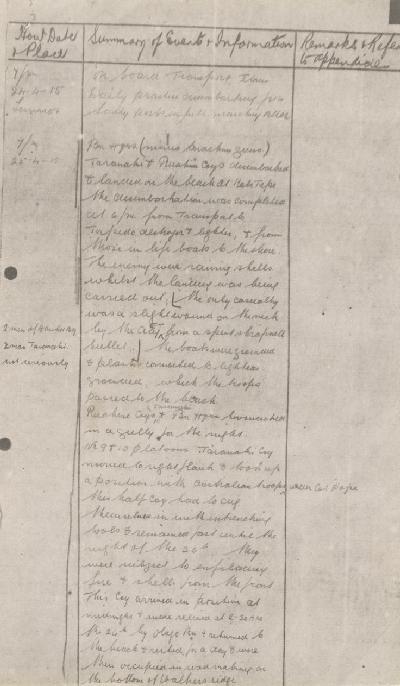 War Diary account of the Wellington Infantry Battalion.

The following is a transcription of the War Diary of the Wellington Infantry Battalion, of their role in the landings at Anzac on 25 April 1915.
25 April 1915

Battalion Headquarters (minus Machine Guns) Taranaki and Ruahini Companies disembarked and landed on the beach at Kabe Tepe. The disembarkation was complete at 6 pm from transport to torpedo destroyer and lighter and from those in life boats to the shore. The enemy were raining shells whilst the landing was being carried out. The only casualty was a slight wound on the neck by the Dai from a spent shrapnel bullet. Two men of Hawkes Bay and 2 men Taranaki not seriously. The boats were grounded and pinnaces connected to lighters grounded which the troops passed to the beach. Ruahini and Taranaki Companies, and Battalion Headquarters bivouacked in a gully for the night.

No.'s 9 and 10 Platoons Taranaki Company moved to right flank and took up a position with Australian troops under Colonel Pope. This half company had to dig themselves in with entrenching tools and remained fast until the night of the 26th. They were subject to enfilading fire and shells from the front. This Company arrived in position at midnight and were relieved at 2.30 am the 26th by Otago Battalion and returned to the beach and rested for a day and were then occupied in road making at the bottom of Walker's Ridge.

26 April

During the action of No.'s 9 and 10 Platoons Taranaki Company the following casualties occurred - killed 7, including Major McGlade; wounded 26. All ranks worked with determination and coolness. No. 10/273 Pte HE Hayson went out under enemy fire and retrieved boxes of ammunition that had become ignited by enemy fire and carried them up with ???? in this action he was killed.

No 10/747 Lance Corporal Looney left his position under heavy fire to attend and bandage a comrade. He was killed while doing so.

No 10/1116 Sergeant Major JH Boner showed great bravery all throughout by going out and bringing wounded to a place of cover. He undoubtedly saved the lives of a number of men.

One and a half companies entrenched themselves on Maclagan's Ridge on the night of the 26th returning to Howitzer Gully at 9 am the 27th.

Battalion Headquarters remained in the gully north east of Corps Headquarters for the day.

Remainder of Taranaki company returned to beach during the night.

WWC Hawkes Bay and Machine Guns disembarked and joined the Battalion in the gully at about 6.30 pm.


War Diaries
All War Diaries cited on this site should be read in conjunction with the Australian Light Horse Studies Centre, AIF War Diaries of the Great War, Site Transcription Policy which may be accessed at:
Australian Light Horse Studies Centre, AIF War Diaries of the Great War, Site Transcription Policy
Further Reading:
The Battle of Anzac Cove, Gallipoli, 25 April 1915
The Battle of Anzac Cove, Gallipoli, 25 April 1915, Wellington Infantry Battalion, Roll of Honour
The Battle of Anzac Cove, Gallipoli, 25 April 1915, NZEF Roll of Honour
Battles where Australians fought, 1899-1920
---
Citation:
The Battle of Anzac Cove, Gallipoli, 25 April 1915, Wellington Infantry Battalion War Diary
Posted by Project Leader at 12:01 AM EAST
Updated: Tuesday, 13 April 2010 9:31 PM EADT