9th LHR AIF War Diary, 4 June
Topic: AIF - 3B - 9 LHR
9th LHR, AIF
9th Light Horse Regiment

War Diary, 4 June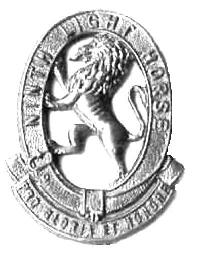 Pro Gloria et Honore - For Glory and Honour
Regimental March - Marching Through Georgia
The following entries are extracted and transcribed from the 9th Light Horse Regiment War Diary, the originals of which are held by the Australian War Memorial. There are 366 entries on this site. Each day has entries as they occurred from 1914 to 1919. In addition to the 9th Light Horse Regiment War Diary, when appropriate, entries from the 3rd Light Horse Brigade War Diary and other regiments with the Brigade will also appear. Entries from the unit history, Darley, TH,
With the Ninth Light Horse in the Great Wa
r, Adelaide, Hassell Press, 1924 will also appear from time to time. The aim is to give the broadest context to the story and allow the reader to follow the day to day activities of the regiment. If a relative happened to have served in the regiment during the Great War, then this provides a general framework in which the individual story may be told.
The Diary
1914
Thursday, June 4, 1914

See 4th Military District, South Australia for militia activities.
1915
Friday, June 4, 1915
9th Light Horse Regiment Location - Walkers Ridge

9th Light Horse Regiment War Diary - Relief of Regiment by the Auckland Mounted Rifles commenced. Completed by 1400.
Positions occupied just prior to handing over. Regiment went into rest camp in Walkers Gully.
1400 13 of 4th Reinforcements arrived from Alexandria.
16 Volunteers from the Regiment went out and bombed the Turk trenches in front of the Auckland Mounted Rifle Regiment. No Casualties. Attempt successful. Heavy rifle fire returned.

3rd Light Horse Brigade War Diary - Careful inspection of trenches before 0400 and after breakfast in view of proposed attack.
100 men of 10th Light Horse Regiment back to Brigade.
General display at 1000, King's birthday.
Lieutenant and Honorary Captain McMaster, 10th Light Horse Regiment reported with twelve men from the 8th Light Horse Regiment 13 from the 9th Light Horse Regiment and twenty from the 10th Light Horse Regiment all from 4th Reinforcements.
9th Light Horse Regiment relieved by Auckland Mounted Rifles.
Casualties: 8th Light Horse Regiment, one wounded; 9th Light Horse Regiment, one wounded.
Letter to Headquarters, Australian and New Zealand Division, Cairo regarding reinforcements.
Memo regarding "Standing to Arms".
Attack on Quinn's Post, all actions cooperating No.2 Sub Section.

Carew Reynell Diary - One is simply overwhelmed with the luxury of the last 12 hours.

After standing to arms last night from 2000 to 2100, went and had a bath and then had the luxury of a sleep with only underpants and shirt on and an undisturbed sleep. It's this way - yesterday after thirteen days in the trenches we were relieved and come down into a gully by the sea overgrown with bushes. Delightful view of the sea and seashore and a few hundred yards in front and are revelling in a quiet loaf.
There is a devil of a lot of firing going on in the neighbourhood of Quinn's Post and evidently a scrap of some dimension going on - they say there was very heavy firing all night too but I never heard a sound. By the way that attack on the Turks trench in front of our late position has been put off until the saps have got up close to it - which to my mind is right and makes it quite easy.

We shall be back there in a week and if the attack isn't made by the Auckland Regiment, who relieved us, we shall have it to do when we get back. However it will only mean charging over a few yards then and communication can soon be opened with it after capture. Heard very heavy bombardment at Cape Helles yesterday.

Our casualties in the week are 28 - we had none the first six days in the trenches bar a couple of grazes that didn't go to the doctor. Of the above, one third, nine, are dead or as good as dead. General Russell was very complimentary to the regiment although he was very angry with a couple troop leaders for gross neglect of duty - not intentional but cases of ignorance and inexperience.
1916
Sunday, June 4, 1916

9th Light Horse Regiment Location - Roadhead Serapeum.

9th Light Horse Regiment War Diary - Routine Patrol and Training work carried out.
1917
Monday, June 4, 1917

9th Light Horse Regiment Location - Um Urgan

9th Light Horse Regiment War Diary - Until further notice the Brigade "Stands to Arms" with horses saddled and in readiness for an immediate move by 0330.
Non Commissioned Officers Hotchkiss Rifle and Specialist Parades continued.
1918
Tuesday, June 4, 1918

9th Light Horse Regiment Location - Ain Ed Duk

9th Light Horse Regiment War Diary - 0900 Officers inspecting front line works preparatory to taking over 7th Light Horse Regiment.

1830 The Regiment by squadrons proceeded to front line and relieved 7th Light Horse Regiment. Relief completed by 2030. Orders issued for "C" Squadron to hold the line by day and to be relieved at 1900 daily by A and "B" Squadrons when "C" Squadron would withdraw and remain in reserve all night taking over again at 0400 daily from A and "B" Squadrons. On relief Regimental Headquarters with A and "B" Squadrons to withdraw daily to day bivouac in Sq M33a and to leave there at 1800 daily to take over night outpost line.
The site of the day bivouac was covered with thick thorny scrub which necessitated much hard work in clearing suitable area for horse lines and bivouacs. This area was reported as being badly infested with snakes and although many snakes were seen no one was bitten during our stay here.

3rd Light Horse Brigade War Diary - On the 4th June command of No. 1 sub sector, [Auja Bridgehead defences], passed from General Officer in Command, 3rd Light Horse Brigade to General Officer in Command, 22nd Mounted Brigade and the 3rd Light Horse Brigade withdrew to No. 4 sub sector with headquarters at Ain Ed Duk.

9th Light Horse Regiment, 1st section, 3rd Machine Gun Squadron, relieved the garrison of No. 4 sub sector, [Wart, Wane, Wild, Wood, and Wasp - posts], from 7th Light Horse Regiment, 2nd Light Horse Brigade], at 2030 4th June, and 8th Light Horse Regiment with two sections 3rd Machine Gun Squadron were placed at disposal General Officer in Command No. 3 sub sector, to enable the work at centres of resistance on The Bluff to Abu Tellul line to be pushed on rapidly.

Patrols were sent out at irregular intervals throughout each day to Tel el Truny to patrol north and east from there; enemy patrols were encountered, but these ways retired to the sangars and small trenches on prominent points near Tel el Richer and Tel el Museterah, when fired on by our patrols. From Tel el Truny any enemy movement towards Wadi Auja could be seen and the enemy was kept under close observation.

The improvement and strengthening of the defences of the "W" posts was carried on by night.
1919
Wednesday, June 4, 1919

9th Light Horse Regiment Location - Tel el Kebir

9th Light Horse Regiment War Diary - 2100, Hahn, Lieutenant HJ; and, leave party returned to duty.
Previous: 9th LHR AIF War Diary, 3 June
Next: 9th LHR AIF War Diary, 5 June
Sources:
See: 9th Australian Light Horse Regiment, Contents
Australian Light Horse Studies Centre, AIF War Diaries of the Great War, Site Transcription Policy

Further Reading:
9th Australian Light Horse Regiment, Roll of Honour
Battles where Australians fought, 1899-1920
---
Citation:
9th LHR AIF War Diary, 4 June
Posted by Project Leader at 12:01 AM EADT
Updated: Saturday, 7 August 2010 2:25 PM EADT