9th LHR AIF War Diary, July 13
Topic: AIF - 3B - 9 LHR
9th LHR, AIF
9th Light Horse Regiment
War Diary, 13 July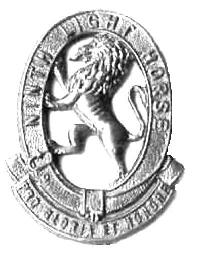 Pro Gloria et Honore - For Glory and Honour
Regimental March - Marching Through Georgia
The following entries are extracted and transcribed from the 9th Light Horse Regiment War Diary, the originals of which are held by the Australian War Memorial. There are 366 entries on this site. Each day has entries as they occurred from 1914 to 1919. In addition to the 9th Light Horse Regiment War Diary, when appropriate, entries from the 3rd Light Horse Brigade War Diary and other regiments with the Brigade will also appear. Entries from the unit history, Darley, TH,
With the Ninth Light Horse in the Great Wa
r, Adelaide, Hassell Press, 1924 will also appear from time to time. The aim is to give the broadest context to the story and allow the reader to follow the day to day activities of the regiment. If a relative happened to have served in the regiment during the Great War, then this provides a general framework in which the individual story may be told.
The Diary
1914
Monday, July 13, 1914

See 4th Military District, South Australia for militia activities.
1915
Tuesday, July 13, 1915
9th Light Horse Regiment Location - Reserve Gully

9th Light Horse Regiment War Diary - No Entry.

3rd Light Horse Brigade War Diary - Reinforcements arrived. 10th Light Horse Regiment one Officer [Lieutenant McDonald] and 52 Other Ranks, 8th Light Horse Regiment, seven Other Ranks, 9th Light Horse Regiment, one Other Ranks. Lieutenant Olden, wounded, returned to duty.

Warrant Officer Strang transferred from 9th Light Horse Regiment to 8th Light Horse Regiment.

Notification that Lieutenant FO Thorn 8th Light Horse Regiment unfit for active service.

General Headquarters reports Lieutenants WA Tunbridge and C Chanter, 9th Light Horse Regiment transferred to Base Hospital.

Enemy at Nek very restless and jumpy all night. Very much rifle unaimed fire. Of opinion that these are fresh troops in occupation of trenches.

Fifty more Garland Bombs issued. These are doing excellent work.
Carew Reynell Diary - Notice that I am mentioned along with two of our sergeants and two privates of the 8th Regiment in Army Corps Orders for good work in connection with the defence of Russell's Top.

There is no doubt that a move will be made before many weeks. I am tipping that the idea is to make a crushing blow by waiting until the Helles end get the Turks on the run and collar Archi Baba and then pushing us across to cut off their retreat by land. In this case their retreat across the Hellespont would be a rather doubtful possibility also.
We expect that at least another division will be landed her for the forward movement as it will mean that we shall have a long line to hold.

I am very interested to know the form that our attack we will take. It will depend very much on the amount of artillery support available. My idea would be as follows:
At 1930 to push a Brigade of infantry out from between No. 1 and 2 outposts to clear the ridges and gullies in their front which are only occupied by a few hundred Turks, they would advance for about a mile and entrench along the big spur running north west from 971 towards the CHA in Inamchal. Owing to the twilight they should be able to do this without much interference from the Turk's main position in front of us.

Under the cover of the above mass the new division during the night between the old out post line and the new one. Just before dawn, sent two Battalions to the W Hills to attack same at dawn and to subsequently put one of the Battalions on the High Ridge 820 North and W Hills while the remaining Battalion entrenched on W Hill. After daybreak, from 0400, the division less its two Battalions already disposed of would make all arrangements for attacking 971 from the north west. At 0500 artillery bombardment to begin and general attack at 0530 with all the artillery support possible. Assaulting line to push right on till a line from Maltepe to Eastern Spurs of 971 Peak reached supporting bodies with bombs to clear up the Turkish communication and other trenches. The line eventually would be:

1. From Gaba Tepe to 213B - outposts;

2. 213B to Maltepe - 971 - Ridge running north west to Chai previously entrenched.

From 213B to 971 would need a chain of small enclosed works made on the spurs on est side of ridge 482 with continuous entrenchments on the ridge.

We very much hope that we shall be on the left flank where there is some scope for individual initiative and qualities cultivated in our training as light horse. Although, alas, there are very few of our old regiment here now - we left 70 behind in Egypt and replaced with reinforcements at the last minute and now we have lost 200 and more away, killed, wounded or sick. The casualties in the advance will be very heavy as the Turks have a strong and well prepared position, but it may result in great things if it comes on top of a crushing success at Helles.

McFarlane wounded yesterday - in the leg, nothing serious - all my pals wounded now and my turn next I suppose - damned nuisance if I have to provide the 20% killed of the said casualties.
1916
Thursday, July 13, 1916

9th Light Horse Regiment Location - Roadhead Serapeum.

9th Light Horse Regiment War Diary - Routine work. Training consisting of Rifle exercises and musketry and mounted work.

Patrols and outposts carried on as in previous week.
1917
Friday, July 13, 1917

9th Light Horse Regiment Location - Abasan el Kebir

9th Light Horse Regiment War Diary - The Regiment paraded at 1000 for mounted training and crossed the railway line south of the camp to carry out equitation and preliminary troop drill.

Returned to camp at 1200.

Hodgson, Major General W, Commander of the Division inspected the troops at work.
1918
Saturday, July 13, 1918

9th Light Horse Regiment Location - Talaat ed Dumm

9th Light Horse Regiment War Diary - 1030, The Regiment together with remainder of Brigade paraded dismounted to receive and address from the Corps Commander reference matters of discipline.
1919
Sunday, July 13, 1919

9th Light Horse Regiment Location - SS Oxfordshire

9th Light Horse Regiment War Diary - 0930 Church service on boat deck.
Previous: 9th LHR AIF War Diary, 12 July
Next: 9th LHR AIF War Diary, 14 July
Sources:
See: 9th Australian Light Horse Regiment, Contents
Australian Light Horse Studies Centre, AIF War Diaries of the Great War, Site Transcription Policy

Further Reading:
9th Australian Light Horse Regiment, Roll of Honour
Battles where Australians fought, 1899-1920
---
Citation:
9th LHR AIF War Diary, 13 July
Posted by Project Leader at 12:01 AM EADT
Updated: Wednesday, 15 September 2010 1:54 PM EADT