9th LHR AIF War Diary, August 11
Topic: AIF - 3B - 9 LHR
9th LHR, AIF
9th Light Horse Regiment
War Diary, 11 August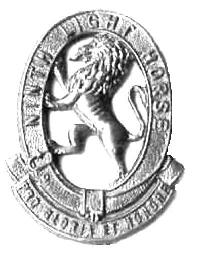 Pro Gloria et Honore - For Glory and Honour
Regimental March - Marching Through Georgia
The following entries are extracted and transcribed from the 9th Light Horse Regiment War Diary, the originals of which are held by the Australian War Memorial. There are 366 entries on this site. Each day has entries as they occurred from 1914 to 1919. In addition to the 9th Light Horse Regiment War Diary, when appropriate, entries from the 3rd Light Horse Brigade War Diary and other regiments with the Brigade will also appear. Entries from the unit history, Darley, TH,
With the Ninth Light Horse in the Great Wa
r, Adelaide, Hassell Press, 1924 will also appear from time to time. The aim is to give the broadest context to the story and allow the reader to follow the day to day activities of the regiment. If a relative happened to have served in the regiment during the Great War, then this provides a general framework in which the individual story may be told.
The Diary
1914
Tuesday, August 11, 1914

See 4th Military District, South Australia for militia activities.
1915
Wednesday, August 11, 1915

9th Light Horse Regiment Location - Walkers Ridge

9th Light Horse Regiment War Diary - The general action, after four days slackened and both sides strengthened defences. Our casualties for 4 days were Lieutenant Colonel Miell and 7 Other Ranks killed, 2 Officers and 26 Other Ranks wounded. Total 36.

Killed in action:

1523 Private Henry James Carroll, 28

361 Squadron Sergeant Major William Edward Harvey, 39

143 Lance Corporal Alexander King, 41

Lieutenant Colonel Albert Miell, 44

62 Lance Corporal George Southwell Seager, 19

746A Private Fredrick Joseph Smith, 20

367 Corporal Jeffery Travers, 21

Carew Reynell Diary - No Entry.
1916
Friday, August 11, 1916

9th Light Horse Regiment Location - Hod Hasanein

9th Light Horse Regiment War Diary - 0400 "A" Squadron passed through outposts towards enemy positions but meeting heavy fire Regiment fell back onto outpost line. Numbers of Turksd seen moving in redoubts and towards Bir el Abd.

0600 Enemy aeroplane flew overhead and dropped several bombs, one dropping close to "C" Squadron horses. After circling round it attacked one of our planes which was brought to the ground.
1900 Remained on line until 1900 when 8th Light Horse took over post and Regiment returned to Abu Dhahab for night.
1917
9th Light Horse Regiment Location - Tel el Marakeb

9th Light Horse Regiment War Diary - Finals of Boxing Tournament.
Smith, Lieutenant PT, left for Cavalry Course, Imperial School of Instruction, Zeitoun.
Brigadier, Maygar, Lieutenant Colonel LC, VC DSO, inspected the Regiment in lines.
1918
Sunday, August 11, 1918

9th Light Horse Regiment Location - Bluff

9th Light Horse Regiment War Diary - 0330, Regiment stood to arms. Everything quiet. Posts report all clear.

0700, Heavy machine gun fire on our aeroplane fired from direction of El Baghalat.

0700 - 0745 Our artillery shelled enemy positions on Bakr Ridge and El Baghalat.

0930 - 1030 Enemy artillery fired 26 77mm HE on Sq X8a occupied by reserve Squadron. ["A" Squadron] Moore, 1579 Lance Corporal JP, was slightly wounded but not evacuated and no other damage done.

Patrol of 30 men observed in Sq W16 grazing horses. This was reported to our heavy batteries and fire brought to bear on them. They moved later north west into the hills.

Luxmoore, Captain EM, [sick] evacuated to hospital.
1919
Monday, August 11, 1919

9th Light Horse Regiment Location - Adelaide

9th Light Horse Regiment War Diary - 0900 Regiment paraded near back entrance of Adelaide Main Station for inspection by the State Commandant [Antill, Brigadier General JM] who expressed appreciation of appearance and steadiness of the unit.

0930 Marched through streets of Adelaide by way of King William Street, Grenfell Street, Pultney Street, Rundle Street and then down to the train through the back entrance of the Adelaide Station. The populace was very enthusiastic and cheerful.

Entrained for Keswick where finalisation effected. On arrival at Keswick Barracks the Regiment formed close mass and was formally dismissed by the Acting CO, Brinkworth, Major TA.
Previous: 9th LHR AIF War Diary, 10 August
Next: 9th LHR AIF War Diary, 12 August
Sources:
See: 9th Australian Light Horse Regiment, Contents
Australian Light Horse Studies Centre, AIF War Diaries of the Great War, Site Transcription Policy

Further Reading:
9th Australian Light Horse Regiment, Roll of Honour
Battles where Australians fought, 1899-1920
---
Citation:
9th LHR AIF War Diary, 11 August
Posted by Project Leader at 12:01 AM EADT
Updated: Wednesday, 15 September 2010 10:29 PM EADT