9th LHR AIF War Diary, August 15
Topic: AIF - 3B - 9 LHR
9th LHR, AIF
9th Light Horse Regiment
War Diary, 15 August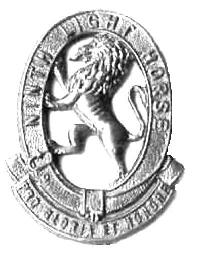 Pro Gloria et Honore - For Glory and Honour
Regimental March - Marching Through Georgia
The following entries are extracted and transcribed from the 9th Light Horse Regiment War Diary, the originals of which are held by the Australian War Memorial. There are 366 entries on this site. Each day has entries as they occurred from 1914 to 1919. In addition to the 9th Light Horse Regiment War Diary, when appropriate, entries from the 3rd Light Horse Brigade War Diary and other regiments with the Brigade will also appear. Entries from the unit history, Darley, TH,
With the Ninth Light Horse in the Great Wa
r, Adelaide, Hassell Press, 1924 will also appear from time to time. The aim is to give the broadest context to the story and allow the reader to follow the day to day activities of the regiment. If a relative happened to have served in the regiment during the Great War, then this provides a general framework in which the individual story may be told.
The Diary
1914
Saturday, August 15, 1914

See 4th Military District, South Australia for militia activities.
1915
Sunday, August 15, 1915

9th Light Horse Regiment Location - Walkers Ridge

9th Light Horse Regiment War Diary - No Entry.

Carew Reynell Diary - We are still in these dirty damned dusty lousy old trenches and no more prospect of getting out of them than flying to the moon.

Our offensive has come to a stop everywhere and there is little sign of a revival. We were within an ace of victory and the New Zealanders were actually on the Sari Bair ridge at one point, that is on 7 August they were entrenching on the Col of Chunuk Bair but were driven off in the afternoon. Now our whole line has been driven down the hill some 600 feet or more and we seem to be only just holding our own against continuous counter attacks. The 9th Corps on our left doesn't seem to be doing any good and has lost a lot of ground that it at first occupied without much trouble and last night the Lieutenant Commander of the Chilmer told me that the shipping in Suvla Bay is being shelled. It would be quite a pleasant change to get some good news now - all our news is bad. It is now official that Warsaw has fallen - the Turks had it pasted up in front of their trenches on the 6th August.

We heard that a transport full of our troops has been torpedoed. We have heard nothing from Achi Baba end which means they have not been able to accomplish anything down there. We here are in a most perilous position, the Turks line the ridges all round us and shell the plain between the foothills on which we are and Suvla Bay where all our supplies must be landed.

The weather will break in a month and the said plain will become a morass. Gales will be so continuous that we shall probably be on half rations and short of ammunition all the winter and our trenches here on the clay hill sides will just fall away.

Into the bargain we are all ill to breaking point. Callary and Scott are the only two that haven't been away sick yet and Scott is down with influenza today. Very few of the men have been here continuously and we have upwards of 200 away permanently. The men are sticking to it like heroes but the breaking point is not far off. I have only four officers at present doing duty besides the Adjutant [Pender] and myself. These are Scott [ill], Parsons [ill], Callary and Phyllis, just arrived.

I am afraid Scott and Parsons will be sent away in a day or two. Pender and myself are both weak as kittens. We are holding the key of the whole of our position and we all know it and cannot relax our vigilance for a moment and it is a big strain. We have a Regiment of Kitchener's Army in reserve but dare not entrust the trenches to them. They are the Leinsters and all right as these Kitchener's Army fellows go. Mean well and all that sort of thing but officered by a lot of bloody fools who can only make a mess well. The NCOs are a lot of half trained cyphers and the men are harmless lambs and the Turks would probably just walk in and kick them out.

I expect they are brave enough and all that but that's not much good - they would die gamely but we would lose Russell's Top. The English officers find this a very different picnic to France and Flanders and are astonished at what our chaps have stood. In France they have 24 hours in the fire trench, 24 hours in support, 24 hours in reserve and four days resting.

We have been here three months and the bulk of the time have been in the fire trenches - with no supports!

When we were resting we were still under fire and placed handy to rush up to support the troops on top if necessary and our whole regiment were employed while "resting" as sapping parties digging tunnels and roads and Lord knows what. In France they go back 5 or 6 miles into civilisation where they got baths and chairs and proper meals. We get no change and have no canteen to supplement our ration. However, it's got to be done I suppose and we must stick it out in these trenches while the Regiment melts away with pneumonia, dysentery and a hundred and one ailments caused by debility, but it has got to the point when it is going to melt very quickly. I am afraid Captain Weik has gone for good - went away with trenchitis - now I hear has pneumonia. Have just heard that Frank Rowell has died of peritonitis. He was run down and stuck to it and is out. All my friends from South Australia are out now. Frank Rowell and Miell dead and Dave and Neil wounded and Major Merritt away sick. Old Priestly was wounded but is back now and commands the 3rd Regiment. McFarlane won't be back for a long time. Oh well, I suppose things must change some day - perhaps a successful attack on Sari Bair is being arranged. If only we could get a bit of that damned ridge and hold it thing would be very different. We hold a long line now just below the crest everywhere and weak everywhere and our loss among Australians and New Zealanders every day is appalling. Our casualties during the fighting has only been 4 or 5,000 but only one brigade of the 1st Australian Division attacked so the losses are mainly in our New Zealand and Australian Division and at that mainly New Zealanders and 4th Infantry Brigade. Poor old 16th badly cut up again. Some of the new Army Regiments got badly hit too - mainly their own fault - that is to say their leaders. One of the Leinsters, now in support of us, is up before Court Martial today for cowardice - ran away.

I saw another lot of these poor lambs being marched across a plain at dusk in close order under shell fire and the other night - they hadn't finished carrying away the dead and wounded by daylight. Either waiting half an hour or a change of formation would have saved all or most of the loss.
In other cases Regiments were sent with insufficient directions and found themselves where they believed they were to dig in within a few yards of Turkish lines - this was in the dark.

Oh well, it's no use grizzling. I am ill, the officers, what there are left are ill, the whole Regiment is ill, the Army Corps is ill and the news is all ill, but it's a strong stomach that has no turning and although with a periscope one can hardly see any blue from which a bolt may come no doubt something will turn up. Weakened by losses and fatigued as we are no doubt the Turks are to some extent also suffering although their heavy reinforcements just arrived will be a great help, at the same time the value of their reinforcements is declining as far as training and efficiency is concerned.

Moreover their losses must have been as heavy, if not heavier, than ours and they can't be feeling too happy about things. One good push now might land us on Sari Bair and that would be very awkward for them.

Wretched and half starved as we shall be during the winter, I expect their lot will be nearly as bad, as our submarines have practically stopped their sea transport which means they will have to bring all their stores overland by very poor roads. One real success might end the Turkish hash altogether now and I hope we shall all be called on to make a supreme effort while the time is propitious. It is possible there is another division on its way to us - in which case best to wait for it. Well I have seen more war the last week than one might see ordinarily in years of war. The trenches up here give us a view of everything and we can see every move of our people. A mail is in but no letters have been brought to me yet so I am afraid it must be mainly papers and parcels - I still have a little chocolate left - very little.
Well, as I say, all the news is bad and there is very little of it and in war, no news of one's own people is bad news, but perhaps the next entry there will be a big change. The situation is full of possibilities if we have the men to make a push.
1916
Tuesday, August 15, 1916

9th Light Horse Regiment Location - Hod Nabit

9th Light Horse Regiment War Diary - 0730, Regiment camped at Hod Nabit. Enemy aeroplane flew overhead, circled and disappeared north easwards.

1200, Lieutenant Nelson, "A" Squadron, reported for duty from Bally Bunion having been relieved by Major Siekmannn.
1917
Wednesday, August 15, 1917

9th Light Horse Regiment Location - Tel el Marakeb

9th Light Horse Regiment War Diary - Tactical scheme - One squadron from each Regiment under Scott, Lieutenant Colonel WH, DSO, moved out at 0500 to carry out an advance and attack scheme.
1918
Thursday, August 15, 1918

9th Light Horse Regiment Location - Ain Ed Duk

9th Light Horse Regiment War Diary - Orders issued re cleaning of saddlery and metal work.

The weather at Ain Ed Duk appeared to be much cooler than that of front line.

Shelley, Captain JE, marched out to attend FGCM [Field General Court Martial] at 75th Division.

Andrews, Captain attached from 3rd Light Horse Field Ambulance temporarily during absence of Shelley, Captain.
1919
Friday, August 15, 1919

9th Light Horse Regiment Location - Adelaide

9th Light Horse Regiment War Diary - Regiment disbanded.
Previous: 9th LHR AIF War Diary, 14 August
Next: 9th LHR AIF War Diary, 16 August
Sources:
See: 9th Australian Light Horse Regiment, Contents
Australian Light Horse Studies Centre, AIF War Diaries of the Great War, Site Transcription Policy

Further Reading:
9th Australian Light Horse Regiment, Roll of Honour
Battles where Australians fought, 1899-1920
---
Citation:
9th LHR AIF War Diary, 15 August
Posted by Project Leader at 12:01 AM EADT
Updated: Wednesday, 15 September 2010 10:36 PM EADT