9th LHR AIF War Diary, August 22
Topic: AIF - 3B - 9 LHR
9th LHR, AIF
9th Light Horse Regiment
War Diary, 22 August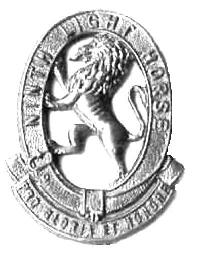 Pro Gloria et Honore - For Glory and Honour
Regimental March - Marching Through Georgia
The following entries are extracted and transcribed from the 9th Light Horse Regiment War Diary, the originals of which are held by the Australian War Memorial. There are 366 entries on this site. Each day has entries as they occurred from 1914 to 1919. In addition to the 9th Light Horse Regiment War Diary, when appropriate, entries from the 3rd Light Horse Brigade War Diary and other regiments with the Brigade will also appear. Entries from the unit history, Darley, TH,
With the Ninth Light Horse in the Great Wa
r, Adelaide, Hassell Press, 1924 will also appear from time to time. The aim is to give the broadest context to the story and allow the reader to follow the day to day activities of the regiment. If a relative happened to have served in the regiment during the Great War, then this provides a general framework in which the individual story may be told.
The Diary
1914
Saturday, August 22, 1914

See 4th Military District, South Australia for militia activities.
1915
Sunday, August 22, 1915

9th Light Horse Regiment Location - Walkers Ridge

9th Light Horse Regiment War Diary - No Entry.

Carew Reynell Diary - No Entry.
1916
Tuesday, August 22, 1916

9th Light Horse Regiment Location - Hod Nabit

9th Light Horse Regiment War Diary - Sent Patrol to Homossia.
1917
Wednesday, August 22, 1917

9th Light Horse Regiment Location - Abasan el Kebir

9th Light Horse Regiment War Diary - Reveille 0430. Mounted practice and Troop drill from 0600 to 0730. Hotchkiss Rifle teams paraded in the afternoon.
1918
Thursday, August 22, 1918

9th Light Horse Regiment Location - Ain Ed Duk

9th Light Horse Regiment War Diary - Led Horses were sent and personnel from No 3 and 4 Sub Sectors [Close Support] were collected and rejoined Regiment about 0630.
Sharp, Lieutenant RC; Wagg, Lieutenant BSW; Kildea, Lieutenant FJ; and, Lane, Lieutenant BGB, evacuated sick to hospital.
Advance party from 1st Light Horse Regiment reported at 1100 and took over Area Stores. Day was spent in cleaning area preparatory to move.
Regiment relieved by 1st Light Horse Regiment at 1930 and moved via Old Road to Talaat ed Dumm arriving at 2345. Splendid march discipline was observed throughout.

3rd Light Horse Brigade War Diary - General Officer in Command, 1st Light Horse Brigade assumed command of No. 3 and 4 sub - sectors on night of 22nd August and in completion of relief 3rd Light Horse Brigade marched to Talaat ed Dumm en route Ludd, where the Australian Mounted Division concentrated.

The Brigade arrived at Ludd on 22nd August and camped among; the olive groves there. Reinforcements, [but not sufficient to bring the Units up to establishment], came forward.
Equipment was got up to date and swords, the long straight cavalry pointing pattern, were issued to all ranks. The Cavalry or double rank drill was adopted; Cavanaugh, Major, the GSO 2 of the Division, put a class of Officers through sword drill, these Officers then became the instructors of the troops. Two imperial cavalry sergeant instructors were borrowed from the Imperial School of Instruction, Moascar, and they assisted in the instruction. The instruction which the Brigade had received at Deir el Belah during the previous February and March in the use of the bayonet as a sword now bore fruit. After a few lessons the men were passed by the Imperial Instructors as quite competent to operate against the Turkish cavalry.
Troops were exercised in shock tactics with rapid detachment of machine guns and Light Horse Regiment Hotchkiss Rifle to the flank. Up to now we had always carried 230 rounds of ammunition on the men; in view of the issue of swords this was now reduced to 180, 90 in the bandolier on the man and 90 in a second bandolier on his horse.
Intensive training was carried out throughout the Brigade until 18th September 1918.
1919
Friday, August 22, 1919

9th Light Horse Regiment Location - Adelaide

9th Light Horse Regiment War Diary - Regiment disbanded.
Previous: 9th LHR AIF War Diary, 21 August
Next: 9th LHR AIF War Diary, 23 August
Sources:
See: 9th Australian Light Horse Regiment, Contents
Australian Light Horse Studies Centre, AIF War Diaries of the Great War, Site Transcription Policy

Further Reading:
9th Australian Light Horse Regiment, Roll of Honour
Battles where Australians fought, 1899-1920
---
Citation:
9th LHR AIF War Diary, 22 August
Posted by Project Leader at 12:01 AM EADT
Updated: Thursday, 16 September 2010 8:28 AM EADT