9th LHR AIF War Diary, September 9
Topic: AIF - 3B - 9 LHR
9th LHR, AIF
9th Light Horse Regiment
War Diary, 9 September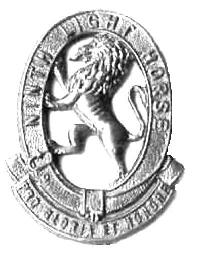 Pro Gloria et Honore - For Glory and Honour
Regimental March - Marching Through Georgia
The following entries are extracted and transcribed from the 9th Light Horse Regiment War Diary, the originals of which are held by the Australian War Memorial. There are 366 entries on this site. Each day has entries as they occurred from 1914 to 1919. In addition to the 9th Light Horse Regiment War Diary, when appropriate, entries from the 3rd Light Horse Brigade War Diary and other regiments with the Brigade will also appear. Entries from the unit history, Darley, TH,
With the Ninth Light Horse in the Great Wa
r, Adelaide, Hassell Press, 1924 will also appear from time to time. The aim is to give the broadest context to the story and allow the reader to follow the day to day activities of the regiment. If a relative happened to have served in the regiment during the Great War, then this provides a general framework in which the individual story may be told.
The Diary
1914
Wednesday, September 9, 1914

See 4th Military District, South Australia for militia activities.
1915
Thursday, September 9, 1915

9th Light Horse Regiment Location - Rhododendron Hill

9th Light Horse Regiment War Diary - The following officers of the 9th Light Horse Regiment - Captain Follitt, Medical Officer; Lieutenants Chanter, Pender, Dean, Phyllis and Darley, Quartermaster - total 6 and 97 Other Ranks marched in this morning.

Suffolks Infantry marched out - 2 Officers, 167 Other Ranks, total 169.

158 Lance Corporal McDonald, Arthur Elliot, 32, Died of wounds.

9th Light Horse Regiment Routine Order No. 9

Para 182. Bomb Fuses. All bombs when stored in the trenches should have the safety fuse, if protruding, covered with a cartridge case [.303] to preserve the fuse from any flash through exploding bomb or shell.

Para 184. Water Fatigues. Parties drawing water are to be paraded at 1430 daily under an NCO or at any other time arranged by the Quartermaster. The regulation issue is one gallon per capita.

Para 187. Dispositions. The allotment of trenches is as follows; A No. 1 Post from West Point north east intersecting old Turkish trenches to junction of old trench; 10th Light Horse Regiment - Strength during occupation, three Officers, 100 Other Ranks and one section 8th Light Horse Regiment Machine Guns. No. 2 Post on the left of No. 1 Post to old F now called East Point - 9th Light Horse Regiment. Strength at night time, six Officers and 140 Other Ranks and two sections, [9th and 10th Light Horse Regiments] Machine Guns. Troops in occupation of trenches will continue to improve and make them good.

27. Firing Line. Old No.3 Section of the fire trench will be held by A, B, and C, Squadrons with two Officers and 56 Other Ranks. The remainder of the line will be supplied by D Squadron as follows: No. 4 Post, 2 Officers and 41 Other Ranks; No. 5 Post, 1 Officer and 25 Other Ranks; F and G Posts, 1 Officer and 20 Other Ranks; Total, 4 Officers and 86 Other Ranks.

28. Patrols. Sergeant Gordon is detailed to guide the patrols furnished by the 8th Light Horse Regiment to their positions tonight.
1916
Saturday, September 9, 1916

9th Light Horse Regiment Location - Hod Nabit

9th Light Horse Regiment War Diary - Carrying out Routine Work.

On alternate days, one Squadron takes over line of Outposts running from Bayed to Bada and thus connecting with the Imperial Camel Corps on right and New Zealand Mounted Rifles on left.
1917
Sunday, September 9, 1917

9th Light Horse Regiment Location - Abasan el Kebir

9th Light Horse Regiment War Diary - Church Parades cancelled owing to terrific dust.
1918
Monday, September 9, 1918

9th Light Horse Regiment Location - Ludd area

9th Light Horse Regiment War Diary - Syllabus of training for week ending 14th September 1918 issued.
Swordsmanship classes for all ranks commenced.
General health of Regiment now improving. Influenza epidemic has considerably lessened. Evacuations down to about four per day.
1919
Tuesday, September 9, 1919

9th Light Horse Regiment Location - Adelaide

9th Light Horse Regiment War Diary - Regiment disbanded.
Previous: 9th LHR AIF War Diary, 8 September
Next: 9th LHR AIF War Diary, 10 September
Sources:
See: 9th Australian Light Horse Regiment, Contents
Australian Light Horse Studies Centre, AIF War Diaries of the Great War, Site Transcription Policy

Further Reading:
9th Australian Light Horse Regiment, Roll of Honour
Battles where Australians fought, 1899-1920
---
Citation:
9th LHR AIF War Diary, 9 September
Posted by Project Leader at 12:01 AM EADT
Updated: Thursday, 16 September 2010 9:09 AM EADT