The Battle of Broken Hill, New South Wales, 1 January 1915, Richard Nicholaus John Resch [aka Fletcher]
Topic: BatzA - Broken Hill
Australian Battles
The Battle of Broken Hill, New South Wales, 1 January 1915
Richard Nicholaus John Resch [aka Fletcher]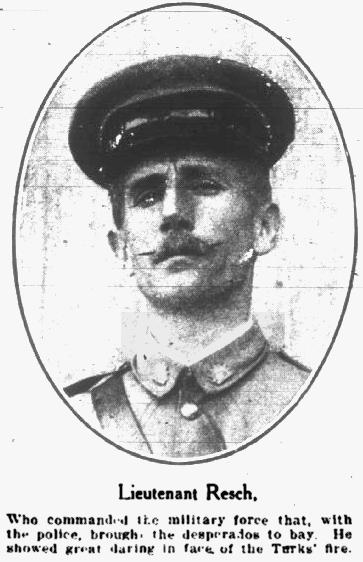 [Sydney Mail, 13 January 1915, p. 12.]
Lieutenant Resch is none other than Richard Nicholaus John Resch [aka Fletcher] (b. 1881 Wilcannia - d. 1960 Chatswood), the nephew of Emile Resch, the founder of Resch's Brewery interests, well known to New South Welshmen of an earlier era.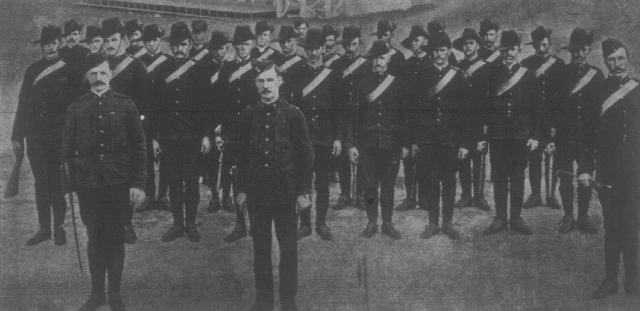 The 1st Australian Horse prior to embarkation
[

Sydney Mail

, 4 November 1899, p. 1105.]


Resch served in South Africa with the 1st Australian Horse. He took part in the Relief of Kimberly and the various campaigns in the Orange Free State from February to May 1900, including operations at Paardeberg, Dreifontein, Poplar Grove, and Zand River. Subsequent to that the unit moved into the Transvaal and to the west of Pretoria including actions at Zilikats Nek, 2 August 1900, then east of Pretoria with actions at Belfast and Middleburg. Resch was awarded the Queen's South African Medal with five clasps - Cape Colony, Orange Free State, Transvaal, Driefontein and Belfast. Resch was a genuine Boer War Veteran and no slouch as a soldier.

It turns out that Resch came to Broken Hill in 1908 to manage the Brewery for his uncle until 1914 when he took over the whole business. In 1912 he married Emma Ann I Fletcher (b. 1879 Cowra - d. 1962 Chatswood) at Broken Hill.

Resch was commissioned a Lieutenant with the Senior Cadets in 1911, a position he retained for over a decade. He also was appointed as an Area Officer for Broken Hill. At the same time he was Adjutant for the 82nd Infantry Battalion. In March 1915 he was given full command of the Battalion while the Commanding Officer was absent on AIF duties. So taking command of the situation was something Resch was familiar with, so too was fighting a battle.

Emile Resch, Richard Resch's uncle, was a very popular man around town. He was one of the key committee men and founders of the German Club which was burnt down after the battle on 1 January 1915. When Emile Resch died in 1930, there was a huge funeral for him with tributes coming from all quarters.

So why did the rioting mob in Broken Hill burn down his club?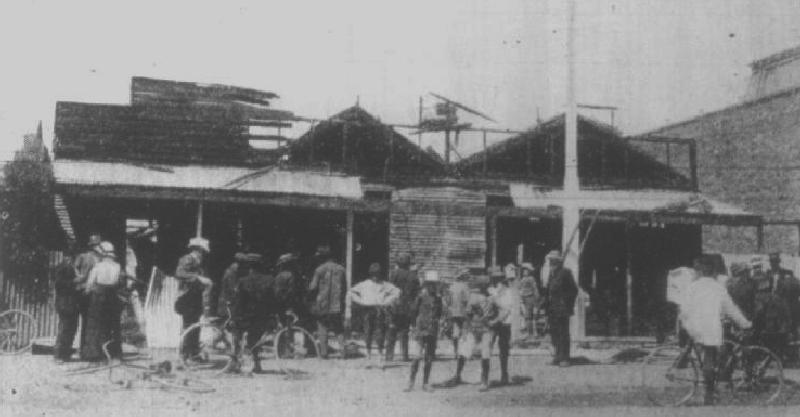 German Club after being burnt down
[From:

Sydney Mail

, 13 January 1915, p. 13.]

One upshot of this episode was to prompt Resch to change his German sounding name to something more Anglo-Saxon so he adopted his wife's maiden name Fletcher in June 1916 and remained so for the rest of his life. Ironically Edmund Resch had been the Honorary Consul for the Netherlands in New South Wales for many years.

The final link between the Resch family and the brewery along with hotel chain was severed in 1924 when Tooth and Co. Ltd. of Sydney made an offer too good to refuse for the business.
The family retired to the pursuits of the wealthy, a role which involved a social scene, charity works and internecine squabbles in the courts.
Further Reading:
The Battle of Broken Hill, New South Wales, 1 January 1915
The Battle of Broken Hill, New South Wales, 1 January 1915, Roll of Honour
Battles where Australians fought, 1899-1920
---
Citation:
The Battle of Broken Hill, New South Wales, 1 January 1915, Richard Nicholaus John Resch [aka Fletcher]
Posted by Project Leader at 12:01 AM EAST
Updated: Thursday, 6 January 2011 6:15 AM EAST