The Battle of Rafa, Sinai, 9 January 1917, New Zealand Mounted Rifles Brigade, War Diary Account
Topic: AIF - NZMRB
The Battle of Rafa
Sinai, 9 January 1917
New Zealand Mounted Rifles Brigade, War Diary Account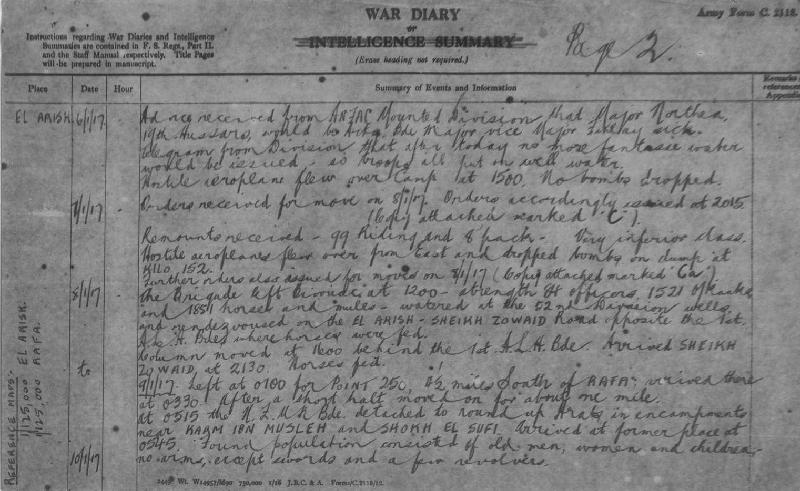 New Zealand Mounted Rifles Brigade, War Diary Account
The following is a transcription of the New Zealand Mounted Rifles Brigade, War Diary Account detailing their role at the Battle of Rafa, Sinai, 9 January 1917.
Masaid 8 January 1917

The Brigade left bivouac at 1200 - strength 84 Officers 1521 Other Ranks and 1851 horses and mules. Watered at 52nd Division wells and rendezvoused on the El Arish - Sheikh Zowaiid Road opposite the 1st Light Horse Brigade where horses were fed.

Column moved at 1600 behind the 1st Light Horse Brigade. Arrived Sheikh Zowaiid at 2130. Horses fed.


Rafa 9 January 1917

Left at 0100 for Point 250 4 1/2 miles south of Rafa arrived there at 0330. After a short halt moved on for about one mile.

At 0515 the New Zealand Mounted Rifles Brigade detached to round up Arabs in encampments near Karm ibn Musleh and Shokh el Sufi. Arrived at former place at 0545. Found population consisted of old men, women and children, no weapons except swords and a few revolvers.

At 0615 crossed the boundary into Palestine. Surrounded Arab village there, and at 0645 formed up behind Point 350 which gave good cover for Division to advance and also best available view of enemy's position.

Divisional Headquarters arrived here at 0800 and at 0832 issued orders for attack, the New Zealand Mounted Rifles Brigade being detailed to attack the right flank works, C4 and C5, and to cover northern flank to the sea - the attack commenced at 1000.

The enemy was now seen to be sending back strings of camels towards Khan Yunis.

At 0845 the guns began to range on enemy position. Turkish guns replied but shells fell short.

At 0935 the Brigade advanced in column of troops, extended, Brigade Headquarters leading.

At 1000 on reaching a point about 2 miles east north east of Point 255. Brigade Headquarters halted on a knoll and the Auckland Mounted Rifles Regiment was directed to attack the high ridge about one mile south east of Rafa, the Canterbury Mounted Rifles Regiment on the right along the road to Rafa, the Wellington Mounted Rifles Regiment led one Squadron to follow and support the Canterbury Mounted Rifles Regiment.

Headquarters Wellington Mounted Rifles Regiment in reserve sent one section to Auckland Mounted Rifles Regiment to march towards Shellal and one troop to patrol towards Khan Yunis.

The Auckland Mounted Rifles Regiment came into action on the ridge at 1015. The Canterbury Mounted Rifles Regiment went right onto the Gaza Road, intercepted the retreating enemy and occupied Rafa at 1040, where they got 6 Germans, 2 Turkish officers and 163 and 21 Bedouins together with a number of camels, horses and mules, and 5,000 rounds of ammunition. This troop captured a line of half completed works from Rafa to the south east.

At 1100 Brigade Headquarters moved to close behind Auckland Mounted Rifles Regiment near "BP", about one mile south east of Rafa, Canterbury Mounted Rifles Regiment headquarters being then in Rafa Police Barracks. Wellington Mounted Rifles Regiment supporting Canterbury Mounted Rifles Regiment and covering the ground between Rafa and the sea.

The Inverness Battery covered this advance from a point about 1 mile north of Divisional Headquarters and at 1145 moved up close behind Brigade Headquarters from where they got effective fire on the Sandy Redoubt (C5) and also Redoubt at Point 255.

At 1200 Wellington Mounted Rifles Regiment having cleared the sand hills between Rafa and the sea, the Brigade commenced a combined attack on the Redoubt at green knoll (Point 255) - Canterbury Mounted Rifles Regiment on right. Wellington Mounted Rifles Regiment (less one Squadron) next, and the Auckland Mounted Rifles Regiment on the left.

At 1310 gap existing between the Brigade and the 1st Australian Light Horse Brigade was filled by sending in two troops from the Squadron of Wellington Mounted Rifles Regiment in reserve.

At 1400 the right flank reported gaining touch with the 5th Mounted Brigade.

At 1445 the Wellington Mounted Rifles Regiment reported capture of Turkish officer who state one Regiment (the 160th) had left Shellal when the attack commenced to reinforce Rafa.

At 1550 enemy estimated at two Battalions seen advancing from near Abu Khatli 4 miles west of Shellal. The then remaining troop of Wellington Mounted Rifles Regiment reserve Squadron was sent to Rafa to escort prisoners to Divisional Headquarters.

At 1625 Wellington Mounted Rifles Regiment post towards Khan Yunis reported body of 500 enemy approaching from east.

At 1625 attack on our left was repulsed, our attack working steadily forward, but repeatedly checked by our own artillery fire.

At 1630 Brigade charged Redoubt on Point 255 and took it. This attack was carried out in a perfect manoeuvre. The Brigade had to advance for over a mile across an open grassy slope, devoid of any cover. The covering fire from machine guns and rifles was excellent and made the Redoubt appear like a smoking furnace, and kept the Turks fire down. The men worked the last 600/800 yards in two grand rushes, everyone having made up his mind to get home, and the result was that the position was taken with very little loss to ourselves.

After a very short pause, a further attack was made against the Sandy Redoubt (C5) but almost after it was launched the Turks in C5 stood up and surrendered.

On the fall of the Redoubt at Point 255 the 1st Australian Light Horse Brigade on our left again advanced and took the enemy trenches near the big tree, which had previously held them up.

On arrival at the Redoubt prisoners were sent to Divisional Headquarters, as the advance guard of the enemy could be seen approaching about 2½ miles north east of Rafa. The General Officer Commanding Brigade then went to Divisional Headquarters for orders.

On the General Officer Commanding's return the Brigade moved off for bivouac at Sheikh Zowaiid and reached there at 2115. Major Hulbert, Acting Brigade Major, remained behind with 3 Troops left to escort the Ambulance and bring in wounded. They reached Sheikh Zowaiid at 0130 on 10 January 1917.


Employment of Machine Guns

When the Brigade deployed for the attack, one Section (two guns) was sent with the Auckland Mounted Rifles Regiment and two Sections with the Canterbury Mounted Rifles Regiment, the remaining three Sections being worked by the Officer Commanding Machine Gun Squadron.

All guns cooperated throughout the attack and gave the closest support, which owing to the nature of the country, required the guns, except a few which found position on the flank, to be kept in the firing line.



Ammunition

Pursuant to orders received, all reserve ammunition was left at Sheikh Zowaiid. In consequence of this ammunition supply was very difficult, and at 1330 the position was serious, as no less than four machine guns were out of action for want of ammunition.

The Inverness Battery also ran out of ammunition at 1515 and had to be sent back to join the Divisional Artillery.

A proportion of the reserve Small Arms Ammunition should be close behind Units.


Communications

Communication was maintained mainly by visual signalling but clouds interfered with the working of the Helios at times and orderlies had to be emp0loyed. The long distance to be covered caused delay and made the work of the orderlies very onerous.


New Zealand Mounted Field Ambulance and Regimental Stretcher Bearers

The Medical Corps and Stretcher Bearers did grand work throughout the day, mostly under heavy fire, from which there was no cover.


Enemy

The enemy defended the position very stubbornly and even while the trenches were under the heaviest fire men could be seen taking deliberate aim. The shooting was, however, poor.

There was insufficient time to thoroughly examine the trenches before dark but it was obvious that the enemy's losses must have been very heavy. There were few places in the trenches free from dead or wounded and in several places they were three deep.


Casualties

Our losses were phenomenally light, being only 17 Other Ranks killed and 9 Officers and 84 Other Ranks wounded. This the General Officer Commanding Brigade attributes to the splendid cooperation throughout the attack, and the determined rush of every man when the attack took place.

Casualties among horses were 7 killed, 3 missing and 6 wounded - 2 of which had to be destroyed.


Masaid 10 January 1917

The Brigade returned to El Arish (Masaid) Bivouac after the Rafa operations, with the exception of Wellington Mounted Rifles Regiment which was left behind to clear up the battlefield. Wire received from Anzac Mounted Division that Wellington Mounted Rifles Regiment were to return to Sheikh Zowaiid as soon as sand carts had cleared battlefield, and that the withdrawal to El Arish would take place as soon as possible.

Convoy with supplies for Wellington Mounted Rifles Regiment sent to Sheikh Zowaiid.

Major E Northen, 19th Hussars, arrived and reported for duty as Acting Brigade Major.

Major J Hulbert, Acting Brigade Major, New Zealand Mounted Rifles Brigade.
War Diaries
All War Diaries cited on this site should be read in conjunction with the Australian Light Horse Studies Centre, AIF War Diaries of the Great War, Site Transcription Policy which may be accessed at:
Australian Light Horse Studies Centre, AIF War Diaries of the Great War, Site Transcription Policy
Further Reading:
New Zealand Mounted Rifles Brigade
New Zealand Mounted Rifles Brigade, Roll of Honour
The Battle of Rafa, Sinai, 9 January 1917
The Battle of Rafa, Sinai, 9 January 1917, Roll of Honour
The Palestine Campaign, 1917 - 1918
Battles where Australians fought, 1899-1920
---
Citation: The Battle of Rafa, Sinai, 9 January 1917, New Zealand Mounted Rifles Brigade, War Diary Account
Posted by Project Leader at 12:01 AM EAST
Updated: Saturday, 29 January 2011 9:21 AM EAST