The Battle of Rafa, Sinai, 9 January 1917, 3rd Light Horse Machine Gun Squadron, War Diary Account
Topic: AIF - 3B - 3 LHMGS
The Battle of Rafa
Sinai, 9 January 1917
3rd Light Horse Machine Gun Squadron War Diary Account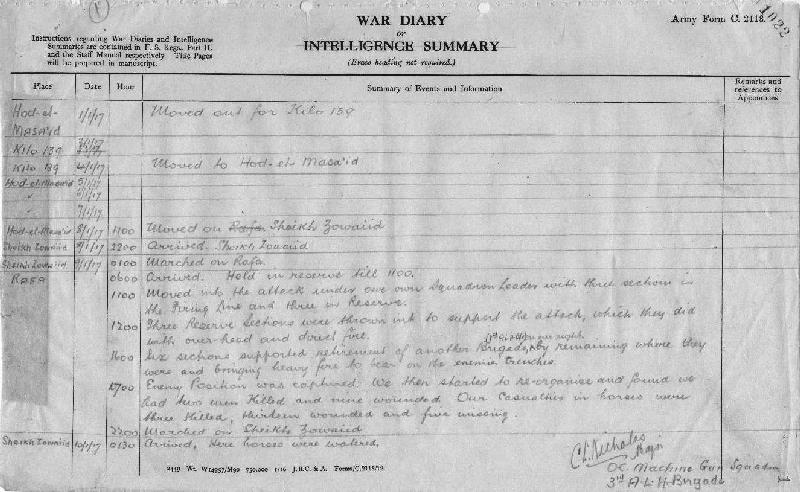 3rd Light Horse Machine Gun Squadron, War Diary Account
The following is a transcription of the 3rd Light Horse Machine Gun Squadron, War Diary Account detailing their role at the Battle of Rafa, Sinai, 9 January 1917.
Masaid 8 January 1917

1100 Moved on Sheikh Zowaiid.


Rafa 9 January 1917

0100 Marched on Rafa

0600 Arrived. Held in reserve till 1100.

1100 Moved into the attack under our own Squadron Leader with three Sections in the firing line and three in reserve.

1200 Three reserve Sections were thrown in to support the attack, which they did with overhead and direct fire.

1600 Six Sections supported retirement of another Brigade (1st Australian Light Horse Brigade) on our right by remaining where they were and bringing heavy fire to bear on the enemies trenches.

1700 Enemy position was captured. We then started to reorganise and found we had two men killed and nine wounded. Our casualties in horses were three killed, thirteen wounded and five missing.

2200 Marched on Sheikh Zowaiid.


Masaid 10 January 1919

0130 Arrived. (Sheikh Zowaiid) Here horses were watered.

0700 Marched on Hod el Masaid, watering horses en route at Wadi El Arish.

1600 Arrived, Masaid.

War Diaries
All War Diaries cited on this site should be read in conjunction with the Australian Light Horse Studies Centre, AIF War Diaries of the Great War, Site Transcription Policy which may be accessed at:
Australian Light Horse Studies Centre, AIF War Diaries of the Great War, Site Transcription Policy
Further Reading:
3rd Australian Light Horse Machine Gun Squadron, AIF
3rd Australian Light Horse Machine Gun Squadron, Roll of Honour
The Battle of Rafa, Sinai, 9 January 1917
The Battle of Rafa, Sinai, 9 January 1917, Roll of Honour
The Palestine Campaign, 1917 - 1918
Battles where Australians fought, 1899-1920
---
Citation: The Battle of Rafa, Sinai, 9 January 1917, 3rd Light Horse Machine Gun Squadron, War Diary Account
Posted by Project Leader at 12:01 AM EAST
Updated: Monday, 31 January 2011 7:04 AM EAST