The Battle of Rafa, Sinai, 9 January 1917, 3rd Anzac Battalion, Imperial Camel Corps, War Diary Account
Topic: AIF - 5B - ICC
The Battle of Rafa
Sinai, 9 January 1917
3rd Anzac Battalion, ICC, War Diary Account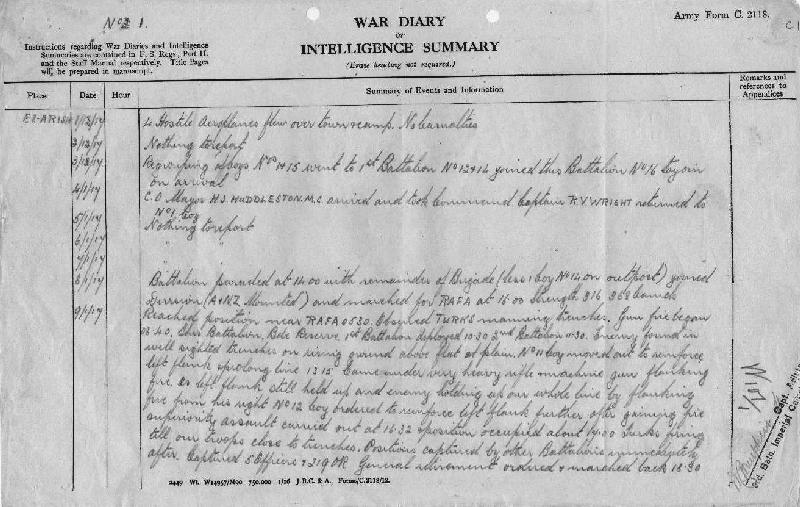 3rd Anzac Battalion, Imperial Camel Corps, War Diary Account
The following is a transcription of the 3rd Anzac Battalion, Imperial Camel Corps, War Diary Account detailing their role at the Battle of Rafa, Sinai, 9 January 1917.
El Arish 8 January 1917

Battalion paraded at 1400 with remainder of Brigade( less No. 14 Company on outpost) joined Division (Australian and New Zealand Mounted Division) and marched fro Rafa at 1600. Strength 316. 368 Camels.


Rafa 9 January 1917

Reached position near Rafa 0530. Observed Turks manning trenches. Gun fire began 0840. This Battalion, Brigade Reserve, 1st Battalion deployed 1030, 2nd Battalion 1130. Enemy found in well sighted trenches on rising ground above flat place. No 11 Company moved out to reinforce left flank and prolong line 1315. Came under very heavy rifle and machine gun flanking fire as left flank still held up and enemy holding up our whole line by flanking fire from his right. No. 12 Company ordered to reinforce left flank further after gaining fire superiority. Assault carried out at 1632 and position occupied about 1700. Turks firing till our troops close to trenches. Positions captured by other Battalions immediately after. Captured 5 Officers and 219 Other Ranks. General retirement ordered and marched back 1830. Left large quantities of ammunition and rifles behind. Casualties - 1 Officer (Captain GA Smith) and 7 Other Ranks killed or died of wounds. 13 Other Ranks wounded.


El Arish 10 January 1917

Arrived back in El Arish 1430.
War Diaries
All War Diaries cited on this site should be read in conjunction with the Australian Light Horse Studies Centre, AIF War Diaries of the Great War, Site Transcription Policy which may be accessed at:
Australian Light Horse Studies Centre, AIF War Diaries of the Great War, Site Transcription Policy
Further Reading:
Imperial Camel Corps, Roll of Honour
The Battle of Rafa, Sinai, 9 January 1917
The Battle of Rafa, Sinai, 9 January 1917, Roll of Honour
The Palestine Campaign, 1917 - 1918
Battles where Australians fought, 1899-1920
---
Citation: The Battle of Rafa, Sinai, 9 January 1917, 3rd Anzac Battalion, Imperial Camel Corps, War Diary Account
Posted by Project Leader at 12:01 AM EAST
Updated: Monday, 31 January 2011 12:48 PM EAST