The First Battle of Gaza, Palestine, 26 to 27 March 1917, 2nd Light Horse Brigade War Diary Account
Topic: AIF - 2B - 2 LHB
The First Battle of Gaza
Palestine, 26 to 27 March 1917
2nd Light Horse Brigade War Diary Account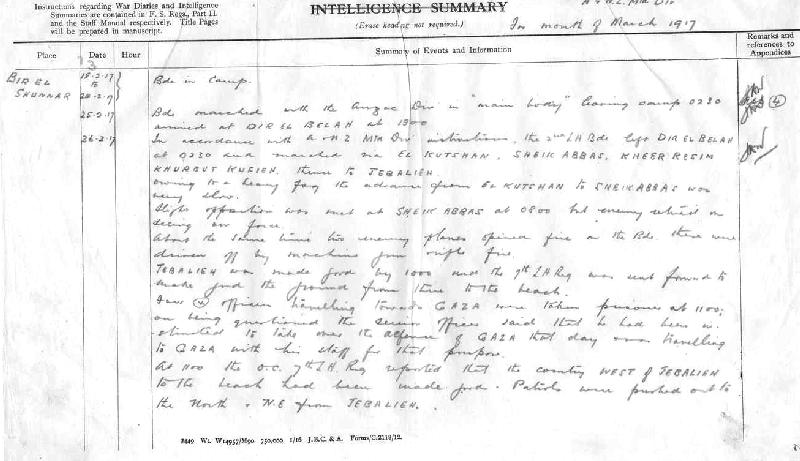 2nd Light Horse Brigade War Diary Account.
The following is a transcription of the Account from the War Diary of the 2nd Light Horse Brigade detailing their role at the First Battle of Gaza, Palestine, 26 to 27 March 1917.
Bir el Shunnar 25 March 1917

Brigade marched with the Anzac Division in "main body" leaving camp 0230 arrived at Deir el Belah at 1300.


Gaza 26 March 1917

In accordance with Australian and New Zealand Mounted Division instructions, the 2nd Light Horse Brigade left Deir el Belah at 0230 and marched via El Kutshan, Sheikh Abbas, Kheer Resim, Khuraut Kufien thence to Jebalien.

Owing to a heavy fog the advance from El Kutshan to Sheikh Abbas was very slow.

Slight opposition was met at Sheikh Abbas at 0800 but enemy retired on seeing our force.

About the same time two enemy planes opened fire on the Brigade. There were driven off by machine gun and rifle fire.

Tebalieh was made good by 1000 and the 7th Light Horse Regiment was sent forward to make good the ground from there to the beach.

Four (4) Officers travelling towards Gaza were taken prisoner at 1100; on being questioned the senior officer said that he had been instructed to take over the defence of Gaza that day and was travelling to Gaza with his staff for that purpose.

At 1100 the Officer Commanding 7th Light Horse Regiment reported that the country west of Jebalien to the beach had been made good. Patrols were pushed out to the north and north east from Jebalien.

A patrol from 5th Light Horse Regiment was pushed forward to Sheikh Hasan west of Gaza where a Turkish artillery observation point was surrounded and the officers taken prisoner.

At 1230 a company of Turkish Infantry was reported to be moving north from Gaza. Machine Gun of the Machine Gun Squadron and one Squadron of 5th Light Horse Regiment came into action against it and it returned towards Gaza after suffering heavy casualties.

At 1540 orders were received for the Brigade to cooperate with the New Zealand Mounted Rifles Brigade and 22nd Mounted Brigade and to attack Gaza.

At 1600 at Deir Seneid patrol reported that enemy estimated strength 300 were advancing towards Gaza from the north. One Squadron from 6th Light Horse Regiment was sent out to support the patrol and they held the enemy in check.

At 1615 the Brigade less one Squadron, pushed out to the north east, cooperated in the attack on Gaza. Hand to hand fighting took place along the lines and by 1730 our advanced troops now were into the advanced outskirts of the town. The 7th Light Horse Regiment cooperating on the right of the Brigade along the sand hills met with strong opposition.

At 1900 orders were received to withdraw the Brigade and rejoin the Division on Hill 2 miles west of Beit Durdis. Owing to the long line held by the Brigade and the difficult country among the cactus hedges it took some time to withdraw the Brigade.

At 2215 the Brigade rejoined the Division and marched back to Deir el Belah arriving there at 0740 (27 March 1917).

4 Officers and 98 Other Ranks Turkish prisoners hand over to Division.

Owing to the hasty withdrawal a number of prisoners were unable to keep up with the column retiring and were left behind.


In Serat 27 March 1917

Brigade moved out 0830 and "Stood By" all day at Ed Demeita and moved up to a point south of In Serat as support to the New Zealand Mounted Rifle Brigade on outpost along Wadi el Ghuzze.


In Serat 28 March 1917

Brigade stood by at In Serat. 7th Light Horse Regiment took over minor outpost line from New Zealand Mounted Rifle Brigade at 1130 and were relieved by Imperial Mounted Division at 1830.

Brigade less 7th Light Horse Regiment marched to new Camp on beach west of fresh water lake at Deir el Belah at 0300.

7th Light Horse Regiment rejoined at 2000.
War Diaries
All War Diaries cited on this site should be read in conjunction with the Australian Light Horse Studies Centre, AIF War Diaries of the Great War, Site Transcription Policy which may be accessed at:
Australian Light Horse Studies Centre, AIF War Diaries of the Great War, Site Transcription Policy
Further Reading:
2nd Australian Light Horse Brigade, AIF, Roll of Honour
The First Battle of Gaza, Palestine, 26 to 27 March 1917
The First Battle of Gaza, Palestine, 26 to 27 March 1917, Allied Forces, Roll of Honour
The Palestine Campaign, 1917 - 1918
Battles where Australians fought, 1899-1920
---
Citation: The First Battle of Gaza, Palestine, 26 to 27 March 1917, 2nd Light Horse Brigade War Diary Account
Posted by Project Leader at 12:01 AM EADT
Updated: Sunday, 6 February 2011 12:12 PM EAST