The First Battle of Gaza, Palestine, 26 to 27 March 1917, Desert Column After Order
Topic: AIF - DMC
The First Battle of Gaza
Palestine, 26 to 27 March 1917
Desert Column After Order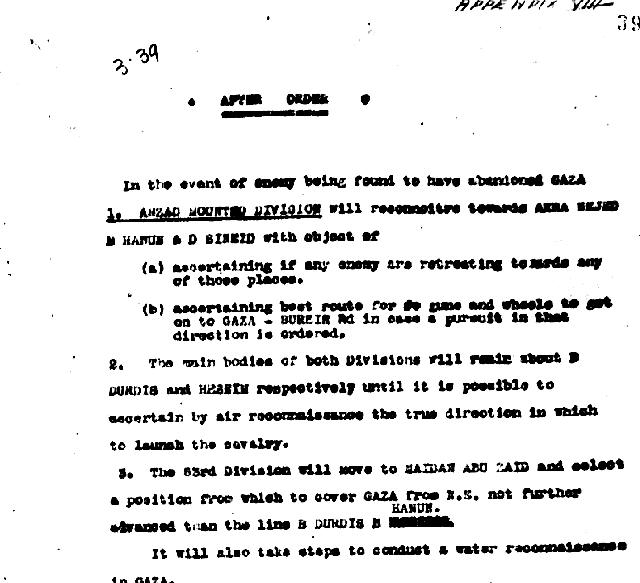 Desert Column Order No. 25.
The following is a transcription of Desert Column After Order from the War Diary of the Desert Column detailing the part of the battle plan for the First Battle of Gaza, Palestine, 26 to 27 March 1917.

After Order

In the event of enemy being found to have abandoned Gaza

1. The Anzac Mounted Division will reconnoitre towards Akra, Nejed, Beit Hanun and Deir Sineid with object of:



(a) ascertaining if any enemy are retreating towards any of those places.

(b) ascertaining best route for guns and wheels to get on to Gaza - Bureir Road in case a pursuit in that direction is ordered.



2. The main bodies of both Divisions will remain about Beit Durdis and Reseim respectively until it is possible to ascertain by air reconnaissance the true direction in which to launch the cavalry.

3. The 53rd Division will move to Maidan abu Zaid and select a position from which to cover Gaza from north east not further advanced than the line Beit Durdis to Beit Hanun.

It will also take steps to conduct a water reconnaissance in Gaza.

4. It will immediately release the Regiment, Imperial Mounted Division via Gaza.

5. Armoured cars and Light Car Force will remain on main Gaza - Bir Saba road near Imperial Mounted Division.

War Diaries
All War Diaries cited on this site should be read in conjunction with the Australian Light Horse Studies Centre, AIF War Diaries of the Great War, Site Transcription Policy which may be accessed at:
Australian Light Horse Studies Centre, AIF War Diaries of the Great War, Site Transcription Policy
Further Reading:
The Desert Mounted Corps, Roll of Honour
The First Battle of Gaza, Palestine, 26 to 27 March 1917
The First Battle of Gaza, Palestine, 26 to 27 March 1917, Allied Forces, Roll of Honour
The Palestine Campaign, 1917 - 1918
Battles where Australians fought, 1899-1920
---
Citation: The First Battle of Gaza, Palestine, 26 to 27 March 1917, Desert Column After Order
Posted by Project Leader at 12:01 AM EADT
Updated: Tuesday, 1 March 2011 9:45 AM EAST