The First Battle of Gaza, Palestine, 26 to 27 March 1917, Egyptian Expeditionary Force Lynden-Bell Letter 5 March 1917
Topic: AIF - DMC - British
The First Battle of Gaza
Palestine, 26 to 27 March 1917
Egyptian Expeditionary Force Lynden-Bell Letter 5 March 1917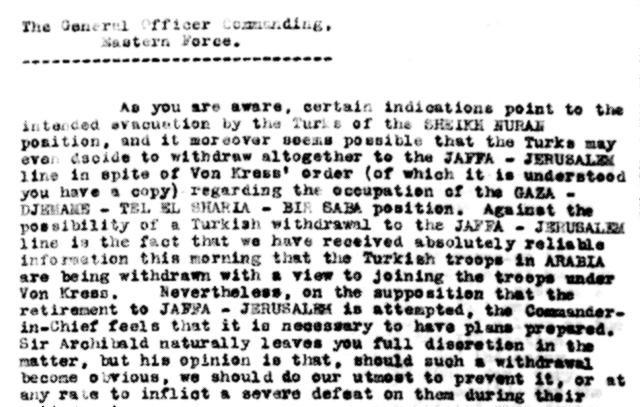 Lynden-Bell Letter 5 March 1917.
The following is a transcription of the Lynden-Bell Letter of 5 March 1917 from the War Diary of the Egyptian Expeditionary Force detailing the discussion formulating the battle plan for the First Battle of Gaza, Palestine, 26 to 27 March 1917.

The General Officer Commanding
Eastern Force

As you are aware, certain indications point to the intended evacuation by the Turks of the Sheikh Nuran position, and it moreover seems possible that the Turks may even decide to Withdraw altogether to the Jaffa - Jerusalem line in spite of Von Kress' order (Of which it is understood you have a copy) regarding the Occupation of the Gaza - Djemame - Tel el Sheria - Bir Saba position. Against the possibility of a Turkish withdrawal to the Jaffa - Jerusalem line is the fact that we have received absolutely reliable information this morning that the Turkish troops in Arabia are being withdrawn with a view to joining the troops under Von Kress. Nevertheless, on the supposition that the retirement to Jaffa - Jerusalem is attempted, the Commander in Chief feels that it is necessary to have plans prepared. Sir Archibald naturally leaves you full discretion in the matter, but his opinion is that, should such a withdrawal become obvious, we should do our utmost to prevent it, or at any rate to inflict a severe defeat on them during their retirement.

To interfere effectively with an attempted Turkish withdrawal Sir Archibald consider that a division of Infantry at least, and all machine gun companies, would have to be employed in addition to all the mounted troops at your disposal. He also thinks that in such an operation it would be a mistake to use either gas shells or tanks, as it seems undesirable to put all our cards on the table until the moment for really decisive action arrives.

Sir Archibald would be glad to have your views regarding this matter as early as possible, and hopes you will understand that, though he has expressed his own opinion on the question, he fully realises that you, being an the spot, may think differently, and he wishes me particularly to make it clear that he does not wish to fetter your judgment in any way.

I am further to ask you whether, in the event of the Turkish retirement being merely as far as the Gaza - Tel el Sheria - Bir Saba position, you consider it desirable to interfere seriously with it.

Signed A Lynden-Bell,
Major-General, Chief of the General Staff,
Egyptian Expeditionary Force.
General Headquarters
5th March, 1917.

War Diaries
All War Diaries cited on this site should be read in conjunction with the Australian Light Horse Studies Centre, AIF War Diaries of the Great War, Site Transcription Policy which may be accessed at:
Australian Light Horse Studies Centre, AIF War Diaries of the Great War, Site Transcription Policy
Further Reading:
British Forces, EEF, Roll of Honour
The First Battle of Gaza, Palestine, 26 to 27 March 1917
The First Battle of Gaza, Palestine, 26 to 27 March 1917, Allied Forces, Roll of Honour
The Palestine Campaign, 1917 - 1918
Battles where Australians fought, 1899-1920
---
Citation: The First Battle of Gaza, Palestine, 26 to 27 March 1917, Egyptian Expeditionary Force Lynden-Bell Letter 5 March 1917
Posted by Project Leader at 12:01 AM EADT
Updated: Friday, 18 March 2011 4:08 PM EADT