The First Battle of Gaza, Palestine, 26 to 27 March 1917, Egyptian Expeditionary Force Dobell Letter 15 March 1917
Topic: AIF - DMC - British
The First Battle of Gaza
Palestine, 26 to 27 March 1917
Egyptian Expeditionary Force Dobell Letter 15 March 1917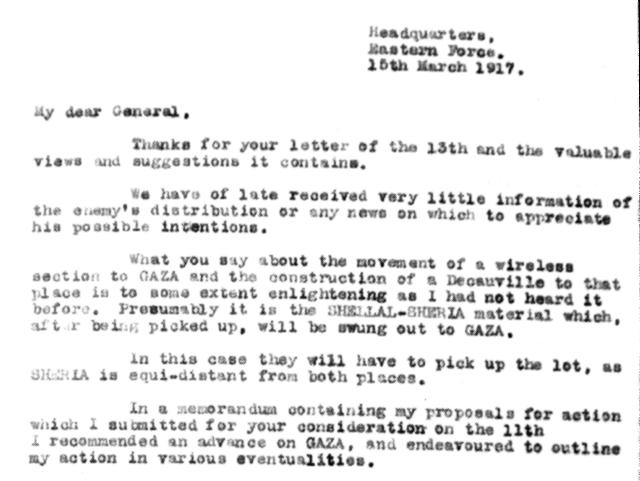 Dobell Letter 15 March 1917.
The following is a transcription of the Dobell Letter of 15 March 1917 from the War Diary of the Egyptian Expeditionary Force detailing the discussion formulating the battle plan for the First Battle of Gaza, Palestine, 26 to 27 March 1917.
Headquarters,
Eastern Force,
15th March 1917.


My dear General

Thanks for your letter of the 13th and the valuable views and suggestions it contains.

We have of late received very little information of the enemy's distribution or any news on which to appreciate his possible intentions.

What you say about the movement of a wireless section to Gaza and the construction of a Decauville to that place is to some extant enlightening as I had not heard it before. Presumably it is the Shellal - Sheria material which, of after being picked up, will be swung out to Gaza.

In this case they will have to pick up the lot, as Sheria is equidistant from both places.

In a memorandum containing my proposals for action which I submitted for your consideration on the 11th I recommended an advance on Gaza, and endeavoured to outline my action in various eventualities.

This movement will necessitate our right flank being exposed to some extent to attack by the hostile group about Hareira and Sheria.

Not only, however, does our advance threaten the line of supply of these forces but our leading troops, which are extremely mobile, will be well placed to counter their movements by, in turn, attacking them in flank. I shall also dispose my supporting divisions in such a way as to be ready to deal with any enemy movement from the east or south-east.

Our superiority in strength, more especially in mounted troops, more than justifies us in assuming such risk as there is from this quarter and we still be prepared to take full advantage of such an attack should it be made.

The transport we shall have at our disposal, before the advance from railhead takes place, will give the entire force of 2 Mounted Divisions and 3 Divisions a radius of nation of 20 miles. Consequently, if need be, we should be able to maintain the whole force at Gaza while railhead is at Rafa.

Owing to transport limitations, however, it will not be possible to undertake serious operations beyond Gaza for some time after reaching that place. But no opportunity of making full use of our mounted troops will be lost,

Officers of all formations are now acquainting themselves with the country east of RAFA with special reference to our prospective right flank.

The high winds of the past five days have upset our calculations by indefinitely delaying the train service, but for the next six weeks we must be prepared for sand storms.

The defence works are suffering badly. The wind under-cuts the sandbags, and after these get exposed to the full strength of the wind the sand seems to get forced out of them and the bags eventually get blown away. Works which a week ago were invisible at close rage now strand exposed to view on the sides of the dunes. It only means delay and will be put right directly the wind drops.

The remaining brigade of the 74th Division will be very welcome.
War Diaries
All War Diaries cited on this site should be read in conjunction with the Australian Light Horse Studies Centre, AIF War Diaries of the Great War, Site Transcription Policy which may be accessed at:
Australian Light Horse Studies Centre, AIF War Diaries of the Great War, Site Transcription Policy
Further Reading:
British Forces, EEF, Roll of Honour
The First Battle of Gaza, Palestine, 26 to 27 March 1917
The First Battle of Gaza, Palestine, 26 to 27 March 1917, Allied Forces, Roll of Honour
The Palestine Campaign, 1917 - 1918
Battles where Australians fought, 1899-1920
---
Citation: The First Battle of Gaza, Palestine, 26 to 27 March 1917, Egyptian Expeditionary Force Dobell Letter 15 March 1917
Posted by Project Leader at 12:01 AM EADT
Updated: Sunday, 20 March 2011 11:57 AM EADT