New South Wales Infantry Contingent, Legge Letter 6 December 1899
Topic: BW - NSW - NSW Inf
NSW Inf
New South Wales Infantry Contingent
Legge Letter 6 December 1899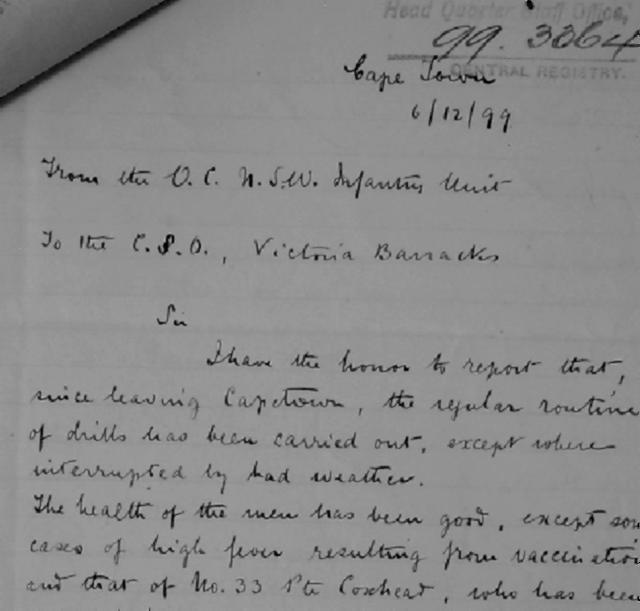 Legge Letter 28 December 1899
After the arrival of Captain JW Legge in South Africa, he sent a series of letters to Sydney describing the activities of the New South Wales Infantry Contingent. They are a mixture of action and issues and so allow the reader to get to know this unit in an intimate manner. The personality of Legge comes through very clearly in his commentaries. The following is a transcript of his letter dated 28 December 1899.
Cape Town
6 December 1899

From the Officer Commanding NSW Infantry Unit
To the CSO, Victoria Barracks

Sir

I have the honour to report that, since leaving Cape Town, the regular routine of drills has been carried out, except where interrupted by bad weather.

The health of the men has been good, except some cases of high favour resulting from vaccination, and that of No. 33 Pte Coxhead, who has been reported by the Medical Officer as suffering from rheumatic fever and unable to proceed on Active Service. If possible he will be sent back to Sydney.

There has been no crime to speak of, the few cases being rather the result of inexperience.

On arrival at Port Elizabeth the SS Aberdeen was ordered to Capetown, where we arrived this morning. There has been a great amount of routine to go through before advancing to the front.

I am under orders to start tonight or early tomorrow morning for De Aar, where the rest of the Australian Infantry with us will join one Battalion under Colonel Hoad with Major Eddy as Second in Command.

The whole of the transport and stores have to be left behind with the Mounted Rifles except personal equipment, tents, blankets, WP sheets, and cooking pots, also the Maxim Gun and 1 set of harness.

A buck wagon and Scotch cart, with mules is to be supplied at De Aar.

It is needless to say that we are all disappointed at this turn, as we are prevented from gaining experience through close association with an Imperial Battalion.

The question of pay is on that is full of difficulties. The local Paymaster states that no arrangement has been made at all by the NSW Government. This means that I cannot keep faith with those men who have signed to draw more than Imperial rates in South Africa. Further I am informed that I can only draw and must draw in full for any particular period.

The result is that I cannot draw as much, as they are entitled to, for some men, while for others I must draw more than they are entitled to receive here, on account of payment to their order at home. In the latter case I can hardly make the man sign for a larger amount and receive on a smaller.

I must respectfully ask therefore to be absolved from confusion of accounts, which has been put beyond my control.

The Company Officers and the men are taking 3 day's rations and an emergency ration, and full supplies of Ball Ammunition when leaving tonight, as the line is not in a safe condition on one flank.

Respecting the pay, I beg to point out that I have in hand some £260 undrawn by some of the men. This I propose to use if necessary, although representing savings, and I trust that I may be credited with the necessary remittance monthly. I have acquainted Lieutenant's Holmes and Logan with the contents of this letter, so as to provide for contingencies.

The men appear to be keen and confident, under the circumstances, and they are the only Australians who have had experience with the Martini Lee Enfield Rifle, they ought to do well. Some very fair collective ball firing was done on the voyage.

I have etc
Signed JS Legge, Captain,
Commanding NSW Infantry Unit.


Cape Town, 6 December 1899

Captain Antill desires me to state that he posted his report before leaving regarding the pay and that he fully concurs. It is hoped that the differences between Imperial rates and the portion of the NSW rate drawn here may be remitted as requested. There is further no pay available for the period December 1st to December 8th inclusive.

Signed JG Legge, Captain.

War Diaries
All War Diaries cited on this site should be read in conjunction with the Australian Light Horse Studies Centre, AIF War Diaries of the Great War, Site Transcription Policy which may be accessed at:
Australian Light Horse Studies Centre, AIF War Diaries of the Great War, Site Transcription Policy
Further Reading:
New South Wales Infantry Contingent
New South Wales Infantry Contingent, Roll of Honour
Battles where Australians fought, 1899-1920
---
Citation:
New South Wales Infantry Contingent, Legge Letter 6 December 1899
Posted by Project Leader at 12:01 AM EAST
Updated: Sunday, 10 April 2011 9:32 AM EADT