The Battle of Central Station, New South Wales, 14 February 1916, Irving Letter, 19 July 1915
Topic: BatzA - Liverpool
Australian Battles
The Battle of Central Station, New South Wales, 14 February 1916
Contents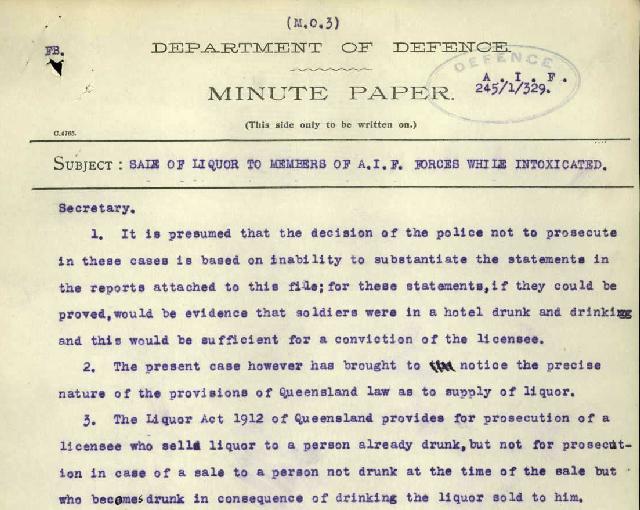 (M.O.3)
DEPARTMENT OF DEFENCE

MINUTE PAPER. AIF 245/1/329

(This side only to be written on.)

SUBJECT SALE OF LIQUOR TO MEMBERS OF A.I.F. FORCES WHILE INTOXICATED.

Secretary,

1. It is presumed that the decision of the police not to prosecute in these cases is based on inability to substantiate the statements in the reports attached to this file; for these statements, if they could be proved, would be evidence that soldiers were in a hotel drunk and drinking and this would be sufficient for a conviction of the licensee.

2. The present case however has brought to notice the precise nature of the provisions of Queensland law as to supply of liquor.

3. The Liquor Act 1912 of Queensland provides for prosecution of a licensee who self liquor to a person already drunk, but not for prosecution in case of a sale to a person not drunk at the time of the sale but who becomes drunk in consequence of drinking the liquor sold to him.

4. The law in Tasmania is similar and the laws in the other States may be the same.
5. Para. 9 of the War Precautions Instructions requires Commandants to report to the police, wlth a view to action against the licensee under State licensing laws, all cases of drunkenness among troops which can be traced to the purchase of liquor in a licensed house.

6. Action can only be taken by the police, at all events In queensland and in Tasmania, in cases of sale to a soldier already drunk; consequently Para. 9 of the War Precautions Instructions is ineffective, as to Queensland and Tasmania at all events, unlees it can be proved that a soldier was both drunk and drinking. Many cases of drunkenness will probably occur in which the soldier was not drunk at the time of the sale, but under the present instructions no action can be taken against the licensee.


GGH Irving, Colonel
Chief of the General Staff
19/7/1915

Secretary

Chief of the General Staff. Do you recommend any alteration of War Precautions Instructions?

Senator George F Pearce
26/7/15

Godfrey George Howy IRVING Military Biography
AIF Headquarters, 3rd Echelon, Godfrey George Howy IRVING
War Diaries and Letters

All War Diaries and letters cited on this site should be read in conjunction with the Australian Light Horse Studies Centre, War Diaries and Letters, Site Transcription Policy which may be accessed at:
Australian Light Horse Studies Centre, War Diaries and Letters, Site Transcription Policy
Further Reading:
The Battle of Central Station, New South Wales, 14 February 1916
The Battle of Central Station, New South Wales, 14 February 1916, Roll of Honour
Battles where Australians fought, 1899-1920
---
Citation: The Battle of Central Station, New South Wales, 14 February 1916, Irving Letter, 19 July 1915
Posted by Project Leader at 8:02 PM EADT