Australian Service Personnel, Photograph Albums, Menangle Military Officers, Album Contents
Topic: AAC-Photo Albums
Australian Service Personnel
Photograph Albums
Menangle Military Officers, Album Contents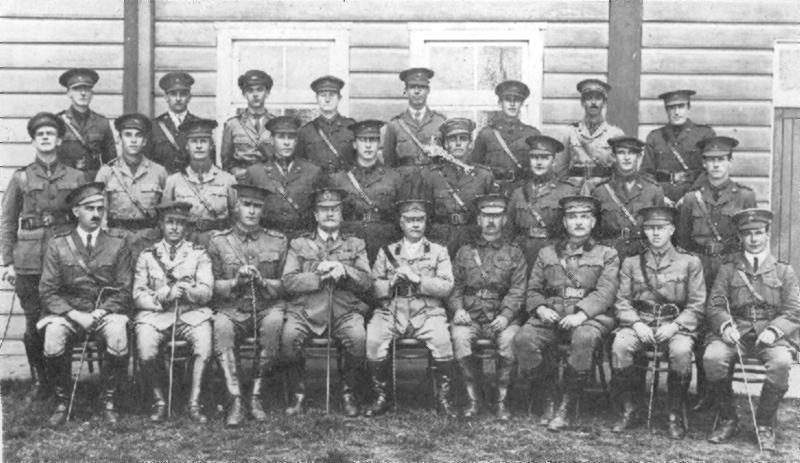 Menangle Military Camp, Officers, 1916.
The following album contains individual personnel photographs extracted from the above photograph. Each person has been identified coupled with a brief military biography.
From the Desert Column Forum
The individual items listed below were considerably expanded on the Desert Column Forum to accept additional information regarding the various topics. These entries have been added as a distinct "desert-column" link beneath the Album entry.
Listings per Album
Group Photograph

Menangle Military Camp, Officers, 1916

http://desert-column.phpbb3now.com/viewtopic.php?p=11221#p11221

Back Row

http://desert-column.phpbb3now.com/viewtopic.php?p=11760#p11760

Lieutenant Frank Birkbeck JACOB

http://desert-column.phpbb3now.com/viewtopic.php?p=11761#p11761

Lieutenant Rollo Thor WILLIAMS

http://desert-column.phpbb3now.com/viewtopic.php?p=11762#p11762

http://desert-column.phpbb3now.com/viewtopic.php?p=11763#p11763

Lieutenant Henry William VENESS

http://desert-column.phpbb3now.com/viewtopic.php?p=11764#p11764

http://desert-column.phpbb3now.com/viewtopic.php?p=11765#p11765

Lieutenant Robert Valentine MOORE

http://desert-column.phpbb3now.com/viewtopic.php?p=11766#p11766

http://desert-column.phpbb3now.com/viewtopic.php?p=11767#p11767

Middle Row

Lieutenant Clement Horace BATE

http://desert-column.phpbb3now.com/viewtopic.php?p=11768#p11768

Lieutenant Milner Clyde BOWLEY

http://desert-column.phpbb3now.com/viewtopic.php?p=11769#p11769

http://desert-column.phpbb3now.com/viewtopic.php?p=11770#p11770

Lieutenant George Douglas DONKIN

http://desert-column.phpbb3now.com/viewtopic.php?p=11771#p11771

Lieutenant Sydney Llewellyn MOLESWORTH

http://desert-column.phpbb3now.com/viewtopic.php?p=11772#p11772

Lieutenant Robert Ernest MCCLELLAND

http://desert-column.phpbb3now.com/viewtopic.php?p=11773#p11773

http://desert-column.phpbb3now.com/viewtopic.php?p=11774#p11774

http://desert-column.phpbb3now.com/viewtopic.php?p=11775#p11775
http://desert-column.phpbb3now.com/viewtopic.php?p=11776#p11776
Front Row

Lieutenant Montagu David RUSSELL

http://desert-column.phpbb3now.com/viewtopic.php?p=11777#p11777

http://desert-column.phpbb3now.com/viewtopic.php?p=11778#p11778

http://desert-column.phpbb3now.com/viewtopic.php?p=11779#p11779

Brigadier-General George Leonard LEE, CMG, DSO

http://desert-column.phpbb3now.com/viewtopic.php?p=11780#p11780

Lieutenant-Colonel Robert William LENEHAN, VD

http://desert-column.phpbb3now.com/viewtopic.php?p=11781#p11781

Lieutenant Charles Aitken MAYES

http://desert-column.phpbb3now.com/viewtopic.php?p=11782#p11782

http://desert-column.phpbb3now.com/viewtopic.php?p=11783#p11783

http://desert-column.phpbb3now.com/viewtopic.php?p=11784#p11784

Reverend Chaplain-Captain William Clough BLACK

http://desert-column.phpbb3now.com/viewtopic.php?p=11785#p11785
Further Reading:
Australian Service Personnel, Photograph Albums
Battles where Australians fought, 1899-1920
---
Citation:
Australian Service Personnel, Photograph Albums, Menangle Military Officers, Album Contents
Posted by Project Leader at 9:45 AM EADT
Updated: Monday, 9 July 2012 11:21 AM EADT