45 Trooper Philip Dickinson
Topic: BW - NSW - NSWCBC
45 Trooper Philip Dickinson, NSW Citizens' Bushmen
On Monday, 29 January 1900, Philip Dickinson turned up with his saddle to Randwick Race Track in Sydney and enrolled with the NSW Citizens' Bushmen. After a couple days rigorous testing which involved a medical, a shooting test and a riding test.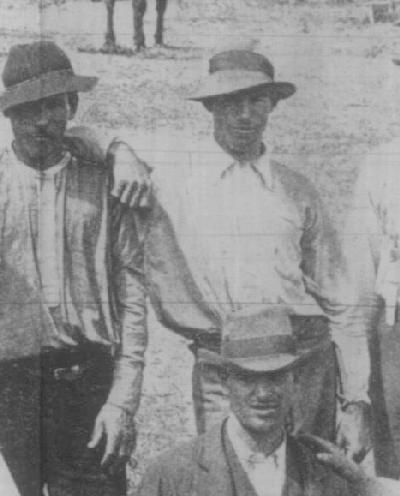 Philip Dickinson after attestation and allotment to "A" Squadron
At the end of the month, on 28 February 1900, the men of the contingent boarded the SS Atlantian from Cowper Wharf where they remained for the next 24 hours. The next day, following Admiralty rules, on 1 March 1900, the ship departed Sydney Heads for South Africa.
45 Trooper Philip Dickinson

Philip Dickinson was born in 1874 at Leeds, England. A labourer by trade, Dickinson enlisted in the NSW Citizens' Bushmen becoming 45 Trooper Philip Dickinson and allotted to "A" Squadron. Dickinson is recorded in Murray, p. 76. Dickinson also appears to have seen service with the Bushveldt Carbineers. Dickinson was awarded the Queen's South African Medal with the 1901 bar.
Great War Service
1001 Private Philip Dickinson, 12th Light Horse Regiment, 4th Reinforcement
Philip Dickinson, a brief military biography from The AIF Project:
Phillip DICKINSON
Regimental number 1001
Religion Roman Catholic
Occupation Shearer
Address 61 Morton Street, Leichhardt, New South Wales
Marital status Married
Age at embarkation 33
Next of kin Wife, Mrs Trease Dickinson, 61 Morton Street, Leichhardt, New South Wales
Enlistment date 2 July 1915
Date of enlistment from Nominal Roll 3 July 1915
Rank on enlistment Private
Unit name 12th Light Horse Regiment, 4th Reinforcement
AWM Embarkation Roll number 10/17/2
Embarkation details Unit embarked from Sydney, New South Wales, on board HMAT A8 Argyllshire on 30 September 1915
Rank from Nominal Roll Private
Unit from Nominal Roll Light Horse Details
Fate Effective abroad (still overseas)
---
Citation: 45 Trooper Philip Dickinson
Posted by Project Leader at 12:01 AM EAST
Updated: Monday, 10 May 2010 10:38 PM EADT