The movement of the Imperial Bushmen to Bulawayo, 1900
Topic: BW - NSW - NSWIB
New South Wales Imperial Bushmen
The movement of the Imperial Bushmen to Bulawayo, 1900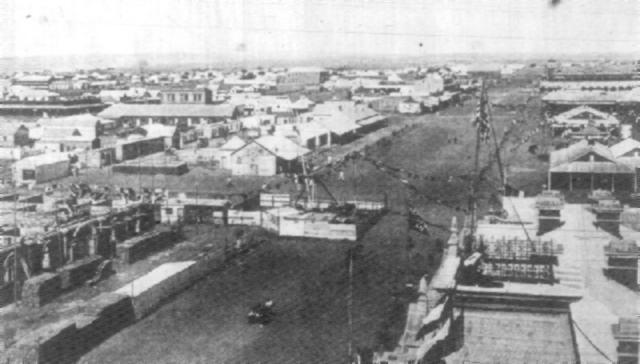 Bulawayo on the morning of Mafeking Day
[From: Sydney Mail, 21 July 1900, p. 146. ]
Bulawayo must have been an exciting town to live in at the turn of last century. The first picture is of Bulawayo township taken from the highest point in the city. The photograph gives a good summary of the condition and layout of the town in Rhodesia, 23 May 1900.
One obvious point that is readily visible is that Bulawayo on the morning of Mafeking Day displayed lots of bunting but there is not a soul in sight.
When the Canadian artillery passed through the town, it was such a spectacle that the whole town turned out to see the procession.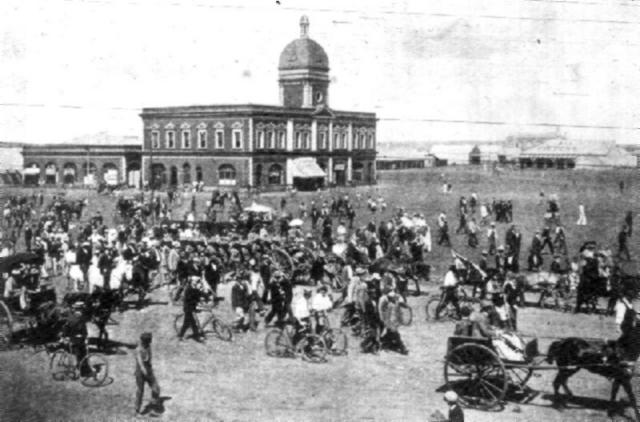 Canadian Artillery passing through Bulawayo.
[From: Sydney Mail, 21 July 1900, p. 146. ]
Judging by the hight turnout of citizens, all white, the coming of the Canadians must have been very reassuring for the local population.
Following on just behind the Canadians were the Australians riding on the mule wagons. In this next picture, members of the Imperial Bushmen were hitching rides on the mule carts. Because of transport shortages, the men were literally loaded to the gunwales.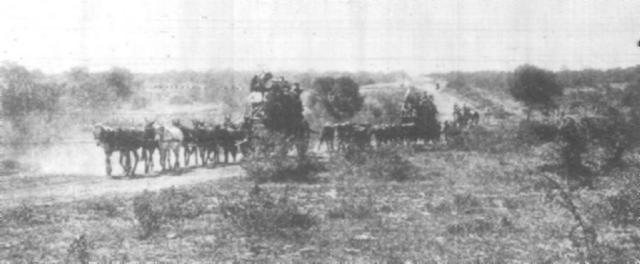 Imperial Bushmen travelling to Bulawayo on mule carts.
[From: Sydney Mail, 21 July 1900, p. 147. ]
Due to problems with horses, the use of mule carts was seen to be the easiest way to move large numbers of Imperial Bushmen quickly across Rhodesia.
Another group of Imperial Bushmen did everything to confound the Boer. Here is a troop of Bushmen riding prone on a low sided, sand bagged wagon guarding the procession from any potential of attack by the crafty Boer.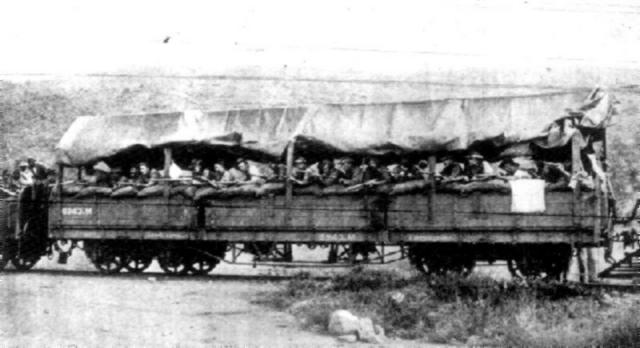 Imperial Bushmen as train guards.
[From: Sydney Mail, 21 July 1900, p. 146. ]
By all accounts, this was a most uncomfortable way to travel. The train made it quick but the accommodation was less than comfortable. It was difficult to maintain the prone position for very long, especially with a rifle in hand. One person left a description of this type of travel:
While it was possible to make oneself fairly comfortable in a Wolseley bed when in camp, you can never get comfortable on the hard floor of a truck; you have no protection against the "upward bumps."
Quoted from The Story of the Bushmen by James Green, William Brooks & Co, Sydney, 1903, at p. 24.
Further Reading:
New South Wales Imperial Bushmen
New South Wales Imperial Bushmen, Roll of Honour
Battles where Australians fought, 1899-1920
---
Citation:
The movement of the Imperial Bushmen to Bulawayo, 1900
Posted by Project Leader at 12:01 AM EAST
Updated: Sunday, 13 June 2010 6:03 PM EADT