A Letter Home, Town and Country Journal, 24 November 1900
Topic: BW - Boer War
A Letter Home

A Sydney Nurse in South Africa.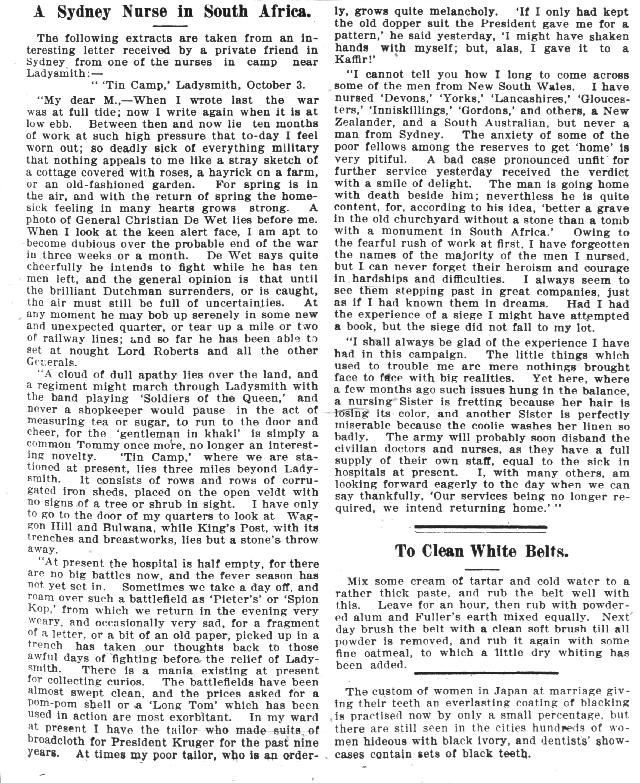 Town and Country Journal, 24 November 1900, p. 43.

The letter published in the Town and Country Journal is quite prescient in its predictions regarding the longevity of the war. The above extract is transcribed below.
A Sydney Nurse in South Africa.
The following extracts are taken from an interesting letter received by a private friend in Sydney from one of the nurses in camp near Ladysmith:
"'The Camp,' Ladysmith, October 3.

"My dear M.,-When I wrote last the war was at full tide; now I write again when it is at low ebb. Between then and now lie ten months of work at such high pressure that to-day I feel worn out; so deadly sick of everything military that nothing appeals to me like a stray sketch of a cottage covered with roses, a hayrack on a farm, or an old-fashioned garden. For spring is in the air, and with the return of spring the homesick feeling in many hearts grows strong. A photo of General Christian De Wet lies before me. When I look at the keen alert face, I am apt to become dubious over the probable end of the war in three weeks or a month. De Wet says quite cheerfully he intends to fight while he has ten men left, and the general opinion is that until the brilliant Dutchman surrenders, or is caught, the air must still be full of uncertainties. At any moment he may bob up serenely in some new and unexpected quarter, or tear up a mile or two of railway lines; tend so far he has been able to set at nought Lord Roberts and all the other Generals.

"A cloud of dull apathy lies over the land, and a regiment might march through Ladysmith with the band playing 'Soldiers of the Queen,' and never a shopkeeper would pause in the act of measuring tea or sugar, to run to the door and cheer, for the 'gentleman in khaki' is simply a common Tommy once more, no longer an interesting novelty. 'The Camp,' where we are stationed at present, lies three miles beyond Ladysmith. It consists of rows and rows of corrugated iron sheds, placed on the open veldt with no signs of a tree or shrub in sight. I have only to go to the door of my quarters to look at Waggon Hill and Bulwana, while King's Post, with its trenches and breastworks, lies but a stone's throw away.

"At present the hospital is half empty, for there are no big battles now, and the fever season has not yet set in. Sometimes we take a day off, and roam over such a battlefield as 'Pieter's' or 'Spion Kop,' from which we return in the evening very weary, and occasionally very sad, for a fragment of a letter, or a bit of an old paper, picked up in a trench has taken our thoughts back tab those awful days of fighting before, the relief of LadySmith. There is a mania existing at present for collecting curios. The battlefields have been almost swept clean, and the prices asked for a pom-pom shell or a `Long Tom' which has been used in action are most exorbitant. In my ward at present I have the tailor who made suits of broadcloth for President Kruger for the past nine years. At times my poor tailor, who is an orderly, grows quite melancholy. 'If I only had kept the old dopper suit the President gave me for a pattern,' he said yesterday, 'I might have shaken hands with myself; but, alas, I gave it to a Kaffir!' "I cannot tell you how I long to come across some of the men from New South Wales. I have nursed 'Devons,' 'Yorke,' `Lancashires,' 'Gloucesters,' 'Inniskillings,' `Gordons,' and others, a New Zealander, and a South Australian, but never a man from Sydney. The anxiety of some of the poor fellows among the reserves to get 'home' is very pitiful. A bad case pronounced unfit" for further service yesterday received the verdict with a smile of delight. The man is going home with death beside him; nevertheless he is quite content, for, according to his idea, 'better a grave in the old churchyard without a stone than a tomb with a monument in South Africa.' Owing to the fearful rush of work at first. I have forgotten the names of the majority of the men I nursed, but I can never forget their heroism and courage in hardships and difficulties. I always seem to see them stepping past in great companies, just as if I had known them in dreams. Had I had the experience of a siege I might have attempted a book, but the siege did not fall to my lot.

"I shall always be glad of the experience I have had in this campaign. The little things which used to trouble me are mere nothings brought face to trice with big realities. Yet here, where a few months ago such issues hung in the balance, a nursing Sister is fretting because her hair is losing its colour, and another Sister is perfectly miserable because the coolie washes her linen so badly. The army will probably soon disband the civilian doctors and nurses, as they have a full supply of their own staff, equal to the sick in hospitals at present. I, with many others, am looking forward eagerly to the day when we can say thankfully, 'Our services being no longer required, we intend returning home.' "

Further Reading:
South African (Second Boer) War, 1899 - 1902, Australian Forces, Roll of Honour
Battles where Australians fought, 1899-1920
---
Citation:
A Letter Home, Town and Country Journal, 24 November 1900
Posted by Project Leader at 12:01 AM EAST
Updated: Tuesday, 27 April 2010 11:04 AM EADT