12th/26th Australian Light Horse, Contents
Topic: Militia - LHT - 12/26
12th/26th ALH
12th/26th Australian Light Horse
Contents
Tasmanian Mounted Infantry [1900 - 1903]
12th (Tasmanian Mounted Infantry) Australian Light Horse [1903 - 1912]
26th (Tasmanian Mounted Infantry) Australian Light Horse [1912 - 1921]
22nd (Tasmanian Mounted Infantry) Australian Light Horse [1921 - 1930]
3rd (Tasmanian Mounted Infantry) Australian Light Horse [1930 - 1933]
22nd (Tasmanian Mounted Infantry) Australian Light Horse [1933 - 1942]
22nd (Tasmanian Mounted Infantry) Motor Regiment [1942 - 1943]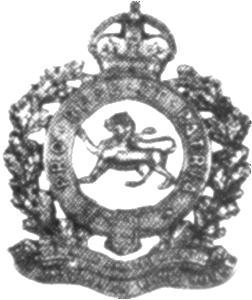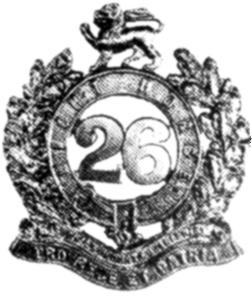 Pro Rege et Patria - for King and country
Allied with: King Edward's Horse (The King's Overseas Dominions Regiment).
History
Below is a brief historical outline from RK Peacock, Evolution of Australian Light Horse Regiments 1841-1935, Unpublished MSS, c.1936, p. 22.
This regiment owes its origin to the formation, in 1960, of a mounted corps of rifles at Launceston. In 1861 the corps carried the designation of Launceston Mounted Rifles for two years (1863). In this year there was also formed at Hobart a mounted corps known as the Rocket Troop. By 1865 the corps at Launceston had evolved itself into what was known as the 1st Light Cavalry Corps and remained as such until 1887.

During the year 1899 a division of Tasmania Mounted Infantry was formed at Ulverstone and in 1900 the Mounted Infantry in Tasmania consisted of one company at Hobart and a division each at Ulverstone, Brown"s River, Brighton, Sorrell and Deloraine. On the Federal re-organisation of 1903 the company at Hobart, the Ulverstone division (or troop which it then was) together with a troop from Ross, were formed into the 12th Australian Light Horse Regiment. In 1912 the 12th became the 26th Light Horse (Tasmanian Mounted Infantry) continuing as such until 1921 when its designation was altered to 22nd Light Horse (Tasmanian Mounted Infantry).
Items
History

Tasmanian Mounted Infantry, Ulverston Troop Nominal Roll, 1899 - 1901

Tasmanian Mounted Infantry, Nominal Roll, 1 December 1902

Regimental Structure 1900 -1920

This section explores the evolution of the Regiment from its first origins as a Commonwealth formation. Each year maps the movement of men and often locations of the various Squadrons and Troops. To get the flavour of the Regiment, it is best to begin the journey at 1900 and follow though each year till the end.

Tasmanian Mounted Infantry

Tasmanian Mounted Infantry, 1900

Tasmanian Mounted Infantry, 1901

Tasmanian Mounted Infantry, 1902

Tasmanian Mounted Infantry, June 1903
12th Australian Light Horse

12th (Tasmanian Mounted Infantry) Australian Light Horse, June 1912

26th Australian Light Horse

26th (Tasmanian Mounted Infantry) Australian Light Horse, December 1912

26th (Tasmanian Mounted Infantry) Australian Light Horse, 1913

26th (Tasmanian Mounted Infantry) Australian Light Horse, 1914

26th (Tasmanian Mounted Infantry) Australian Light Horse, 1915

26th (Tasmanian Mounted Infantry) Australian Light Horse, 1916

26th (Tasmanian Mounted Infantry) Australian Light Horse, 1917

26th (Tasmanian Mounted Infantry) Australian Light Horse, 1918

26th (Tasmanian Mounted Infantry) Australian Light Horse, 1919

26th (Tasmanian Mounted Infantry) Australian Light Horse, 1920
Roll of Honour
12th/26th Australian Light Horse, Contents

Lest We Forget
Further Reading:
12th/26th Australian Light Horse
Australian Militia Light Horse
---
Citation:
12th/26th Australian Light Horse, Contents
Posted by Project Leader at 12:01 AM EAST
Updated: Thursday, 1 July 2010 11:56 AM EADT