1st Australian Horse, 1901
Topic: Militia - LHN - 3/11/7
AH
Australian Horse
1901
1st (Volunteer) Australian Horse [1897 - 1903]
1st Australian Horse (Boer War) [1899 - 1901]
3rd (Australian Horse) Australian Light Horse [1903 - 1912]
11th (Australian Horse) Australian Light Horse [1912 - 1918]
7th (Australian Horse) Australian Light Horse [1919 - 1935]
7th/21st (Australian Horse) Australian Light Horse [1936-1937]
7th (Australian Horse) Australian Light Horse [1937 - 1942]
7th (Australian Horse) Australian Motor Regiment [1942 - 1943]
7th/21st (Australian Horse) Recce Regiment 1948 - 1949]
7th/21st Australian Horse [1949 - 1957]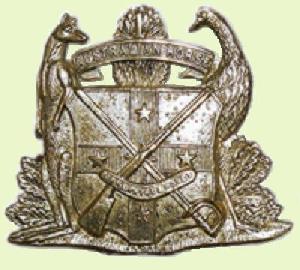 Hearth and Home
District
Southern New South Wales

Headquarters
Sydney
Honorary Colonel
The Right Honorable W Earl Beauchamp, KCMG

Commanding Officer
Lieutenant Colonel Honorable JAK Mackay, CB - On Boer War Service

Captain WH Wood, temporary Commanding Officer from 5 June 1900.
Majors
Major AFH Ferguson

Major TW Brand, The Honorable Captain, 10 Prince of Wales Own Royal Hussars

Adjutant
Lieutenant R.R. Thompson - On Boer War Service

Second Lieutenant PW Vaughn, Acting Adjutant

Honorary Chaplain
The Reverend HD Vidal-Sealy
Quartermaster
Vacant

Medical Officer
Captain G Read

Veterinary Officer
Lieutenant H Bowker
Band
Goulburn

Vacant.
"A" Southern Squadron,
Murrumburrah - Harden - Cootamundra - Gundagai - Adelong
Lieutenant JK Bourke

Lieutenant WT Griffin

Lieutenant W Miller

Lieutenant CW Russell

Second Lieutenant WA Robinson
"B" South Eastern Squadron,
Goulburn - Bungendore - Braidwood - Araluen - Michelago - Bredbo
Captain G de L Ryrie

Lieutenant JE Mackellar

Lieutenant JBN Osborne

Lieutenant JE Wray

Second Lieutenant WM Ryrie

Second Lieutenant R Shalder
"C" Western Squadron,
Mudgee - Lue - Cudgegong - Rylestone - Quirindi
.
Captain WV Dowling

Lieutenant AJ Cox

Second Lieutenant AE Cox

Second Lieutenant P Crossing
"D" Northern Squadron, Scone - Belltrees - Muswellbrook

Captain RHE Upton

Lieutenant AG White

Lieutenant ER White
"E" Northern Squadron, Gunnedah - Boggabri - Tamworth - Armidale
Lieutenant R Clark

Lieutenant THH Goodwin

Lieutenant RHE Upton

Lieutenant AG White

Lieutenant Thomas Leslie Willsallen, 1 January 1899

Previous: 1st Australian Horse, 1900
Next: 1st Australian Horse, 1902

Further Reading:
3rd/11th/7th Australian Light Horse
Militia Light Horse, New South Wales
Australian Militia Light Horse
---
Citation:
1st Australian Horse, 1901
Posted by Project Leader at 12:01 AM EAST
Updated: Saturday, 3 July 2010 11:30 AM EADT