The Battle of Anzac Cove, Turkish OC of 1/33 IR diary up until his death, 30 April 1915, Part 3
Topic: Tk - Bks - 1/33IR
The Battle of Anzac Cove
Turkish OC of 1/33 IR diary up until his death, 30 April 1915
Part 3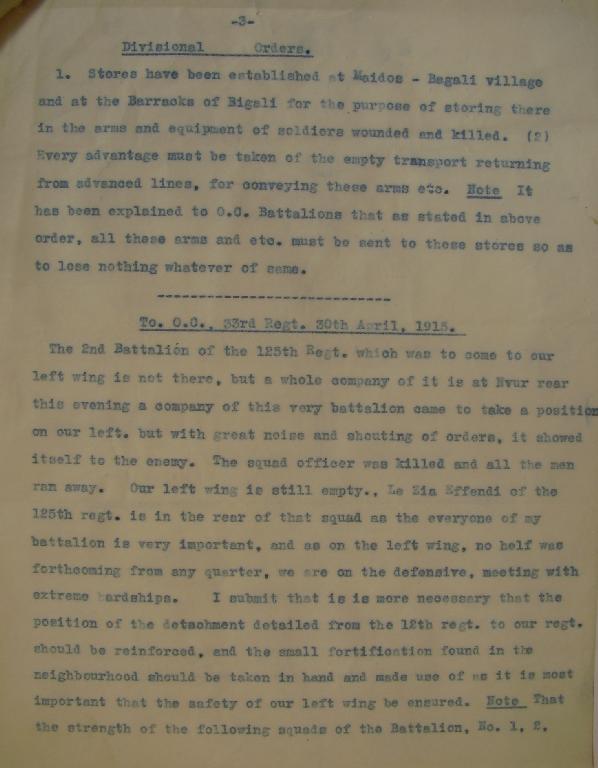 Diary, page 3.
Extract from a diary found on a dead Turkish Officer, the major commanding 1st Battalion, 33rd Infantry Regiment, Gallipoli, 30 April 1915.
Divisional Orders

1. Stores have been established at Maidos - Bigali Village and at the Barracks of Bigali for the purpose of storing there in the arms and equipment of soldiers wounded and killed.

2. Every advantage must be taken of the empty transport returning from advanced lines, for conveying these arms etc.

Note: It has been explained to OC Battalions that as stated in above order, all these arms and etc must be sent to these stores so as to lose nothing whatever of same.



To OC 33rd Regiment 30 April 1915

The 2nd Battalion of the 125th Regiment which was to come to our left wing is not there, but a whole company of it is at Nvur rear. This evening a company of this very battalion came to take a position to our left, but with great noise and shouting of orders, it showed itself to the enemy. The squad officer was killed and all the men ran away. Our left wing is still empty. Le Zia Effendi of the 125th Regiment is in the rear of that squad and as everyone of my battalion is very important, and as on the left wing, no help was forthcoming from any quarter, we are on the defensive, meeting with extreme hardships. I submit that it is more necessary that the position of the detachment detailed from the 12th Regiment to our Regiment should be reinforced, and the small fortification found in the neighbourhood would be taken in hand and made use of as it is most important that the safety of our left wing be ensured.

Previous: Map detailing the placement of 1/33 IR, 25 April 1915
Next: Map detailing the placement of 1/33 IR, 25 April 1915 - Part 2
Further Reading:
Turkish OC of 1/33 IR diary up until his death, 30 April 1915
The Battle of Anzac Cove, Gallipoli, 25 April 1915
1/33rd IR Roll of Honour, April 1915
The Battle of Anzac Cove, Gallipoli, 25 April 1915, Turkish Roll of Honour
Battles where Australians fought, 1899-1920
---
Citation:
The Battle of Anzac Cove, Turkish OC of 1/33 IR diary up until his death, 30 April 1915, Part 3
Posted by Project Leader at 12:01 AM EADT
Updated: Tuesday, 6 April 2010 2:14 PM EADT