9th LHR AIF War Diary, 11 February
Topic: AIF - 3B - 9 LHR
9th LHR, AIF
9th Light Horse Regiment

War Diary, 11 February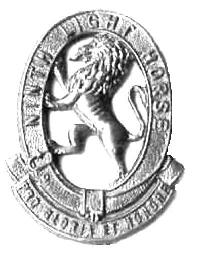 Pro Gloria et Honore - For Glory and Honour
Regimental March - Marching Through Georgia
The following entries are extracted and transcribed from the 9th Light Horse Regiment War Diary, the originals of which are held by the Australian War Memorial. There are 366 entries on this site. Each day has entries as they occurred from 1914 to 1919. In addition to the 9th Light Horse Regiment War Diary, when appropriate, entries from the 3rd Light Horse Brigade War Diary and other regiments with the Brigade will also appear. Entries from the unit history, Darley, TH,
With the Ninth Light Horse in the Great Wa
r, Adelaide, Hassell Press, 1924 will also appear from time to time. The aim is to give the broadest context to the story and allow the reader to follow the day to day activities of the regiment. If a relative happened to have served in the regiment during the Great War, then this provides a general framework in which the individual story may be told.
The Diary
1914
Wednesday, February 11, 1914

See 4th Military District, South Australia for militia activities.
1915
Thursday, February 11, 1915

9th Light Horse Regiment Location - Melbourne, 1700, Victoria.

9th Light Horse Regiment War Diary - Embarkation at Melbourne.
Embarkation Return - Complement = 384; Horses = 402. Just prior to embarkation it was foreseen that the above named men [B 602 Congdon LF; B 213 Boardman, ER; A 651 Green, FW; and, MG Dawkins FR] would not embark and the complement was made up by leaving the two drivers of the two kitchens behind, who, though added to the strength on a supplementary roll, were not taken on Karroo, the same roll being withdrawn. A supplementary roll for the two privates, Kincaid and Pierce added and checked by Camp Paymaster made up the total, 384 as per embarkation return T108 rendered 11 February 1915.
Carew Reynell Diary - Embarked at Victoria Docks, Melbourne, on Thursday, Feb 11th

Regiment arrived opposite docks at 1100 and were at once off saddled and fed [watered a few miles back en route] and saddlery was put in labelled corn sacks ready for stowing, and sea halters on the horses and sea kit bags stacked up or loaded on ship.

At 1200 commenced leading horses aboard but couldn't start slinging till 1300 as winch was employed otherwise. Finished slinging about 1830 and pushed off.

Parties had been told off to tie up the horses in the holds as they arrived and as far as possible every man led his own horse on board. As they handed over their horses to the tying up party they either relieved the baggage guards or gangway parties or started loading saddlery onto the wharf ready for the stevedores.

Exact numbers had been allotted to each hold and every man knew what unit his unit had to follow. As far as possible each unit was kept together in one or two holds.
1916
Friday, February 11, 1916

9th Light Horse Regiment Location - Heliopolis, Egypt.

9th Light Horse Regiment War Diary - Special tests of Officers and NCOs in pace and direction. Squadron drill.
1917
Sunday, February 11, 1917

9th Light Horse Regiment Location - Hod Masaid, Sinai.

9th Light Horse Regiment War Diary - Church Parade.
1918
Monday, February 11, 1918

9th Light Horse Regiment Location - Deir el Belah, Palestine.

9th Light Horse Regiment War Diary - First rehearsal for Commander in Chief's review. Turnout was generally satisfactory.

Parsons, Major HM, proceeded on leave.
1919
Tuesday, February 11, 1919

9th Light Horse Regiment Location - Tripoli, Lebanon.

9th Light Horse Regiment War Diary - 0800 Reconnaissance of portion of 1/250,000 Syria Tripoli carried out by Luxmoore, Captain EM; Kildea, Lieutenant FJ; Cruddas, Lieutenant GF, DCM; Ayliffe, Lieutenant SH; Hannaford, Lieutenant E; and, Price, Second Lieutenant FG.
Shelley, Captain SE, proceeded to Jerusalem.

0900 Squadrons commenced tests for teams to take part in Brigade shoot.
Previous: 9th LHR AIF War Diary, 10 February
Next: 9th LHR AIF War Diary, 12 February
Sources:
See: 9th Australian Light Horse Regiment, Contents
Further Reading:
9th Australian Light Horse Regiment, Roll of Honour
Battles where Australians fought, 1899-1920
---
Citation:
9th LHR AIF War Diary, 11 February
Posted by Project Leader at 12:01 AM EAST
Updated: Saturday, 17 July 2010 8:06 AM EADT