9th LHR, AIF, The peculiar case of Arthur Carrington Smedley
Topic: AIF - 3B - 9 LHR
9th LHR, AIF

9th Australian Light Horse Regiment
The peculiar case of Arthur Carrington Smedley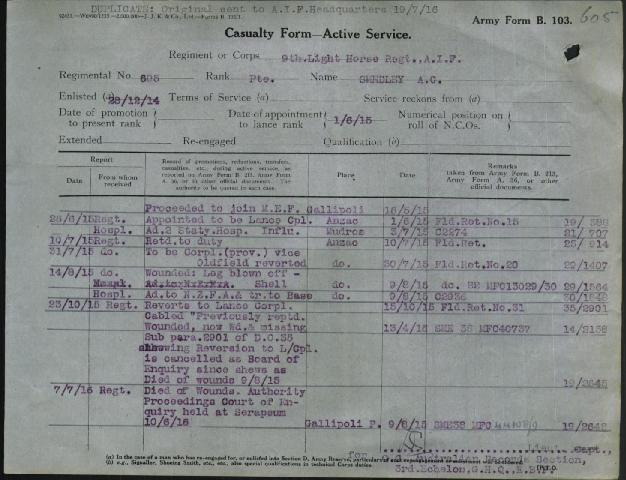 The Casualty Form for Arthur Carrington Smedley
Introduction
The disappearance of Arthur Carrington Smedley from Gallipoli creates an intriguing mystery that lingers to this day. His circumstances were covered by much contradictory testimony gathered from eye witnesses at Gallipoli. Because of the diverse nature of each item of testimony, the fate of Corporal Smedley remains as one of the more peculiar stories from Gallipoli.
The Family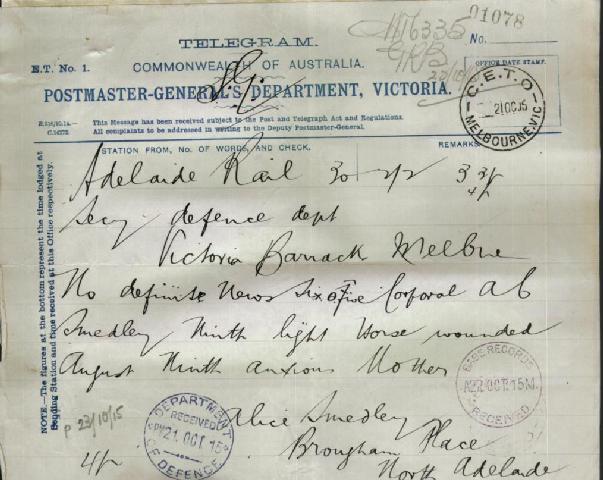 Telegram from Alice Smedley to the Department of Defence, 21 October 1915

The underlying story is the slow and protracted torture of Smedley's family which they underwent, not knowing the fate of their relative. The letters from the various family members are horrowing and point to the daily, and ongoing anguish they suffered until the matter was put to rest, if indeed it ever was for the family.
Enlistment Details
Enlisted on 28 December 1914 as 605 Private Arthur Carrington Smedley, 28, an auctioneer by trade and single. He lived with his mother North Adelaide South Australia Mother Alice C Mrs Smedley at a house called "Ranfurley" in Brougham Place, North Adelaide in the state of South Australia. His denomination was Church of England.
Service
He embarked on A10 "Karoo", 11 February 1915 from Melbourne as part of D Troop, B Squadron, 9th Light Horse Regiment. Sometime in 1915 he was promoted to Corporal.
Events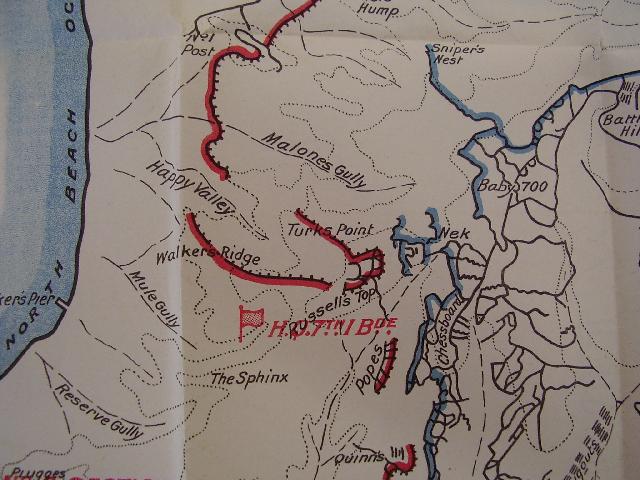 Walkers Ridge at Gallipoli, August 1915.

It was on the main track of Walker's Ridge that Smedley was struck by a high calibre shell which tore off an arm and a leg and left another leg in a precarious situation.
Witness Reports
Below are the witness reports of the situation.
287 Private Alfred John Jolliffe

287 Private Alfred John Jolliffe, 9 ALHR, 25 November 1915:
Statement re Smedley 605:

"Saw him after he had been badly wounded one leg blown off at thigh, the other lower down, was taken to Clearing Station. Informant heard he was dead."

331 Private Louis William Saler

331 Private Louis William Saler, 9 ALHR, 25 November 1915:

"Report on Smedley 605 - Informant said that Smedley was struck by a shell which destroyed both his legs. He died on the Peninsula but informant could not say exactly where."

562 Sergeant E Collette

562 Sergeant E Collette, 1st ALH, Gezira Hospital, Cairo, 9 December 1915:

"Informant states that about the 8th or 9th of August an 11.3 shell landed amongst four men together on the main track of Walker's Ridge. He saw Smedley soon afterwards in a dying condition with an arm and a leg blown off. He was taken abourd a hospital ship."

341 Sergeant Stephen Henry

341 Sergeant Stephen Henry, 9 ALHR, Ghain Tuffieha, 14 December 1915:

"He was promoted Corporal. He was wounded on Walker's Ridge by a 9" shell, and his left leg blown off. He died on the way down to the base hospital. The stretcher bearers told witness this. He came from Adelaide, S. Australia."

754 Pte CH Hutchinson

754 Pte CH Hutchinson 9 ALHR, Lowland Converlescent Camp, Mudros, 24 December 1915:

"About August 10 Smedley was badly wounded by a shell and stretcher bearer J Forman of B Squad who took him down told witness he lost both legs, one having been taken off by doctor on the beach before putting him on Hosp Ship."

244 Trooper CT Cotton

Letter written by 244 Trooper CT Cotton, Abbey Wood, Kent, 5 February 1916.

Hut K.2.
Australian Camp,
Abbey Wood,
Kent.
Feb. 5th 1916.

The late Corporal Smedley joined the 9th Light Horse Regiment while we were in training at Broadmeadows Camp, Victoria, where I got to know him well, being in the same troop and tent.

He was promoted to Lance Corporal at Heliopolis Camp a few days before he left Egypt for the Dardanelles with the regiment and on July 30th, in the rest camp below Walker's Ridge, he was promoted to fall Corporal, and on August 9th on Walker's Ridge he was badly wounded by 9 inch shell while in charge of fatigue party. Smedley although badly wounded seemed to be suffering very little pain and was as cheerful as ever when he was taken down to the dressing station by stretcher party and he passed way at the dressing station at Anzac Cove. The last man I know to have seen Corporal Smedley was Trooper Wainwright of the same troop and of Corporal Smedley's section and he would no doubt be able to give more information than myself. Trooper Wainwright was still with the Regiment when I saw him last on August 27th.

244 Trooper CT Cotton
9th Austrailian Light Horse
Testimony from Letters
Correspondence was also examined where references were made to Smedley.
218 Trooper George Ernest Aikeman

Extract from letter from - George Aikeman, 9th Light Horse, King George Hospital. 12.9.15. Waterloo, London.

"Well Floss poor Arthur Smedley had his leg blown off and reported wounded. He died some time later."

148 Lance Corporal Edmund Neville London

Extract from letter received by Mr. McEwin, C/o Dalgety & Co. Adelaide, from Lance Corporal London of the 4th Aust. Field Ambulance

"You mention seeing a letter from Arthur Smedley. The poor fellow was severely wounded by a shell - eventually died from its effects. He was terribly, knocked about I believe receiving a goodly share- of the force of the shell."

Mr G.W.F. Prince Coulter

Extract from, letter from G.W.F. Prince Coulter, 28 Grenfell St. Adelaide. (Dalgety & CO. Ltd.)

"It was only a few days ago that in conversation with Mr. A. Codlee of Prospect he mentioned that his son Lister was with Arthur and knows he was wounded badly - one leg lost - and died 5 days later."

260 Corporal Francis Arnold Gillen

Extract of letter from 260 Corporal Francis Arnold Gillen, No. 3 General Hospital Lemnos Island, dated 21.8.15. (Letter from Brother P.S. Gillen, 36 Ward St. North. Adelaide).

"He, Arthur Smedley, and I were in a main trench ---- without any warning, the shell - a big 8 inch from the Turkish forts - burst right in front of Smed, hurled him into the air and dropped him over a chain away into another trench. Poor old Smed did'nt live long, both his legs and right arm were terribly injured and had to be amputated. He was conscious after the amputations but never knew he lost his limbs. Before he died he was talking about seeing the Flemington National next year".

Mr Ray Turner

Extract from letter from Ray Turner, Rayville Park, Snowtown,

"I had a letter from Frank Rice the other day telling me that poor old Smed had died of wounds at Gallipoli they were friends, also a boy named Cameron said he and Frank buried dear old Smed and had put a little wooden cross with a few words on it on his grave Rice's address is - Q.M.S. F.E. Rice C. Cc. 10th Infantry Bat. 1st. A.I.F. (No. 10135).
Official Treatment
On 22 January 1916, he was declared absent from unit on account of wounds for a period of over three months and placed on the super-numerary list. Later on a Board of Enquiry found that Corporal Smedley had died of wounds on the 9 August 1915.
This all seems rather straight forward although rather peculiar that he should be considered missing when he was in the hands of the medical authorities. Missing is usually attributed to someone who is either obliterated by a bomb or dies in some unknown place. But not in this case. Yet he went missing.

Apparently he was recorded as having boarded the ship and placed under medical care. Then nothing. Smedley disappears and so does his record. Everything just vanishes. No one has the slightest idea where Smedley is except that he wasn't where the schedule stated – in Cairo. It was the cross to Cairo in which the disappearing act occurred.

This statement of account was sent to the grieving family:
"We have received your inquiry for 605 Tpr AC Smedley, 9 ALH. The 3rd AGH infom us by telephone he was never in their hospital. We already had an inquiry for him and on our evidence he must have died on board a hospital ship about 10th Aug. He had been promoted to Cpl and was badly wounded on Walker's Ridge by a shell, one of his legs being afterwards amputated by the Dr on the beach. Though we have no evidence by an eye witness of his death, several men told us he was already in dying condition when he was carried to the beach, and he was so badly wounded – both an arm and a leg being blown off – that no one could wish him to have lived."



This is indeed one case of nobody being there. It was conjectured that he died while at sea and they buried him at sea, a common practice. It is one thing to lose a body but quite another to lose his papers. The reality is that no one knew what happened to Smedley, a poor fellow doomed to roam the Mediterranean like the Marie Celeste, finding no home and no answers from and to the living.
Despite all the information available, it still remains a mystery today as to what actually happened to Smedley. We can only guess at the truth but no more than that.
Source of Information
Service File of Arthur Carrington Smedley held at National Archives of Australia, Bar Code - 8086630.
Further Reading:
9th Australian Light Horse Regiment, Roll of Honour
Battles where Australians fought, 1899-1920
---
Citation:
9th LHR, AIF, The peculiar case of Arthur Carrington Smedley
Posted by Project Leader at 7:03 PM EADT
Updated: Sunday, 31 January 2010 10:18 AM EAST