Infantry parading at Pontville
Topic: Gen - St - Tas
I came across this pic of a group of infantry parading at Pontville Camp. This picture appeared in the
Tasmanian Mail
, 10 September 1914, p. 18.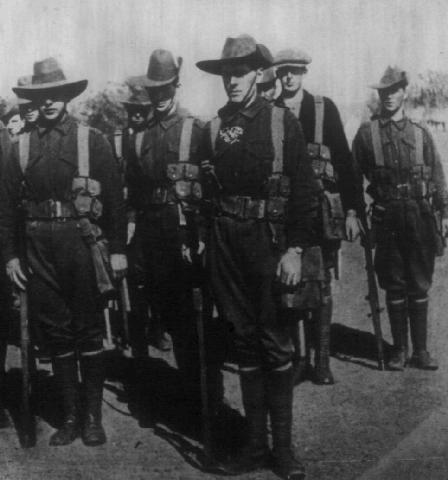 There are quite a few things very noticable.
There is a lack of uniformity in the ranks. No "great coats off" or "on" here. It is almost a "come as you are" affair. Hats are either pinned or unpinned. In one instance, the fellow in the second row is wearing a "Gor Blimey" cap with a non regulation shirt without collar attached. The uniforms appear to be that of the militia rather than the later distinctive AIF uniforms.
---
Citation:
Infantry parading at Pontville
Posted by Project Leader at 11:31 PM EADT
Updated: Wednesday, 18 June 2008 2:11 PM EADT