Aerial Reconnaissance Report, 17 August 1915
Topic: BatzG - Aug 1915
The August Offensive

Gallipoli, August 1915
Aerial Reconnaissance Report, 17 August 1915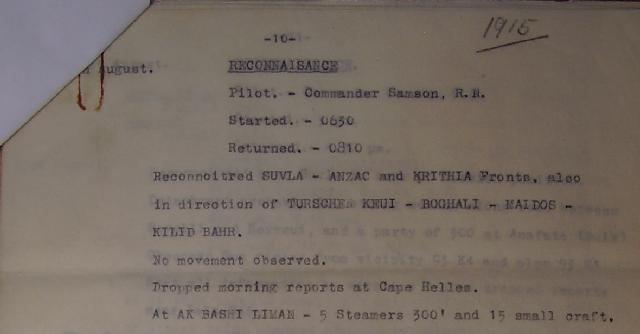 Aerial Reconnaissance Report, 17 August 1915
The use of aircraft for scouting and reconnaissance purposes was very much in its infancy. So too was aerial photography.
The above page from an intelligence file is an illustration of an aerial reconnaissance report tendered after a mission.
17th August


Reconnaissance


Pilot - Commander Samson, RN.


Started - 0630


Returned - 0810

Reconnoitred Suvla - Anzac and Krithia Fronts, also in direction of Tursche Keui - Boghali - Maidos - Kilid Bahr.

No movement observed.

Dropped morning reports at Cape Helles.

At Ak Bashi Liman - 5 steamers 300' and 15 small craft.
The note: "Dropped morning reports at Cape Helles" is quite interesting as it is a literal statement. Apart from scouting duties, Commander Samson was also the mailman for the army on that day. To undertake this last duty, Samson would have flown low over a specific point at Cape Helles and dropped his report to the waiting signallers below in a protective canister before departing to fly elsewhere. This seemingly simple task was fraught with danger as it required the aircraft to slow down to almost stalling speed while no more than 200m from the ground. It became an easy target for Turkish guns or an aircraft, should one become available. As it turned out, the Turks did not molest him and it turned out to be an uninterrupted flight.
The Pilot
Charles Rumney Samson (8 July 1883 - 5 Febrary 1931)
Awards

DSO - 21 October 1914 and Bar - 19 January 1917;

MiD - 17 February 1915;


LoH, C - 12 January 1916;

MiD - 14 March 1916;


AFC - 1 January 1919;

CMG - 3 June 1919; and,


2nd Prize, 'Gordon-Shephard ' Competition, 1922.

Promotions

Midshipman, 1898

Sub Lieutenant, 15 May 1902

Lieutenant, 30 September 1904

Acting Commander, January 1912


Flying Chronology to the taking of the Reconnaissance Flight

1911: U/T Pilot, Eastchurch

October 1911: Officer Commanding, NAS Eastchurch

1 April 1912: Officer Commanding, Naval Flying School - NAS Eastchurch

May 1912: Commandant, Naval Wing, RFC.

1 July 1914: Officer Commanding, Eastchurch (Mobile) Squadron RNAS (renamed No 3 Sqn RNAS)

1 September 1914: Officer Commanding, No 3 Sqn RNAS (renamed No 3 Wing)

October 1914: Officer Commanding, No 3 Sqn RNAS (renamed No 3 Wing)

March 1915: Officer Commanding, No 3 Wing RNAS. (Gallipoli)

1915: Officer Commanding, HMS Ben My Chree. (Palestine/Red Sea)
Source: Air of Authority - A History of RAF Organisation
Note: The ship, HMS Ben My Chree, played a pivotal role in providing air cover for the Egyptian Expeditionary Force during 1916. Also included were Anne, Raven, and Empress, all of which were dedicated aircraft carriers.
Further Reading:
The August Offensive, Gallipoli, August 1915
Battles where Australians fought, 1899-1920
---
Citation: Aerial Reconnaissance Report, 17 August 1915
Posted by Project Leader at 8:14 PM EADT
Updated: Monday, 12 July 2010 12:11 PM EADT