The last tram to Mena
Topic: Egypt - Mena
The last tram to Mena
The post card below illustrated in a comic manner a very real problem for Egypt and the tramways of Cairo due to the influx of 20,000 well paid Australian and New Zealand troops.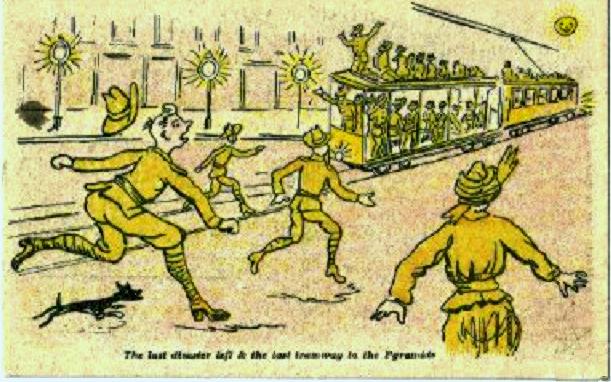 The last deserter left & the last tramway to the Pyramids.
Catching the last tram to Mena camp was always precarious for everyone. If the men did not get back to the camp before their leave ran out, which was usually midnight, they were crimed for AWL (absent without leave) which cost the unlucky man usually a couple days' pay. The tramways were not designed to carry such volumes of men and two things happened. To cope with the sheer volume, men were compelled to sit on the roof of the carriage. This is illustrated in the cartoon picture. Below is a picture of how this happened in reality.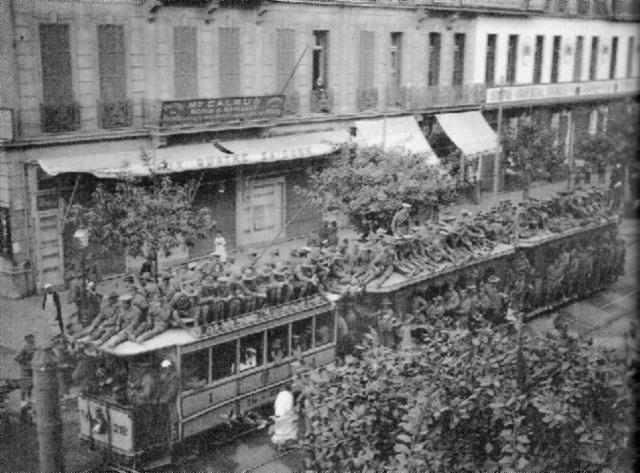 Men crowded on the roof tops of the tram.
In Cairo it must have seemed a bizarre sight with the Australians crowded on the tram roof. The bemused Egyptian pedestrians are looking at the progress of this tram.
Less entertaining was the desire of tram conductors to check every ticket regardless of the time it took to perform or the crowded state of the trams. This caused great tension between both the tram conductor and the men. This officious behaviour often cost a tram load of men to be crimed for AWL purely because of the conductors' behaviour. There were many cases occurring of angry Australian soldiers taking out their frustrations on particularly officious and lugubrious conductors. Many complaints were lodged at Mena Camp Headquarters by conductors who were assaulted for carrying out their duties. On other occasions, conductors were assaulted and tossed off the trams if it was felt that the behaviour would result in the tram arriving late to Mena.
---
Citation:
The last tram to Mena
Posted by Project Leader at 11:31 AM EADT
Updated: Friday, 25 July 2008 11:41 AM EADT