The Battle of Magdhaba, Sinai, December 23, 1916, 1st LHR, AIF, War Diary Account
Topic: AIF - 1B - 1 LHR
The Battle of Magdhaba
Sinai, 23 December 1916
1st LHR, AIF, War Diary Account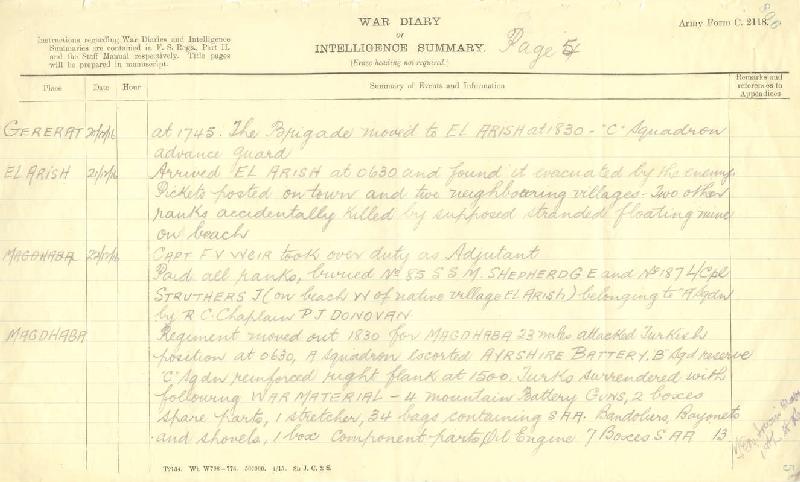 War Diary account of the 1st LHR, AIF.

The transcription:
22 December 1916

Regiment moved out 1830 for Magdhaba 23 miles


23 December 1916

Attacked Turkish position at 0630, "A" Squadron escorted Ayrshire Battery, "B" Squadron reserve and "C" Squadron reinforced right flank at 1500. Turks surrendered with following war material - 4 mountain battery guns, 2 boxes spare parts, 1 stretcher, 34 bags containing small arms ammunition, bandoliers, bayonets and shovels, 1 box component parts, oil engine, 7 boxes small arms ammunition, 13 Turkish fantasses, 1 box machine gun belt, 712 rifles, delivered by Colonel Granville to Headquarters.

24 December 1916

Headquarters and "C" Squadron remained at Magdhaba to clear battle field, bury the dead and destroy all material not transported. "A" Squadron returned as escort to Ayrshire Battery, "B" Squadron with Brigade, "C" Squadron with Headquarters escorted camels as per list during night of 24/25 December. Casualties nil.


Further Reading:
1st Australian Light Horse Regiment, AIF
1st Australian Light Horse Regiment, Roll of Honour
The Battle of Magdhaba, Sinai, December 23, 1916, Roll of Honour, Australia and New Zealand
Battles where Australians fought, 1899-1920
---
Citation:
The Battle of Magdhaba, Sinai, December 23, 1916, 1st LHR, AIF, War Diary Account
Posted by Project Leader at 12:01 AM EAST
Updated: Sunday, 22 November 2009 12:58 PM EAST