Bothaville, South Africa, November 6, 1900, Times Account
Topic: BatzB - Bothaville
Bothaville
South Africa, 6 November 1900
Times Account, 9 November 1900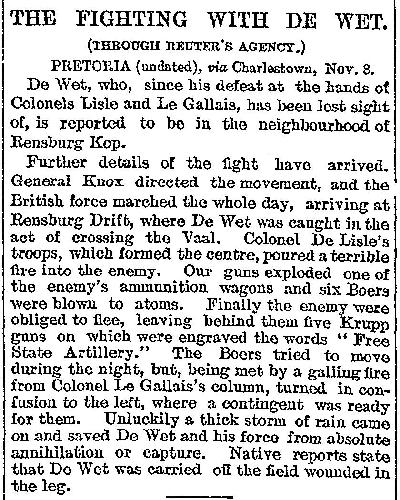 The Times, 9 November 1900, p. 3.
THE FIGHTING WITH DE WET.

(THROUGH REUTER'S AGENCY.)

PRETORIA (undated), via Charlestown, Nov. 8.

De Wet, who, since his defeat at the hands of Colonels Lisle and Le Gallais, has been lost sight of, is reported to be in the neighbourhood of Rensburg Kop.

Further details of the fight have arrived. General Snow directed the movement, and the British force marched the whole day, arriving at Rensburg Drift, where De Wet was caught in the act of crossing the Vaal. Colonel De Lisle's troops, which formed the centre, poured a terrible tire into the enemy. Our guns exploded one of the enemy's ammunition wagons and six Boers were blown to atoms. Finally the enemy were obliged to flee, leaving behind them live Krupps guns on which were engraved the words "Free State Artillery." The Boers tried to move during the night, but, being met by a galling fire from Colonel Le Gallais's column, turned in confusion to the left, where a contingent was ready for them. Unluckily a thick storm of rain came on and saved Do Wet and his force from absolute annihilation or capture. Native reports state that De Wet was carried oil the field wounded in the leg.
Further Reading:
Bothaville, South Africa, November 6, 1900
South African (Second Boer) War: 1899-1902 - Overview
Battles where Australians fought, 1899-1920
---
Citation:
Bothaville, South Africa, November 6, 1900, Times Account
Posted by Project Leader at 11:01 PM EADT
Updated: Sunday, 5 April 2009 8:23 PM EADT