Brigade Scouts, Obituary, Frederick Allan Dove
Topic: AIF - DMC - Scouts
Brigade Scouts
Obituary

Frederick Allan Dove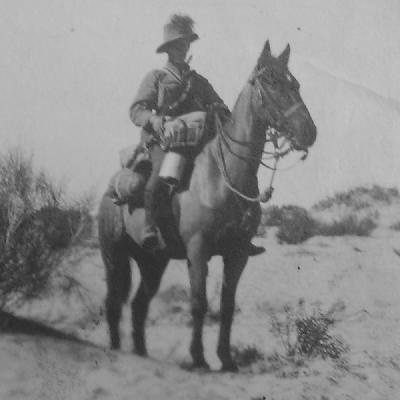 Light Horse Scout in the Sinai, 1916
The following obituary was extracted from the Commonwealth Military Journal, 1914, p. 241:
The Late Major Frederick Allan Dove, DSO.

There went over to the Great Army, on the 9th December, 1913, Major Frederick Allan Dove, scholar, soldier, and gentleman. Of that great military quality, courage, he had abundance, and with it the sound commonsense which made his services during the South African War, 1899-1902, so appreciated. But physical courage is, after all, an animal characteristic; moral courage and fortitude are much higher qualities. Of moral courage Major Dove had no lack, and the fortitude with which he fought for long against a painful illness is a shining example of the power of the mind over the body. The notes upon the subject of the gold medal essay for last year, which will be published in the July number of the Journal, were found in his portfolio at the Sydney Hospital, and they show that to the last his mind struggled to give all that it was capable of for the benefit of the forces in whose interests alone he served.

Major Dove was born on the 20th December, 1867, and became second lieutenant (volunteers) in 1897; lieutenant in 1898; captain in 1899; and brevet major in 1903. In 1900 he went on the unattached list, and in the following year he transferred to the reserve of officers. On the 1st May, 1906, he joined the Administrative and Instructional Staff with the rank of captain, and on the 1st October, 1911, he received his substantive majority. From the date of his appointment to the permanent forces until the 30th June, 1911, he served on the Instructional Staff of the 2nd Military District; was Director of Equipment at Head-quarters from the 1st July, 1911, to the 30th June, 1912; and on the 1st July, 1912, he was appointed to the Instructional Staff of the 3rd Military District - an appointment which, unfortunately, ill-health precluded him from taking up.

In 1899 the late Major Dove went to South Africa as a lieutenant in the only infantry contingent despatched from New South Wales. The contingent was mounted in South Africa, and became "E" squadron of the lot New South Wales Mounted Rifles. lie took part in operations in Cape Colony, south of the Orange River, including the action at Colesberg in February, 1900; operations in the Orange River Colony, February to May, 1900, including actions at Houtnek, Vet River, 5th and 6th May, and Zand River; and operations in the Transvaal in May and June, 1900, including actions near Johannesburg, Pretoria, and Diamond 17i11, 11th and 12th June. On the 26th February, 1900, he was wounded at Mader's Farm.

For his services he was mentioned in despatches (London Gazette, 16th April, 1901), and earned the coveted distinction of the Distinguished Service Order. The following extracts from reports submitted by Captain (now Lieutenant-Colonel) J. G. Legge and Captain (now Colonel) W. Holmes, D.S.O., throw an illuminating light on Major Dove's gallantry and coolness in action:- "After a reinforcement of guns, on the 22nd February, our force advanced west, and another force from the camp attacked the Boers on the south, and gave them a heavy shell fire. Lieutenant Dove did an excellent piece of scouting on the right with his division, and drove off the Boer patrols, thus rendering the advance of the guns possible." (Report of Captain Legge, February, 1900). "28th April. In camp, Israel's Poort. - Detailed Lieutenant Dove and 25 men to scout in the vicinity of Thoba Mountain and Houtnek. Lieutenant Dove was instructed to locate the position of the Boer laager. In this duty he was eminently successful, and received the commendation of General Ian Hamilton and Colonel De Lisle. As a result of this reconnaissance the battle of Houtnek was fought two days later. 30th April. Marched at daylight and came into collision with the enemy, who were strongly posted at Thoba Mountain and Houtnek. Lieutenant Dove and 25 men were detached from my command for scouting work." (Report of Captain Holmes, April, 1900).

In 1902 he again went to South Africa as captain and adjutant of the 3rd Battalion Australian Commonwealth Horse, a fine regiment commanded by Colonel R. Wallace, which, however, arrived in South Africa only a month before the peace of Vereeniging.

The military forces of the Commonwealth have, in the death of Major Dove, suffered a great loss, but they are richer for the services he has rendered them, and richer for the footprints he has left on the sands of time.
Margot Z. Simington, 'Dove, Frederick Allan (1867 - 1913)', Australian Dictionary of Biography, Volume 8, Melbourne University Press, 1981, pp 328-329.
DOVE, FREDERICK ALLAN (1867-1913), soldier and teacher, was born on 21 December 1867 in Sydney, son of Daniel Dove, contractor, and Annie Bell. He became a pupil-teacher at Newtown Public School in 1883 and after graduating from Fort Street Training School in 1888 taught for the next eleven years at several Sydney primary schools, including Fort Street, Crown Street and Camperdown. His soldiering began in 1897 when he was commissioned second lieutenant in the 5th Infantry Regiment (Volunteers); he was promoted lieutenant in 1898 and captain in 1899.

After the South African War broke out Dove joined the New South Wales Infantry, the only infantry contingent recruited in the colony, as a lieutenant. His company joined the 1st Australian Regiment at Cape Town in December 1899 and for two months served with the Kimberley Relief Force. In February 1900 the company was converted to 'E' Squadron, New South Wales Mounted Rifles, and, commanded by Captain J. G. Legge, accompanied Major General R. A. P. Clement's column via Colesberg to Norval's Pont, Orange River, and to Bloemfontein. Legge reported that on 22 February 'Lieutenant Dove did an excellent piece of scouting … with his division, and drove off the Boer patrols, thus rendering the advance of the guns possible'. Four days later Dove was slightly wounded at Maeder's Farm. Under Captain W. Holmes his unit then joined General (Sir) Ian Hamilton's column for operations at Pretoria and Diamond Hill.

In April, during the advance on Houtnek, Dove's successful reconnaissance of enemy positions and his command of a detachment which held an advanced post for a whole day earned Hamilton's praise. When Holmes was wounded at Diamond Hill on 12 June Dove was promoted captain and led 'E' Squadron in operations against De Wet and De La Rey in the Transvaal and northern Orange River Colony. For meritorious service in South Africa he was mentioned in dispatches and awarded the Distinguished Service Order. Lieutenant-Colonel De Lisle commented: 'On numerous occasions he has volunteered for dangerous undertakings at night. He is a wonderful scout, and on no single occasion has he failed to accomplish his objective, nor has he lost a man accompanying him'.

Dove returned with his unit to Sydney in January 1901. He resumed teaching at Barmedman, New South Wales, but enlisted again next year as captain and adjutant of the 3rd Battalion, Australian Commonwealth Horse. The battalion embarked on 2 April. Peace was only two months off, however, so by August, after brief service as a staff officer of the Australian Brigade at Newcastle, Natal, Dove was back in Sydney. After serving as a brevet major in the New South Wales Scottish Rifles he was made a captain on the reserve of officers in 1904. That year, on 27 December, at the Presbyterian church, Hill End, he married Adelaide Bryant; the marriage was dissolved on 21 April 1910 with Dove as petitioner and on 11 May he married Margaret Morrison Myles at the Presbyterian manse, Waverley.

In May 1906 Dove had joined the Permanent Forces as a captain on the Administrative and Instructional Staff; he became director of equipment at Army Headquarters, Melbourne, in August 1911 and in October was promoted major. Next January he was appointed president of the examination board for first appointment and transfer of Administrative and Instructional Staff, but illness prevented him from performing his duties after April 1912. Much respected, he died in Sydney Hospital on 9 December 1913 of paraplegia from hydatids of the spine. He was buried with Anglican rites in Waverley cemetery and was survived by his wife, a seven-year-old son from his first marriage and a two-year-old daughter.

Select Bibliography

Australian Defence Department, Official Records of the Australian Military Contingents to the War in South Africa, P. L. Murray ed (Melb, 1911); R. L. Wallace, The Australians at the Boer War (Canb, 1976); London Gazette, 16, 19 Apr 1901; Town and Country Journal, 10, 17 Dec 1913; register of careers (history section, Education Dept, Sydney).

Further Reading:
Australian Light Horse Militia
Battles where Australians fought, 1899-1920
---
Citation:
Brigade Scouts, Obituary, Frederick Allan Dove
Posted by Project Leader at 12:01 AM EADT
Updated: Saturday, 26 December 2009 10:53 AM EAST