The Australian Light Horse, Militia and AIF, Mounted Rifle Tactics, Part 2, Contents
Topic: AIF - Lighthorse
The Australian Light Horse,
Militia and AIF
Mounted Rifle Tactics, Part 2, Contents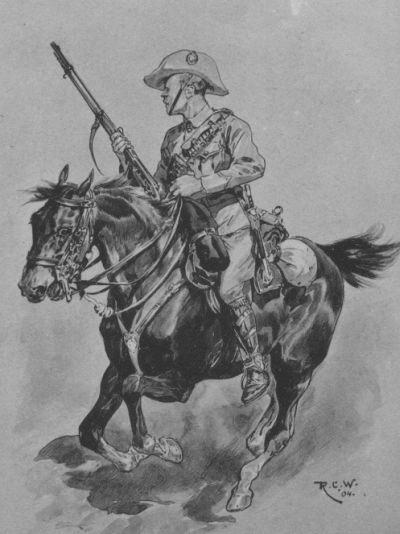 Cape Mounted Rifleman
[Drawing from 1904 by Richard Caton Woodville, 1856 - 1927.]
The following series is from an article called Mounted Rifle Tactics written in 1914 by a former regimental commander of the Cape Mounted Riflemen, Lieutenant-Colonel J. J. Collyer. His practical experience of active service within a mounted rifles formation gives strength to the theoretical work on this subject. It was the operation of the Cape Mounted Riflemen within South Africa that formed the inspiration for the theoretical foundations of the Australian Light Horse, and was especially influential in Victoria where it formed the cornerstone of mounted doctrine.
Collyer, JJ, Mounted Rifle Tactics, Military Journal, April, 1915, pp. 265 - 305:
Mounted Rifle Tactics.

Contents.

Definition

Principles underlying tactics

Definitions

Cavalry

Mounted infantry

Mounted riflemen

Mobility and fire effect

Subdivision of subject

The offensive spirit

The bayonet

Missions of mounted riflemen

General Langlois on the Boer War

Von der Goltz

Summary.

Definition

Mounted riflemen as advanced troops

In the attack generally

Special attacks

Fire from the saddle

Rooiwal

The "mounted rifle charge:

Vlakfontein

Blood River

Bakenlaagte

Yzer Spruit

Rooiwal again.

Definition

Uses of mobility

Frontages occupied

Dead ground

Position of reserve

With other arms

Counter-attack

Advanced positions

Lateral communications

The moment to strike.

Definition

On the march

Advanced guards

Rear guards

In action

Halted

Reconnoitring patrols

Groenkop, 1901

Standing patrols

Moving protective patrols

Safety of patrols.

Authorities as to importance

Reconnaissance

Training

Night movements (tactical)

Rests

Pace

Supervision

Information

Secrecy

Order of march

Night combats

Difficulties

Small raids

Important points

Encounter combats

Summary.

Importance

Information

Scouting

Specialization

Intelligence units

Instructions necessary

Reconnoitring patrols

Reports

Patrol leaders

Reconnaissance for attack

For defence

Roads
Previous: Part 1, Preface
Next: Part 3, General Considerations
Further Reading:
Australian Light Horse Militia
Battles where Australians fought, 1899-1920
---
Citation:
The Australian Light Horse, Militia and AIF, Mounted Rifle Tactics, Part 2, Contents
Posted by Project Leader at 12:01 AM EAST
Updated: Thursday, 10 December 2009 9:18 AM EAST