The Battle of the Suez Canal, Egypt, 28 January - 4 February 1915, The launching of the boats
Topic: BatzS - Suez 1915
The Battle of the Suez Canal
Egypt, 28 January - 4 February 1915
The launching of the boats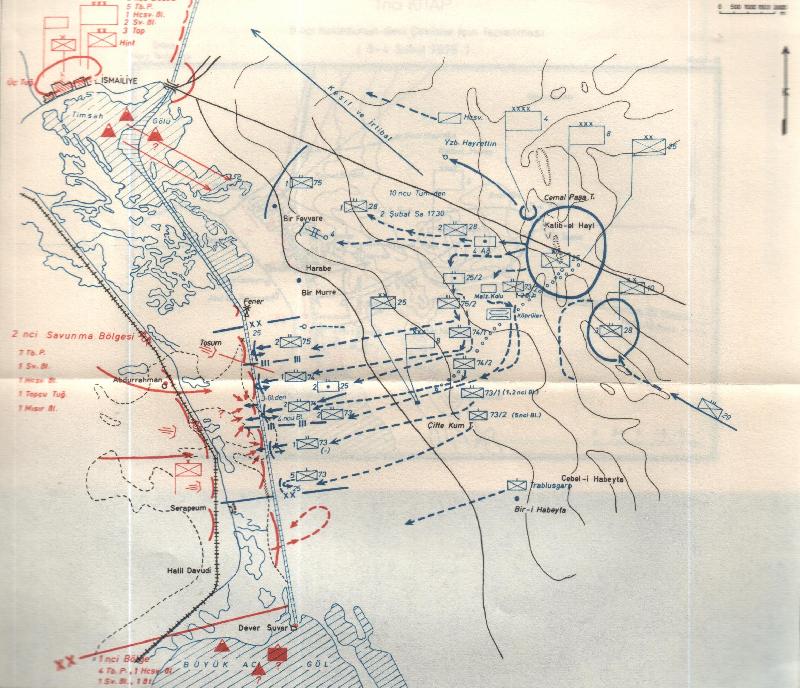 Launching of the pontoon boat attack, 2 - 3 February 1915
[Click on map for larger version.]
The following is extracted from Chapter 1 of the book
With the British Army in the Holy Land
by Henry Osmond Lock
The Turkish rank and file were certainly led to believe that a serious invasion of Egypt was intended. But it is much more likely that the object of the Germans was to detain as large a British force as possible in Egypt and thus prevent their taking part in the fighting in France. A secondary object may have been to render the Suez Canal temporarily impassable. Whatever may have been the chestnuts that Germany hoped to get out of the fire, it was clear that Turkey was willing to act as catspaw, and attempt a foolhardy invasion of Egypt.
Consequently, the construction of a new military railway in Syria was put in hand, and by January, 1915, the Turks had formed advanced posts at Auja, on the frontier, and also at Kosseima, El Arish, and Khan Epenus in the desert. The problem of water supply has always presented a difficulty to armies crossing this waterless desert. There are a certain number of reservoirs and cisterns which hold up water during the rains.
In the winter time these would be full. The Turk is less particular about the water which he drinks than the white man, and doubtless he could, to some extent, be supplied from some of the brackish pools in the desert, with water that no one would think of offering to a British soldier.
The light pontoons that the Turks dragged across the desert for crossing the Canal are said to have been used for carrying water during certain stages of the advance. Suffice it to say that the Turks did succeed in solving the water problem, and in crossing the desert with a force of some considerable strength.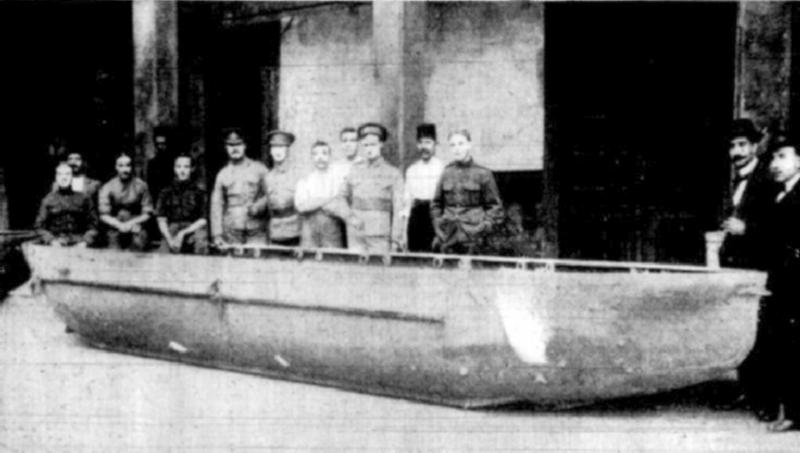 A captured pontoon boat on display.

[From: Sydney Mail, 5 May 1915, p. 14.]

On the 3rd February, 1915, the threatened attack materialized. Before dawn, some of the light pontoons which the Turks had brought with them, were launched on the Canal. These were manned, while other Turks deployed along the eastern bank and opened fire to cover the crossing.
The troops defending this portion of the Canal, mostly Indians, opened fire upon the pontoons, with the result that many of them were sunk. Two of the pontoons, however, reached the western bank, and their crews, numbering about twenty, surrendered. There was fighting throughout the day, but no further crossing of the Canal. On the next day the east bank was swept, with the result that a considerable party of the enemy were captured. After this, the Turks withdrew, and marched back to Palestine.
This was the only time that a formed body of the enemy succeeded in reaching the Canal. But they had shown that it was possible for them to achieve the almost impossible, and thus they gave the authorities responsible for the defence of Egypt much food for thought.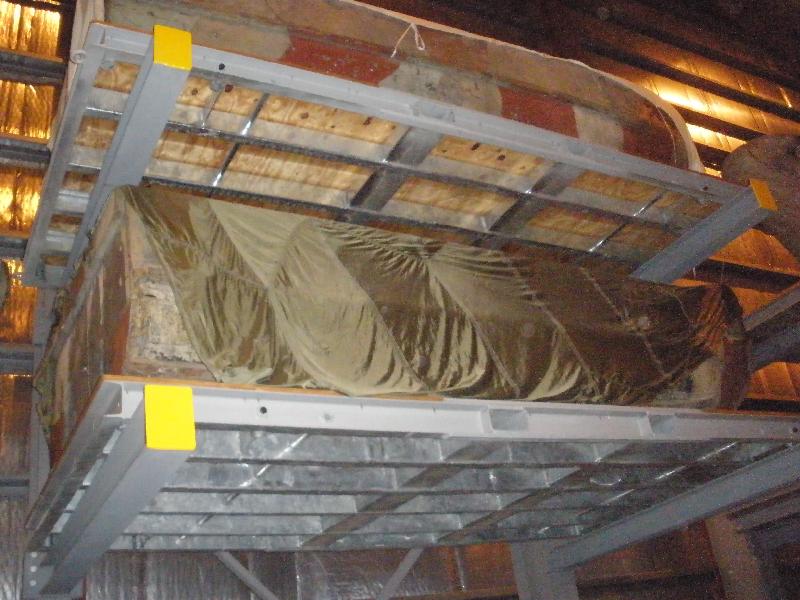 Two remaining pontoon craft used in the attack at the Australian War Memorial.

Further Reading:
The Battle of the Suez Canal, Egypt, 28 January - 4 February 1915
The Sinai Campaign, 1915 - 1916
Battles where Australians fought, 1899-1920
---
Citation: The Battle of the Suez Canal, Egypt, 28 January - 4 February 1915, The launching of the boats
Posted by Project Leader at 12:01 AM EAST
Updated: Friday, 28 January 2011 8:28 AM EAST